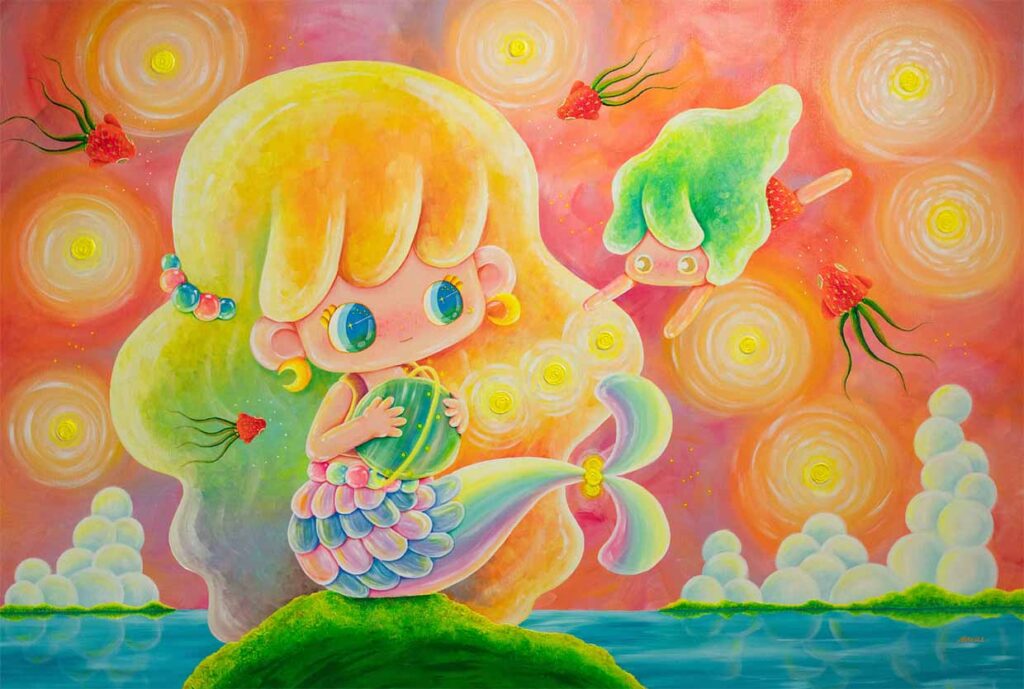 Adding to her pursuit of encouraging a harmonious relationship between nature and humans, Muu Nanahoshi's new exhibition BIOTOP, will shine light on the importance of nature conservancy as well as the necessity of close community and the essence of love and hope in society. The beauty of interconnectedness of all living things is manifested in Muu's exuberant series of paintings featuring her ever-so-loved characters, Rinkle and Little M.
The German scientist Friedrich Dahl introduced the term biotop (eng. biotope), combining the Greek words bios (life) and topos (place) in 1908 as the habitat in which a particular group of animal and plant species live. Biotope is an area of uniform environmental conditions providing a living place for specific organisms. Whether it is large bodies of water like the ocean or a small pond in your backyard, biotopes can exist on any scale or location as long as all life, such as animals, insects, and microorganisms, live in equilibrium and harmony. Muu believes that biotopes can be found amongst all lives and hopes that through her works, even if only for a moment, a harmonious habitat will be established.
As the world is experiencing the devastating consequences of generational exploitation of nature, many of us have begun to pursue a symbiotic relationship with nature by ensuring biodiversity. Existing biotopes are now protected from further destruction, and those lost are recreated with the assistance of humanity and science. In the presented works, Muu will also emphasise the importance of preserving human biotopes, as one cannot exist without the other. Love, hope, dreams, imagination and a common goal to move towards a better future are vital elements in maintaining human biotopes. We must learn to care for ourselves whilst being mindful of preventing the extinction of other species and the lessons learned from our past.
Through this exhibition, Muu hopes to strengthen the motivation for environmental conservation by allowing viewers to immerse themselves in a biotope. With Rinkle's guidance and example, a world of harmony will come into existence and last forever as long as we understand how to take care of nature and cherish our past, present and future.
Muu Nanahoshi's paintings present a world that transcends time and reality. Inspired by the country sceneries of her childhood – houses, trees, stones, flowers, moon and stars, she creates a picturesque fantasy world that blurs the boundaries of reality on her canvases. With a vibrant colour palette and her signature dreamy motifs of Strawberry Goldfish, Daifukumochis, the Moon and the Ocean, as well as the interesting three-dimensional technique, Muu's works bring a unique angle to the exploration of dreams and realities.
Exhibition Dates: 16 February – 11 March, 2023
Venue: JPS Gallery (Hong Kong)
Shops 218-219, 2/F, Landmark Atrium,
15 Queen's Road Central, Hong Kong