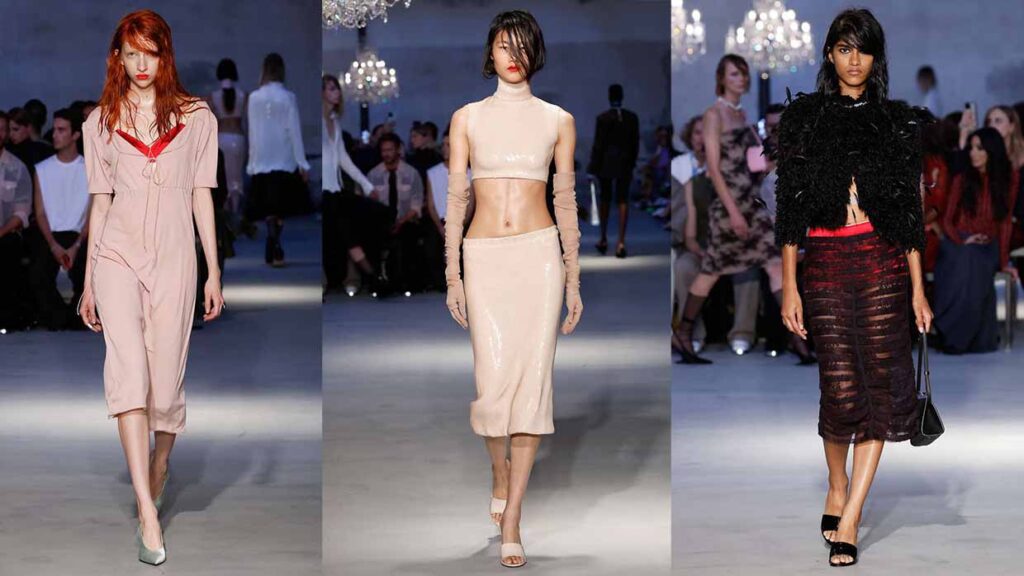 Lover is a special word expressing the power of an individual who loves intently; yet also ofsomeone who is passionate about something or who is in a close relationship with anotherperson. The lover is not necessarily either a woman or a man, either female or male. It's a wordderiving from a verb that defines a person who simply loves someone; and it may be the only neutral word (neither distinctly feminine nor masculine) left in the Italian language. But prevalentmoralism, which is taking over in fashion too, has reduced this word to a single common and attimes derogatory meaning: that of a person who has a secret love affair. Thus a potent term with arich romantic connotation is, by contrast, diminished and mistreated. From this reflection comes the No. 21 spring-summer 2023 collection which creative directorAlessandro Dell'Acqua has conceived as a collection of moods, feelings, states of mind.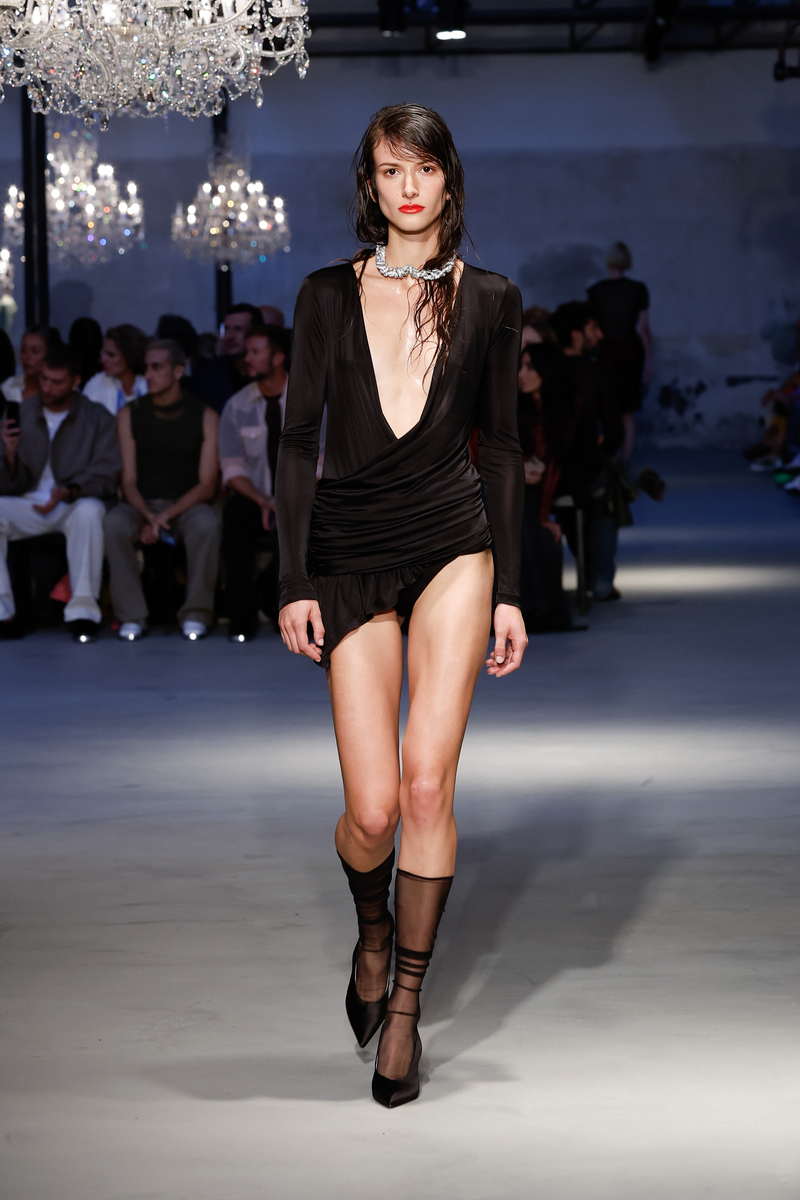 The collection
Skirts always have something off, are not fully fastened in back. Sheer silk/nylonblouses come complete with lace inserts. Double-knit minisuits present red sequin or tulle lace trim. Fabric jackets feature feather textile work, also real rooster feathers. Little mannish shirtshave crumpled effects. Black chiffon dresses slip over a pale pink sheath. Satin culottes and bras in bright colors catalyze attention under see-through lingerie-dresses. Tube skirts are made fromlight shades of leather. Mannish-jacket suits, full skirts and topcoats come in a cotton/silk material that includes an aluminum thread that makes for easy variable crumpling. And the finest evening dresses derive from a reworking of vintage bridal gowns so that they take on skirt or bustier form. Meanwhile, the figure of the lover stands tall on omnipresent mules.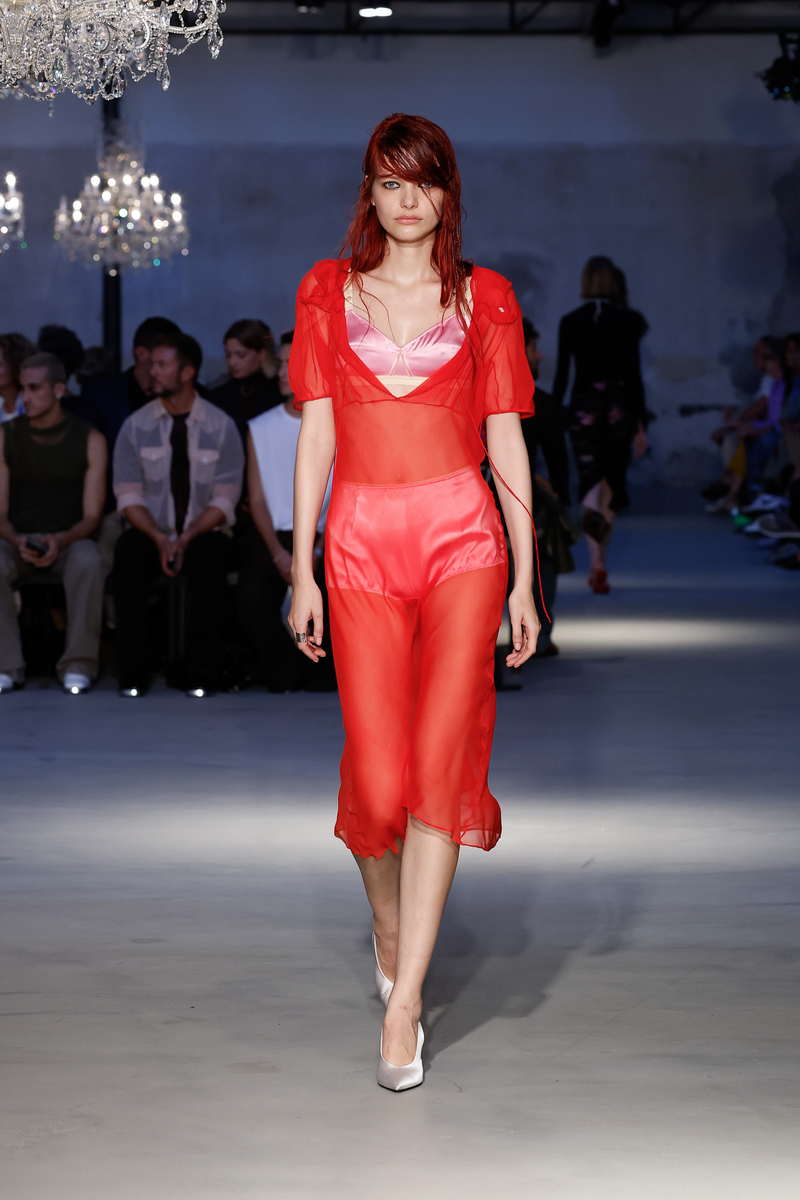 The accessories
Practical leather or patent leather mules in black, red or white have a specially designed sole which by extending toward the heel to create a high effect makes an actual heelsuperfluous: it's an engineering trick that gives the shoe balance and stability even at a height of 12 cm (4.7"). As for the new trapezoid bag with full width metal clasp — in leather, in patent leather and in featherwork fabric — it defines a sensual, dynamic look.
Alessandro Dell'Acqua, creative director of No. 21. «Lovers, women who love, are by definitionbearers of many different feelings and moods: love, joy, passion, wellness, eroticism, sexualdesire, heartbreak, anger… they can all give way to one another in quick succession. More than instinctive reactions, these sudden mood swings reveal a taking note of situations that changefrom one moment to the next. And then there's an ambivalence that I'd call natural, because obviously women who love are very much loved by the men who return this love and are instead detested by female rivals for that same love. However, the word (lover) refers as well to a wonderful role that turns tragic when it is set aside merely because, according to the extendedmoralistic slant society has put on the term, a lover becomes someone who has a clandestineaffair and thus loses social acceptance. Namely, her love story becomes one that must be kepthidden and conducted in secret, often fleetingly and in awkward places. In this game wavering between moralism and passion, freedom and constraint, my collection steers through the awareness of shifting moods by using fabrics and colors that assume the form of daring means for narrating quite a cinematographic tale. So here then are Monica Vitti, Anna Magnani, StefaniaSandrelli, (world-class Italian) actresses who through their many onscreen roles become unknowing reference points for real-life women.»