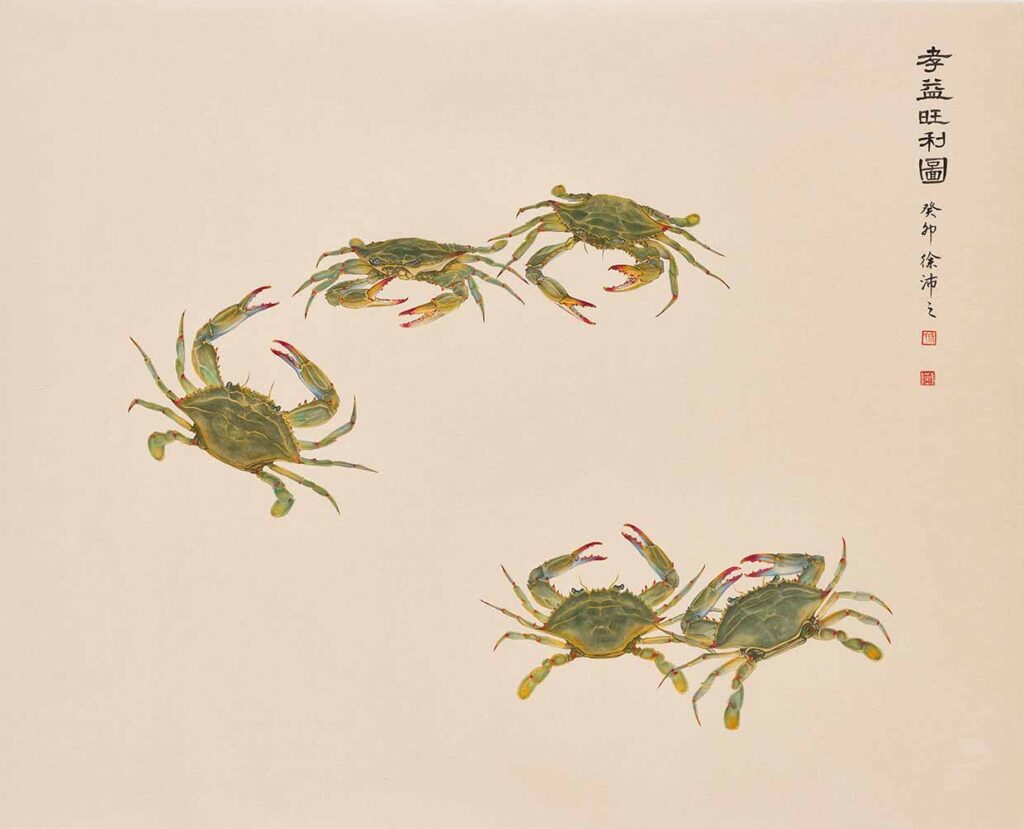 Karin Weber Gallery announces 'Master Chui's Kitchen', a solo exhibition by renowned Hong Kong Chinese ink artist Chui Pui Chee. Creating an art exhibition is like planning a menu. A lot of thought goes into each course to provide an unforgettable dining experience. In this exhibition, Chui has carefully considered his 'recipe' of gongbi paintings and calligraphy works, many of them related to food.
The highlight of this exhibition is an artist book titled Master Chui's Kitchen, which distils Chui's thirty plus years of experience in artistic pursuit and academic research into invaluable knowledge on materials and processes for a future generation of artists.
The crab is a familiar subject in Chinese ink painting, a famous example being Five Crabs by Qi Baishi (1864-1957), and a popular delicacy in Hong Kong food culture. Chui Pui Chee's Gain Profit Whenever One Pleases pays homage to this essential local menu item, and to a popular Cantonese drama, 'The Greed of Man' (TVB, 1992). A crab moves sideways and is often ascribed unreasonable, even tyrannical behaviour, which makes it the perfect metaphor for characters in the TV show.
Chui never stops experimenting and pushing the boundaries of Chinese calligraphy. Another recent work, Slightly Drunk, is unique in the use of red wine as one of the paints in its creation. A wine lover himself, Chui not only enjoys his own 'slightly drunk' experiences, but shares his joy visually, with a wonderful 'long finish'.
When not focusing on culinary highlights, Chui Pui Chee's gongbi talent extends to exquisite insect, bird and calligraphy subjects. For the month of August, we invite you to visit 'Master Chui's Kitchen' at Karin Weber Gallery.
MASTER CHUI'S KITCHEN
A Solo Exhibition by
Chui Pui Chee
Exhibition Period:
5 August – 16 September 2023
Karin Weber Gallery
20 Aberdeen Street
Central, Hong Kong
11am-7pm
Tuesday-Saturday
+852 2544 5004
About the Artist:
Chui Pui Chee (b. 1980, Hong Kong) received training in Chinese calligraphy and ink painting from an early age, when he was apprenticed to Professor Jat See-yeu and Professor Wang Dong-ling. He obtained his BA from the Chinese University of Hong Kong, and his MA and PhD from the China Academy of Art in Hangzhou, China. He was a finalist at the Sovereign Asian Art Prize in 2020 and 2018, and the 2015 winner of the Young Artist (Visual Arts) prize of the Hong Kong Arts Development Awards.
Chui's works are in the collections of the Hong Kong Museum of Art (his famous Lyrics of Tourbillon by Wyman Wong in Cursive Script and My Tiresome at the Bottom of Valley XII – Dancing with the Shadows are highlights among seven of his works in the HKMOA permanent collection), the Ashmolean Museum, Oxford, UK and private collections worldwide. Recent exhibitions and art fairs include the new Tokyo Gendai fair, Japan (2023), 'Now Showing 1.0 and 2.0' at Karin Weber Gallery Hong Kong (2022, 2021), Hong Chui Pui Chee, Slightly Drunk, ink, charcoal, colour and red wine on paper, 128 x 70 cm, 2023.3 Kong Museum of Art (2022), iPreciation Gallery, Singapore (2022), Touch Gallery, Hong Kong (2022) and a|n Gallery, Hong Kong (2022)