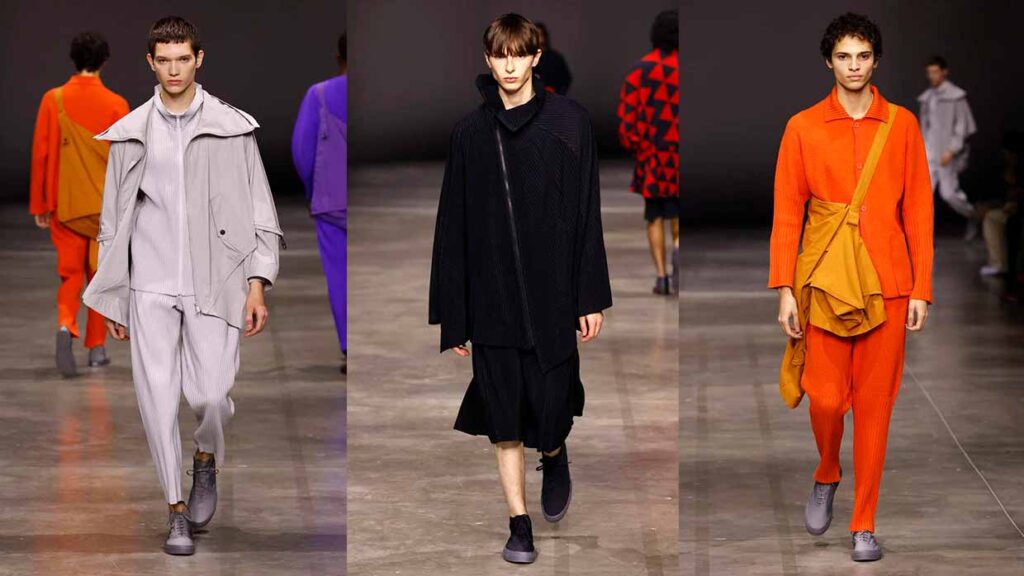 Presented on Thursday, January 19 at Palais de Tokyo in Paris, the HOMME PLISSÉ ISSEY MIYAKE AUTUMN WINTER 2023/24 COLLECTION, Upon A Simplex, is an investigation of triangles and other simple geometric shapes that develops into the creation of complex forms. The forms derived this way are incorporated into garments and the line segments of their components are adapted as folds in fabric constructions—a collection of elaborate formations reflecting the simplicity of basic geometry.
The show is directed by Adrien M & Claire B, a French visual and performing arts company, whose immersive video installation transforms the venue into a world that blurs our perception of space and gravity. A fluid membrane—like an imaginary river of a myriad of particles—appears on and off. It seems to be answering to the rhythm of mysterious chanting. It throbs, undulates, spreads, crumples up, and unfurls, introducing moments of otherworldliness as it emerges and submerges.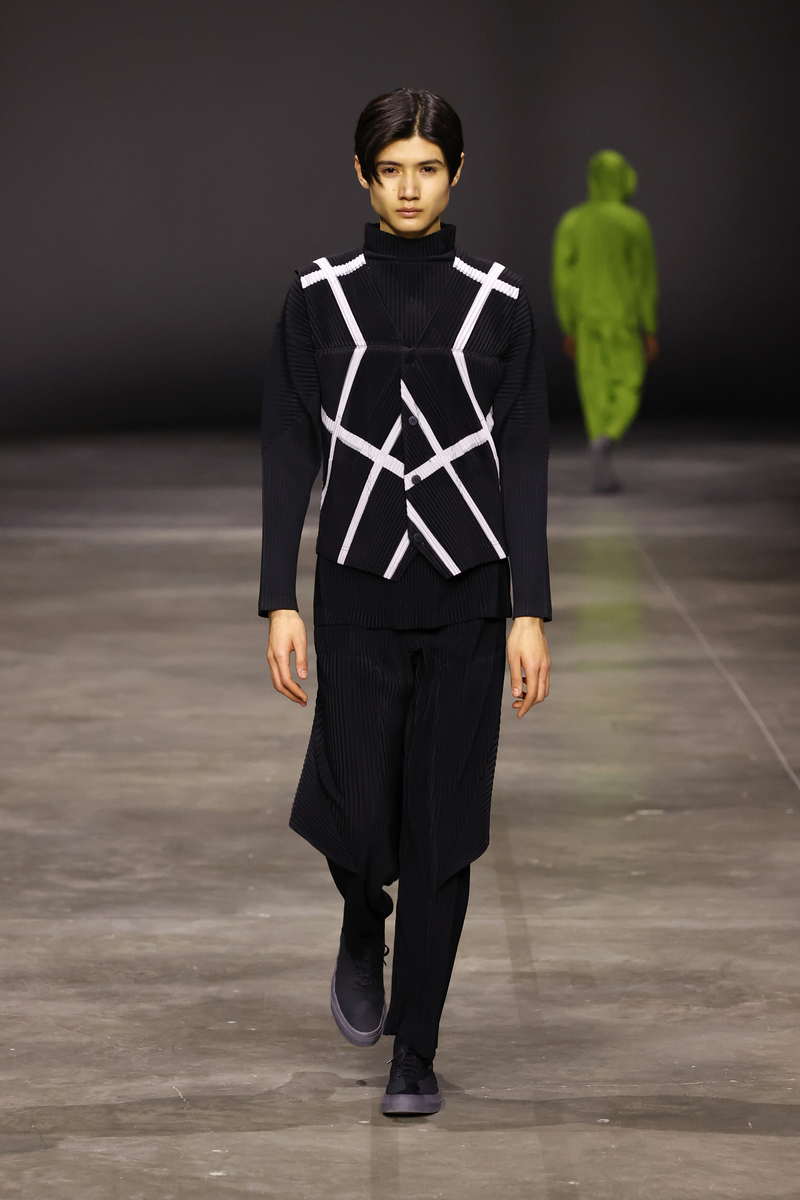 MONTHLY COLOR JULY features a vibrant color palette. The new jacket style is a loose, rounded silhouette. The ridge-like tucks extend from around the neck towards the shoulders, like raglan sleeves, lending themselves to the tubular construction.
EDGE COAT is designed with radiating pleats made of high-density polyester. The new three-dimensional coat style is inspired by a composition of triangles, and features a tuck over the back that extends from one cuff to the other.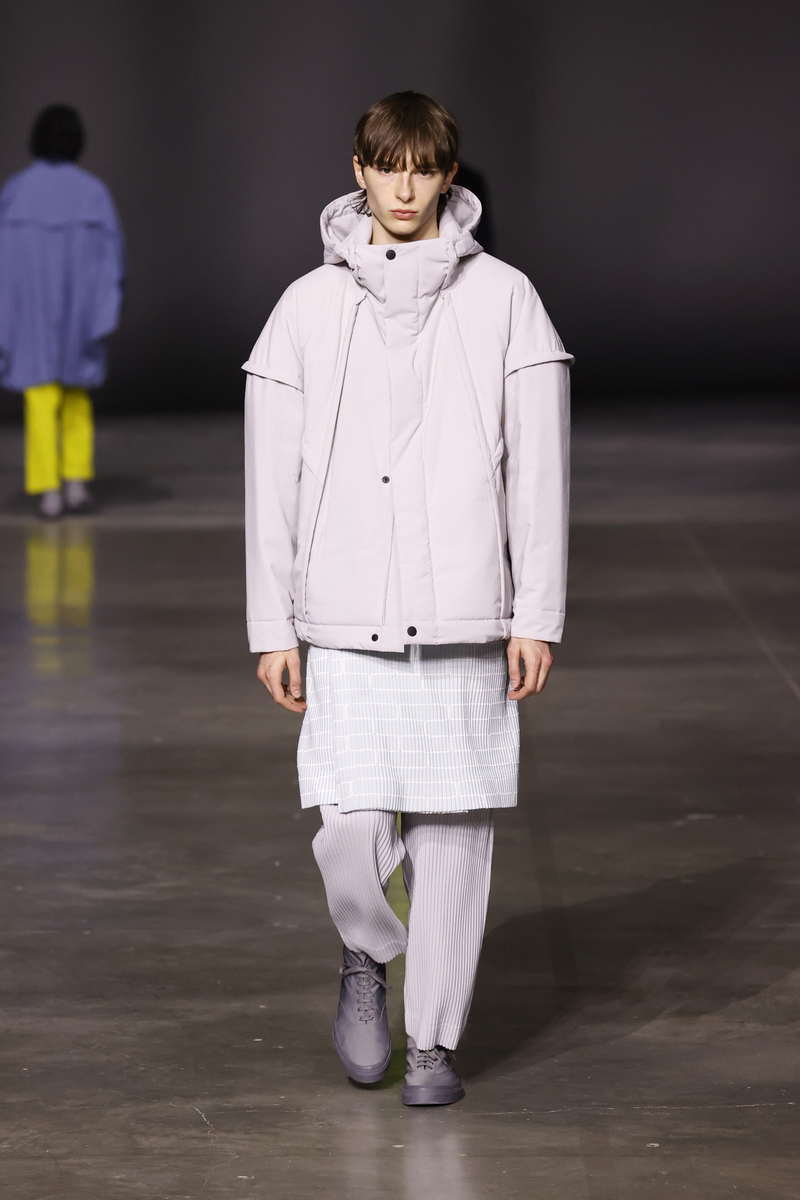 SKEW GRID is a pleated grid print series of contrasting colors, available in three styles: a coat, a vest, and pants. The diagonal pleats and skewed lines create an optical illusion that brings the feeling of motion to the graphic print.
UNFOLD features rectangular overlaps that can be opened or closed for a change in silhouette. By unfastening the snaps, the overlapping pieces unfold into triangular forms that interrupt the linear silhouette: a playful design that can be worn in many ways.
TRUSS is a coat named after its triangular construction like those found in a truss structure. Made of recycled nylon of short fibers to give the coat a soft, cotton-like texture, the adjustable cords inserted inside the seams not only transform the coat but also further enhance the silhouette. The strap on the inside of the coat can be pulled out so the coat can be carried on the shoulder.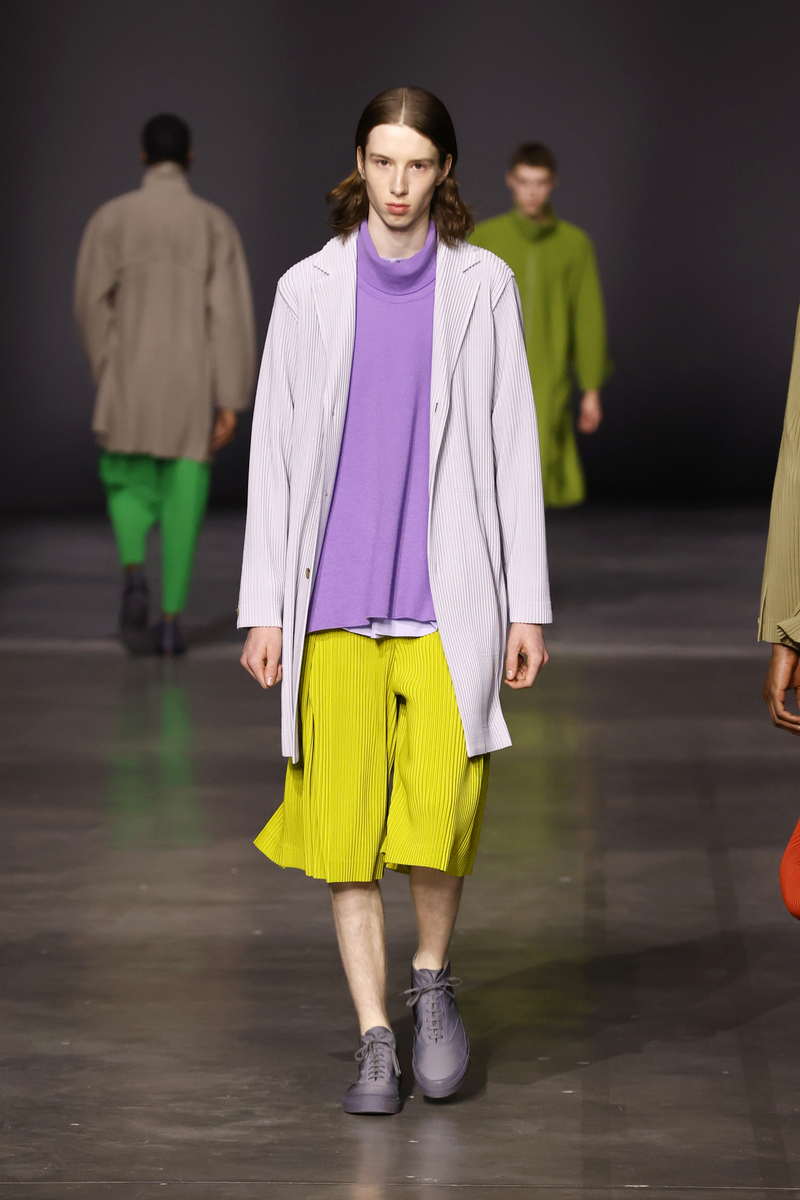 TRIANGULAR GRID s a print series that is a reinterpretation of the work of American architect and philosopher R. Buckminster Fuller: his approach of transforming and subdividing a sphere into triangles. The triangles in the print gradually increase in size, adding a three-dimensional touch to the round silhouette.
The THREE BY SIX garments are made of six triangles in a hexagonal formation. The design creates an opening at the center of each hexagon (for the neck or the body to go through), constructing an uneven hem.