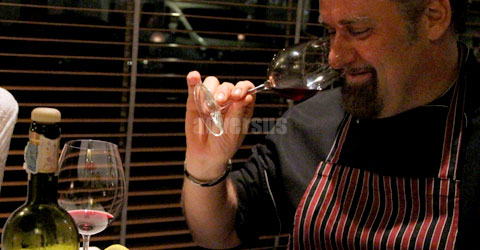 "My main task is to find the best ingredients and my second task is not to ruin them" – Gianni Favro"
Every large capital city in the world has its undisputed gastronomic landmarks – those restaurants that the tourist or business traveller must not miss from the 'to eat at' list when spending time in a big city on the other side of the world.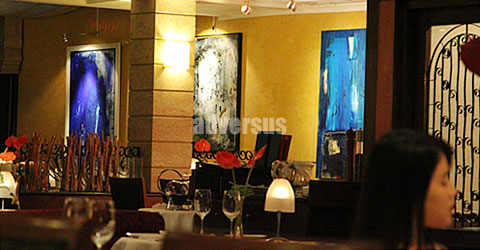 In Bangkok, one of these is without a doubt 'Gianni Ristorante' by Gianni Favro, one of the most famous and revered chefs in this part of the world. Should you find yourself in Bangkok and wish to treat yourself to a premier fine-dining experience, you cannot go wrong with this restaurant, believe me.
Situated among banks and offices in the heart of the business district of this effervescent Asian metropolis (Gianni Favro has been in this very central location for some years now) Gianni Ristorante offers an extremely high-quality gastronomic experience, and is certainly able to compete with the best Italian restaurants in the world.
Three basic principles: Mediterranean style cuisine, modernity and top-quality ingredients
The cuisine at 'Gianni Ristorante' has evolved on three basic principles: Mediterranean style, modernity and the highest quality ingredients. Raw. The starting point is traditional Italian cooking, obviously, which Gianni Favro re-interprets in a contemporary, trendy style. A continuous, almost maniacal, search for the best ingredients, very often served raw, the use of the finest olive oils and advanced cooking techniques are at the basis of the restaurant's success.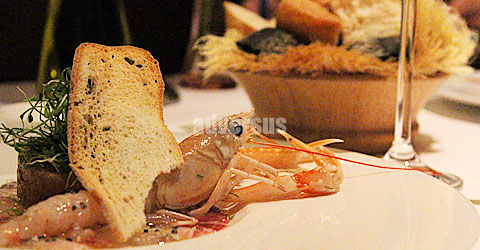 We have previously visited the restaurant and enjoyed the cuisine offered at 'Gianni Ristorante' – and we have already written about it on these pages. Its ultimate and unique challenge: find the highest quality basic ingredients and serve them, with as little processing as possible, to enhance to the utmost their original characteristics, taste and quality.
You will find no salt and pepper on the tables of Gianni Favro's restaurant in Bangkok, "some people automatically season their dish with salt and pepper even before they have tasted the food. Recently after having watched a customer cover my just-served creation with salt I decided to remove all salt and pepper shakers from the tables. Many – in fact far too many – people appear to eat without tasting and the general quality of food in restaurants and also at home has fallen greatly. I intend to go in the opposite direction. Food should be treated with far more attention and respect". 'Less is more' is Gianni Favro's motto. Therefore we would venture to describe his dishes as 'absolutely, but elaborately, simple'.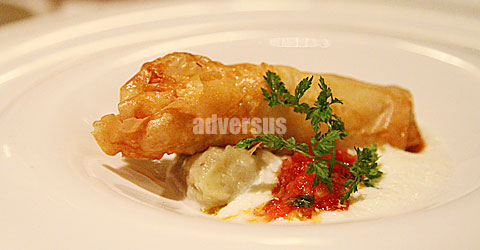 The restaurant is welcoming, with tables discreetly spaced to guarantee customer privacy during lunch and dinner. The background music is subtle and sophisticated and absorbs the conversation of the other guests. Unnecessary to stress the professionalism of the staff. Impeccable.
Raw fish, tagliolini pasta with clams, fillet of red snapper
Tonight our menu is dominated by fish, as our chef informs us on our arrival. Gianni Favro – an imposing figure both from a physical and a culinary point of view – greets us, and by way of welcome, we are served immediately with a glass of excellent Prosecco. I really shouldn't, but…
As a starter, panzanella [Tuscan bread salad] with cucumber espuma, a light "foamy" antipasto to prepare our stomachs for the other courses.
The second dish is absolutely spectacular, a trio of Carpaccio of Sea Bass, Red Tuna Tartar & Mediterranean Scampi: "Over the years we have found the best suppliers, and we have developed the fastest, safest and most efficient way to import fresh ingredients from the Italian market to Bangkok. Usually most of the fish arrives on Thursday evenings. These scampi for example arrived at the restaurant just half an hour ago" explains the chef.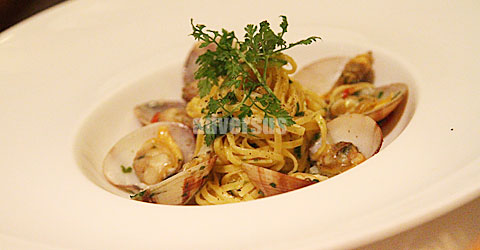 The European sea bass, tuna and scampi literally melt in the mouth. Don't expect any lemon on the fish dishes served in Gianni Ristorante. "I don't like lemon on fish" he says. Enough said.
This was followed byRock Lobster Tail Fried in Fillo Pastry, Mousse of Aubergine & Cream of Mozzarella. A very crispy spring-roll: the flavour of the shrimp tails merges perfectly with the aubergine and mozzarella.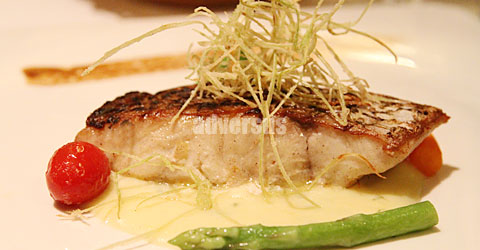 We then proceed to the pasta: Home Made Angel Hair Olive Oil, Garlic & Chili with Clams "Veraci". "For this dish I've used four different types of chilli peppers, some milder and some more piquant" explains Gianni Favro while we are served a white wine from South Tyrol.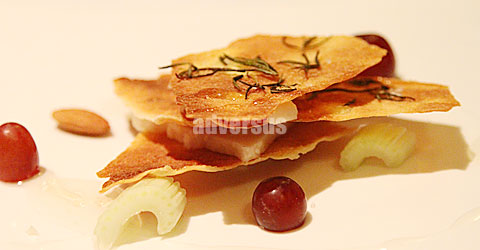 The main dish is an Oven Baked Filet of Wild Red Snapper on Lemon Scented Potato Mousseline. A simply exquisite dish and quite minimalist in its preparation, proving once again that a high quality ingredient, such as this red snapper fillet, can be garnished simply by a sprig of thyme. Nothing else is required.
"I don't like overdoing mixtures of spices and herbs, I use only what is strictly necessary, a little thyme on fish, a sprinkling of fennel fronds on cucumber mousse…"
Meanwhile we have arrived at the cheese course. On our plates the traditional pane carasau [music paper bread] with flakes of soft pecorino cheese and a few almonds and grapes. A red wine, a veritable delight to the palate, accompanies this course.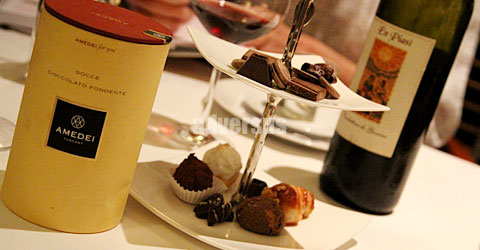 Panna Cotta with Passion Fruit Compote concludes our dinner. Or almost. Gianni has finished work for the evening dividing his time equally between kitchen and customers' tables and eventually comes to sit with us, bringing a bottle of Barbera Chinato and a simply divine Medley of Amadei Chocolate. A fitting end to an excellent dinner.
A gastronomic experience in Bangkok not to be missed. Reservation is recommended however, particularly for dinner on every night of the week because, oddly enough, this restaurant has a tendency to be always full ;)
Alessio Cristianini for TRENDYSTYLE HONG KONG
Gianni Ristorante
34/1 Soi Tonson Ploenchit Road
Bangkok 10330
Telephone: 0-2252-1619
0-2 652-2922
Fax: (66) 2 652 2584
email:gianni@loxinfo.co.th