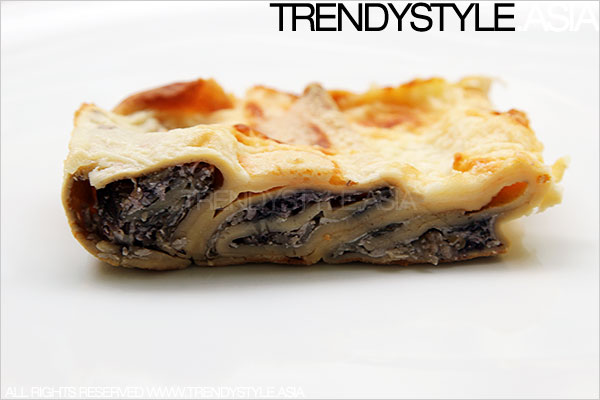 Comfort food in a light version. No cream, no fat milk, no butter in the béchamel sauce… This is one of the my favorite dishes to cook for my friends when I have some spare time.
My "Crespelle al radicchio rosso e ricotta" (or crepes with red radicchio and ricotta cheese) are quite different from the official recipe, in the sense that I try to avoid creams and butter as much as possible.
The final result is a very tasty main dish, but without those extra calories we all regret about after we have finished a tasty meal. the secret is in the use of the right ingredients. This is my recipe, you give it a try. Alessio.
INGREDIENTS FOR 6 TO 8 PERSONS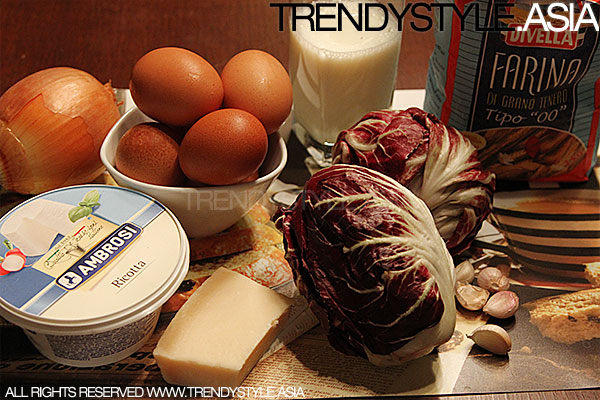 For the crepes
Oil
¼ liter of milk
3 big table spoons of flour
6 eggs
For the béchamel sauce
¼ liter of milk
1 big table spoon of flour
Salt
For the filling
1 small onion
garlic
2 small crops of red radicchio
250 grams of ricotta cheese
1 package of grated parmesan cheese
Salt
PREPARATION
The crepes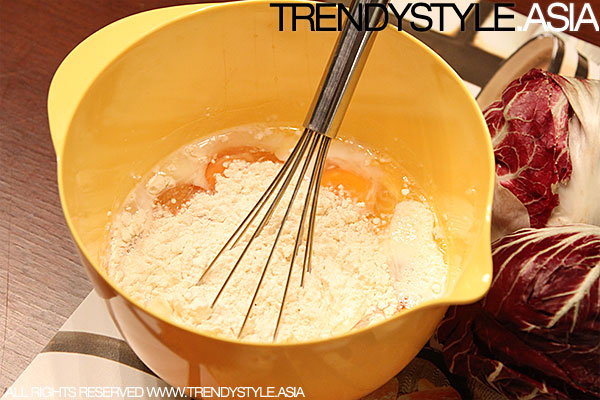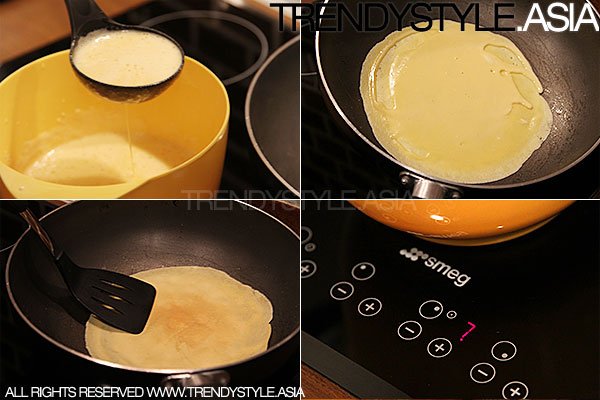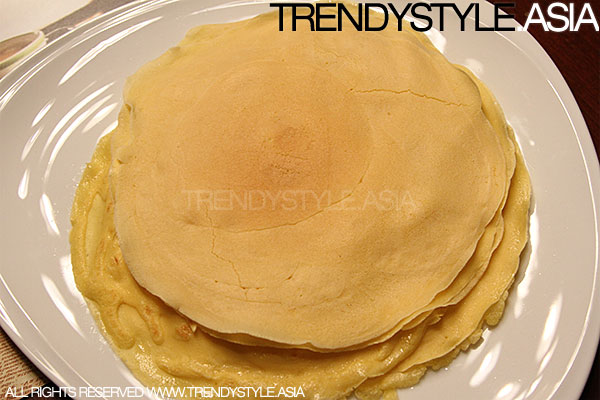 Pour the milk in a bowl, add the flour and break the eggs into it. Whisk the ingredients until everything is incorporated. Heat some (very little) oil in the pan and ladle a small quantity (see the pictures) of batter in the center of the pan. Move the pan to swirl the batter all over the surface of the pan. Flip the crepe to the other side as soon as the crepe has taken form and cook the other side. It will take you all together just a little more than 1 minute for each crepe. Stack the crepes on a dish and repeat until the batter is finished.
The filling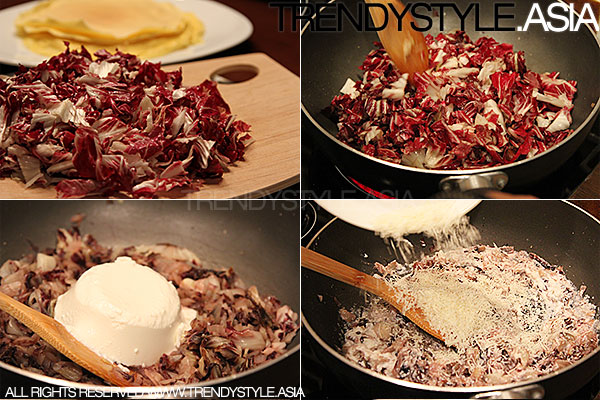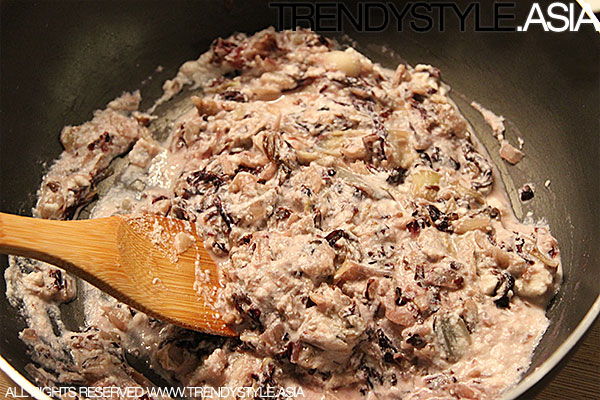 Wash the radicchio and chop it into strips. Dice the onion and the garlic. Fry the onion and garlic in olive oil, add the radicchio and allow it to reduce. Add the ricotta cheese and half of the parmesan cheese, and stir until everything is well incorporated. Add salt to taste and let the filling cook for a while.
The béchamel sauce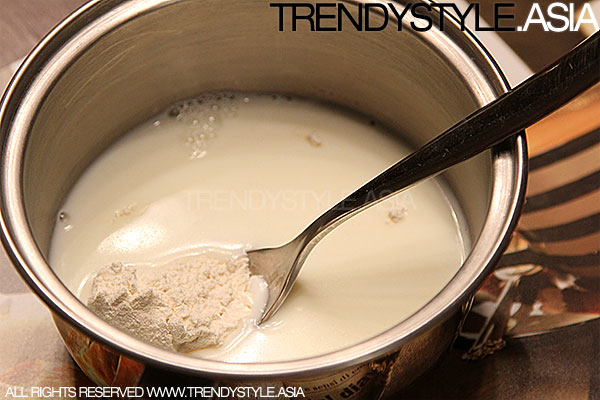 Pour the milk into a small saucepan, add the flour and salt and warm the milk stirring it all the time until the sauce gets thick.
Filling the crepes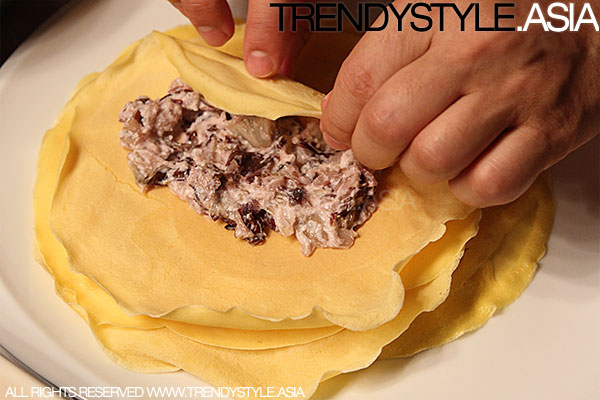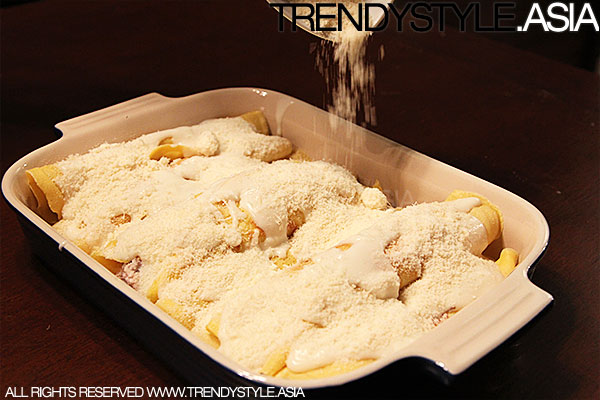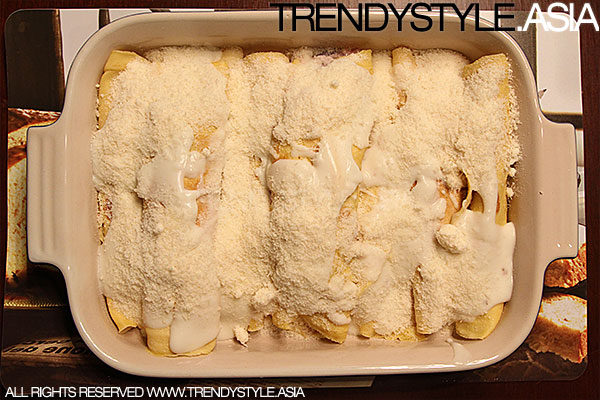 Scoop one big table spoon of the filling on a crepe, roll it up and place it in an oven dish. Do the same with the other crepes. Cover the filled crepes with béchamel sauce and sprinkle the other half of grated parmesan cheese over it. Put the dish in the oven for approximately 30 minutes (180 degrees Celsius), checking from time to time that the surface doesn't burn.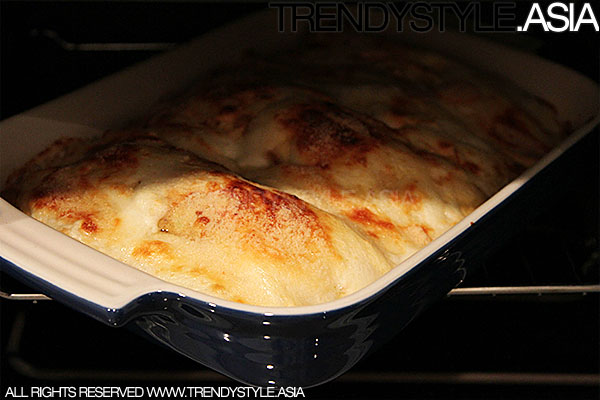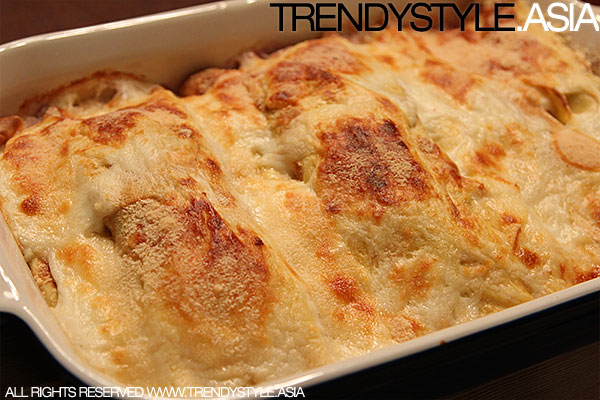 Buon appetito!
Alessio Cristianini for TRENDYSTYLE HONG KONG