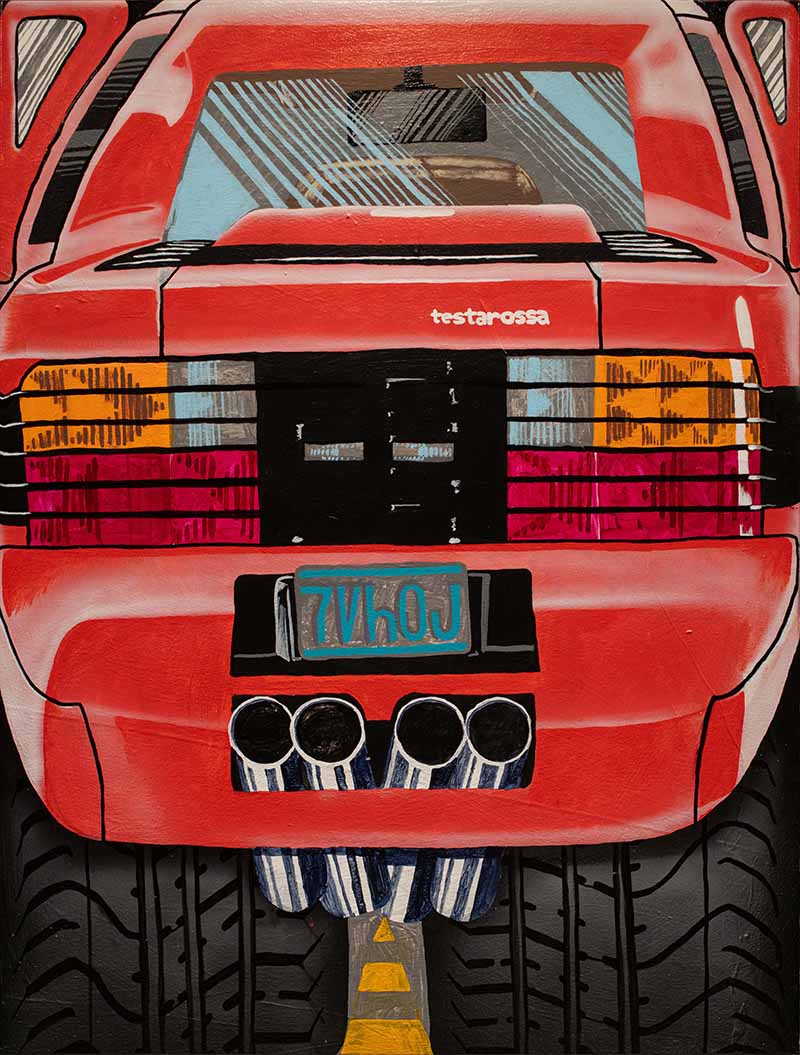 Calling all car lovers! JPS Gallery presents Royal Jarmon's highly anticipated solo show Seat's Taken at Landmark Atrium. Presenting a captivating and daring display, the Brooklyn-based artist delves into the realms of human experience and popular culture by showcasing a series of seemingly flattened, birds-eye view of classic cars from the latter half of the 20th century, such as the timeless machine Porsche 911 and the iconic Ferrari's Testarossa in 80s.
Fuelled by his keen observations of everyday objects and natural elements, Royal has been working on the vehicles he travelled with since his twenties. Known for his flattened spatial perspective and breathtakingly intricate display of complex subject matters, Royal's bold brushstrokes and vibrant Testerossa, 2023, acrylic on canvas, 121.5 by 91.5 cm.
Courtesy of the artist and JPS Gallery.colour palette not only draw viewers' attention but cleverly convey the allure of consumerism
reminiscent of captivating advertisements. Through the distortion of perspective and space, Royal provides viewers with a multi-dimensional experience where they can witness the beauty of these classic cars in their entirety—from all sides at every angle in one painting. The deconstruction of the vehicles mirrors Royal's ongoing exploration of perspective, distortions and beauty within the present world of art and culture.
In this exhibition, Royal's refined and meticulous approach takes centre stage. The deliberate distortions and deconstruction of these iconic cars become even more pronounced from a birds-eye view, and Royal's emphasis on the visual distortions ironically subverts the inherent stability of these vehicles. The infusion of ambiguous humour within Royal's flattened automobiles will drive viewers to further investigate the interconnectedness of popular culture and human experience through a surrealistic lens.
About Royal Jarmon
Royal Jarmon's paintings and sculptures are vibrant expressions of reality that explore visual aesthetics, spatial imaginings, and perceptions of our surroundings. His work creates an alternate view of reality by exaggerating perspectives and forms, using saturating colours, and distorting recognisable objects, images, and items.
Royal's works are concerned with social culture and popular human experiences as we navigate life and the world around us. Playing with our expectations for how landscapes, objects, and scenes are viewed and understood, fire escapes strewn with bottles, food detritus, and cans of soda and beer become playful landscapes and still lives. The spatial perspective is flattened, and the inanimate objects become living characters reflecting themes of consumption, leisure, and the every day, while also transforming this space with hyper colours, airbrushed backgrounds, and exaggerated scales into an illusionistic world. Royal's works engage with contemporary digital and internet culture,making a direct dialogue with our current, present-day reality.
Royal Jarmon – Seat's Taken
29 September – 25 October, 2023
JPS Gallery
Shops 218-219, 2/F, LANDMARK ATRIUM, 15 Queen's Road Central, Central, Hong Kong.