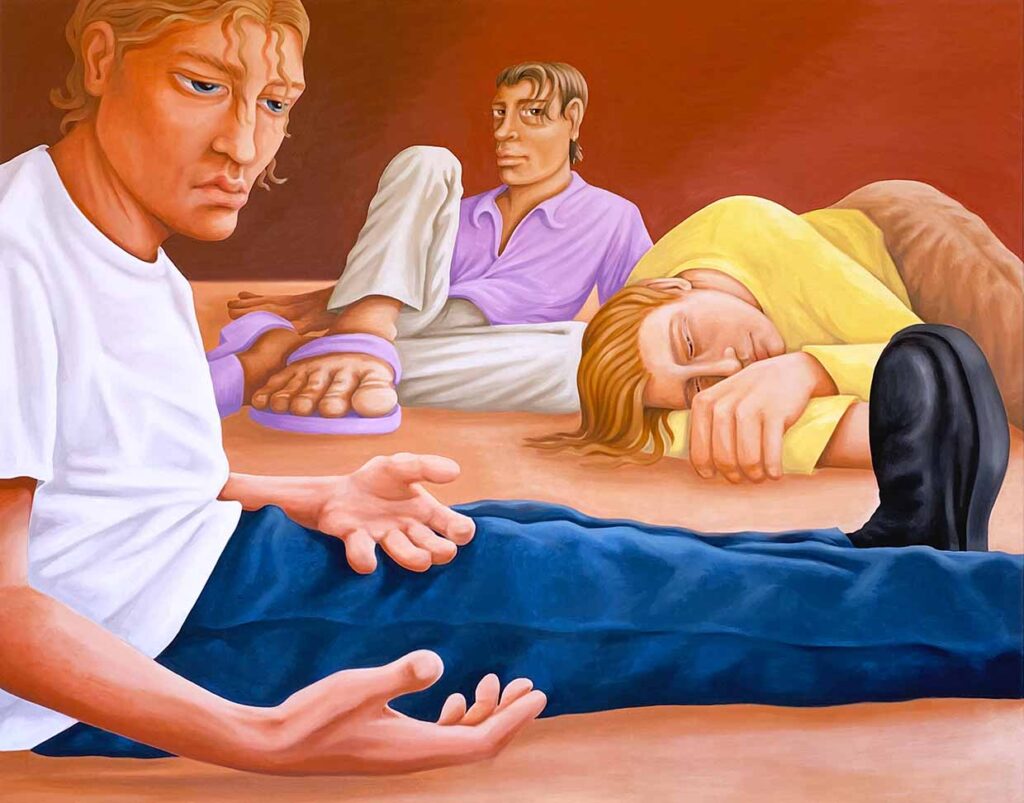 JPS Gallery presents Mellow doubt, British contemporary artist Joe Cheetham's first solo show in Asia, which will be exhibited at our Hong Kong gallery space. Cheetham is widely known across Europe for his exceptional ability to capture the collective jubilance of club culture through his unique depiction of cartoonish figures raving bodies in vibrant colours and eccentric gestural brushwork. However, his recent works reveal a noteworthy transition in Cheetham's artistic practice as he adopts a more subdued approach in addressing the physical tension and isolation that is emblematic of contemporary life.
Cheetham's exaggerated representation of homogenous figures constrained within isolated spaces implicitly captures the deep-seated emotions that reside within every individual. Despite the lack of interaction among the figures, they individually exhibit desperate, suspicious, and confused sentiments which are further intensified by Cheetham's reddened palette. The figures' loose and exaggerated limbs evoke a profound sense of fatigue, which stands in stark contrast to his earlier works.
Cheetham's deliberate play with the ambiguity of gender, time, and physical location emphasises a detachment from reality, inviting viewers into a realm of imagination characterised by confinement and unease. Mellow doubt represents a pivotal moment in Cheetham's artistic development in addition to being a unique projection of one's inner world, overflowing with intricate and authentic emotional complexities that we all experience in an era inundated with information.
About Joe Cheetham (B.1992)
Joe Cheetham lives and works in Glasgow, UK. His work focuses on figurative painting and its expanded installation, fluidly adapting style and medium to articulate varied moments of human emotion. Expanding on a long-standing interest in club culture and cartooning, his latest paintings mark a shift in medium and focus as Cheetham adopts the versatility of oil paint to produce works that address the physical tension and isolation of contemporary existence.
Solo exhibitions include: 'Something for the Weekend', L21 Gallery, Palma de Mallorca (2021); 'Can you feel it?' TACO!, London (2019); 'Such a good feeling', Jakob Kroon Galeri, Worthing (2019) and 'Joe Cheetham', Trade Gallery, Nottingham. Group exhibitions include: 'Full English', Platform Southwark (curated by Dateagle Art, 2019); 'Sinkhole Project', London (curated by Ginny Projects, 2018); 'Wherever you Land', Slugtown, Newcastle (2018); 'Welcome to Suede', Suede Gallery, Edinburgh (2016); 'No Bad Wednesdays', Voidoid Archive, Glasgow (in collaboration with Embassy Gallery, Edinburgh, 2016) and 'Interim', Talbot Rice Gallery, Edinburgh (2016).
Joe Cheetham
Mellow doubt
4 – 30 November, 2023
Location: Shops 218-219, 2/F, LANDMARK ATRIUM, 15 Queen's Road Central, Central, Hong Kong