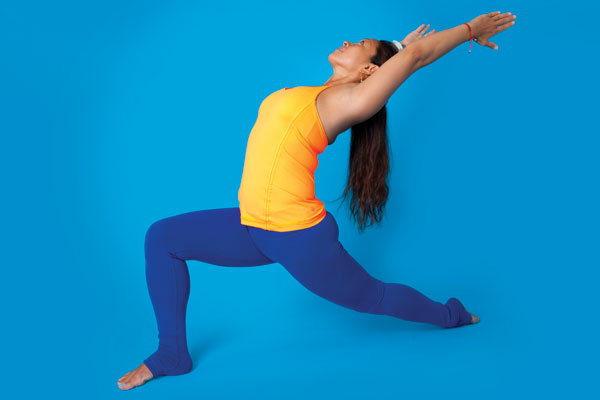 A healthy lifestyle is something we should all be aiming at. Not only for a healthier body, but for a healthier mind as well. Yoga practice and healthy food, together with a detox program at least twice a year are – according to Tryphena Chia, Yoga Instructor of Pure Yoga – www.pure-yoga.com – one of the best ways to achieve such a healthy lifestyle. In this interview with Tryphena we will talk about the benefits of a regular detox program and of a regular physical activity in order to strengthen and improve the health of our body. And of our mind.
Tryphena will be leading another 9-day yoga & juice detox workshop in July for more info on upcoming programmes check http://www.pure-yoga.com/en/hongkong/ or write toevents@pure-yoga.com
Healthy lifestyle, detox programs, yoga practice. Please share with us your ideas and your views, and introduce us to this (for most of us) new way of improving our body and health
Tryphena says, "Personally, I feel that to be healthy, one must be physically active and have a very intimate relationship with one's body and one's food. The saying "we are what we eat" is so true. When you become so connected to your body, you immediately notice when you consume something that is not right for you. I started practicing yoga after years of going to the gym. I noticed that what I was eating had a direct effect on my yoga practice. When I ate chicken or red meat, my body felt tighter and heavier the next day when I practiced, and when I ate lighter meals, my body felt lighter.
So I began to gradually switch to a vegetarian diet. I feel the healthiest I have ever felt living on a non-animal based diet. There is a misconception that one must eat animal products in order to have the energy to function. I have done multiple detoxes and still kept a very active lifestyle (gym and yoga) while on detoxes. Our body uses a lot of energy to digest animal products. That is why after a heavy meal, one often feels lethargic. When you are on a detox, your body gets to take a break from all the digestion. That is why one feels more energized after getting over the healing crisis in the first two days.
I feel that it is very important for everybody to do some form of detox at least twice a year. Inevitably, we consume so much toxins due to the way food is being produced these days. We spend so much money buying products to clean our external body, but what we really need to clean is our internal vital body that keeps us alive and healthy. When we do a detox, it is a great way for us to reset the body and rid the body of cravings and any excess heaviness that we carry around. I have led two nood food juice cleanse events with Pure Yoga (6-DAY GLOW-FLOW DETOX FOR A VIBRANT YEAR OF HORSE and NOODETOX FOR GLOWING SKIN) and have had amazing results from each participants. It is very normal to feel very tired or experience headaches the first day or two, but that is just part of the detox process as your body is purging out all the toxins.
Once you are able to get through the first two days, the rest is easy. I love the feeling of lightness within my whole body. The whites of my eyes become whiter, colours are brighter and everything becomes sharper. I have an immense amount of energy that I literally feel invincible!
The beauty of yoga is that it is accessible to anyone in any shape, form or weight. There is always something everyone can do. You can walk in to a yoga class after a stressful day and walk away completely relaxed. Yoga helps us to not only stretch our bodies, but also our minds. It helps us cultivate a deeper sense of connection to our physical body and our mind. Through the practice of yoga, I become more connected to my body and hence, start to lead a much healthier life. I am much more conscious of the food that I take because I know how that is going to feel in my body. A lot of people shy away from yoga because they think that they are not flexible enough. Those are the people who really should be doing yoga! Yoga is not about touching your toes but about taking time out to reconnect with yourself. If you want to live a very long life, you need to start being physically healthy now and establish a better relationship with food. Eat to live, not live to eat. Do yoga to live, not live to do yoga."
Which are the most important benefits of a detox program incorporating juice cleanse and yoga practice, both for our body and for our mind?
These are some of the most important benefits of detox programmes:
better & deeper sleep
clearer and sharper mind
body feels lighter
more energized
more flexible
skin becomes much softer (great way to clear up acne)
eyes become clearer, objects seem sharper, colours are brighter
amazing way to reset the body
rid the body of cravings
deeper meditations
And Tryphena added, "It is nice to incorporate yoga practice while on a detox because yoga is a very low impact workout. One can still be physically active and not deplete the body of too much energy while on a detox. I usually incorporate a lot of twists, binds, and different breathing exercises during a detox program to help the body speed up the detox process.The mind becomes quieter and clearer so you end up being much calmer."
nood food Juice Cleanse
A juice cleanse is a healthy form of routine maintenance providing your system rest to begin repairing itself on a cellular level. You abstain from solid foods and simultaneously flood the system with organic, cold-pressed vegetables and fruit juices containing living enzymes and nutrients which redirect energy in the body to deep inner cleansing and healing.
Thank you
Alessio Cristianini for TRENDYSTYLE HONG KONG
Tryphena Chia, Yoga Instructor of Pure Yoga
http://www.pure-yoga.com/en/hongkong/
http://www.all-nood.com/
In her former life, Tryphena used to work for the Ritz-Carlton Hotel Group. She did not step onto the mat until 2006 when a friend kept urging her to try yoga because it would help calm her down from the stress of her corporate life in New York City. After her first Bikram class, she was hooked – instead of running six miles a day like she used to, she slowly cut down on her gym time and started going to yoga twice a day.
Her first training was completed in Kerala, India with Ted Grand & Jessica Robertson of Moksha Yoga. She did her pranayama training at the Krishnamacharya Yoga Mandiram in Chennai, India; obtained a diploma with distinction in Yoga therapy at Yoga Vidya Gurukul in Nashik, India; completed Yin training with Paul Grilley and pre- & post-natal training with Dr. Jean Byrne from Australia. She has also done a whole slew of workshops with numerous teachers. Tryphena is the only Baptiste-certified teacher in Singapore and she feels truly honoured & grateful to have found Baron Baptiste as her teacher.
Tryphena believes in having fun on the yoga mat – being willing to fall apart and make mistakes on the yoga mat. She embraces Baron's teachings of being authentic and allowing for chaos on the mat in order for beauty to shine forth. She is so thankful that yoga has chosen her because she truly enjoys and loves sharing her yoga with others.
Contact info:
Pure Yoga Asia Standard Tower
2/f Asia Standard Tower
59-65 Queen's Road Central
Central
Hong Kong
T +852 8178 0000
About nood food
nood food introduces innovative, delicious cold-pressed juices and organic foods to consumers in Asia. Foods without preservatives or additives are at their nutritional peak – and nood food advocates the consumption of such food by incorporating them into accessible and tasty recipes that are the foundation of a health-conscious lifestyle. The well-known adage, "you are what you eat" is a hallmark of nood. By sourcing the freshest organic ingredients from around the world and preparing them with the least amount of processing, nood food preserves optimum nutrients and is the purveyor of food in its purest form.
Made-to-order juices and smoothies Refreshing & soothing.
Bottled cold-pressed juices No-sweat rejuvenation.
Superfood-packed menu Complete nutrition in a meal.
No-hassle raw vegan friendly & gluten-free raw food options
Juice cleanses All-liquid diet of cold-pressed juices.
nood food items are available at Pure Yoga and Pure Fitness locations in Hong Kong. For the full menu, please visit
nood food Asia Standard Tower at 2/f Asia Standard Tower, 59-65 Queen's Road Central, Central, Hong Kong
nood food Lee Theatre Plaza at 15/f Lee Theatre Plaza, 99 Percival Street, Causeway Bay, Hong Kong
nood food Fairmont House at Level 2, Fairmont House, 8 Cotton Tree Drive, Admiralty, Hong Kong
www.allnood.com