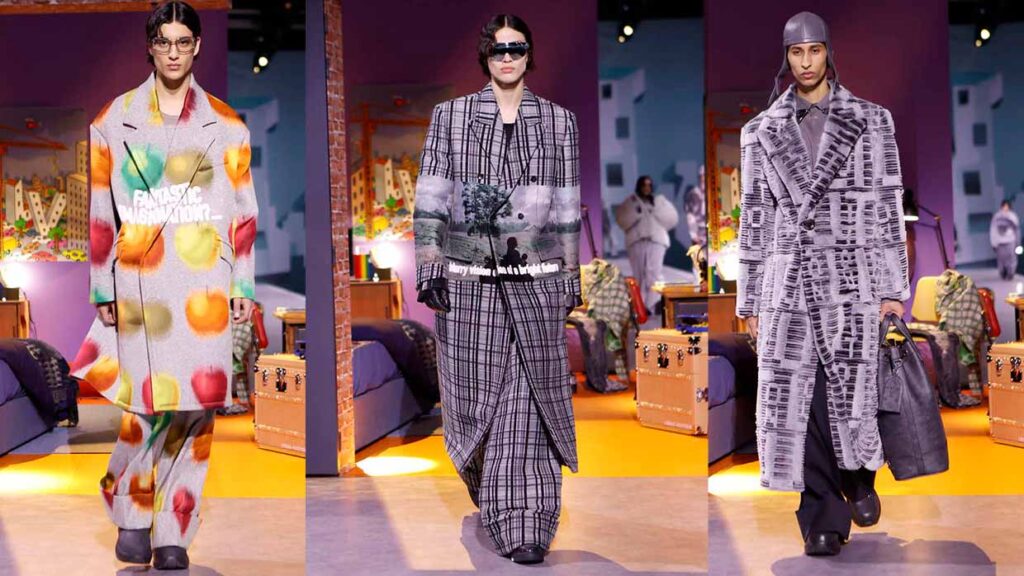 Louis Vuitton Man Fall Winter 2023 2024. Coat-within-a-coats are single coats constructed with integrated overlays that create the effect of layering two coats. Crypto patterns take their name from encryption and manifest in all-over motifs that evoke computer script in jacquard tailoring, technical sportswear fabrics, treated denim, and hand-cut fur.
Denim pieces are glazed, slashed, distressed or interwoven from scraps in plays on optical illusions and effects innate to TV screens. Épi leather jackets and trousers with shoe-lacing details reinterpret the Maison's signature material and nods at the movement-inspired patterns of the collection.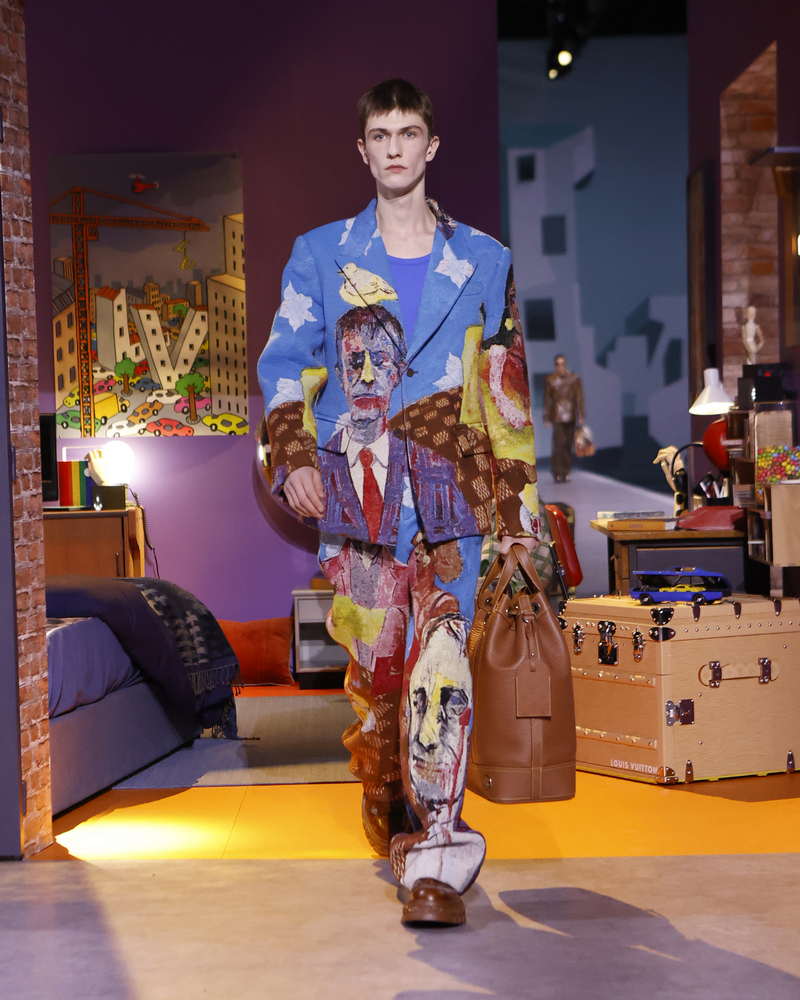 Fringing appears throughout the collection as a take on blurry and illusory effects, in knitwear, in the jacquard of suiting and work-wear, as trims in tailoring, and as decoration created from the natural weaving of the cloth of check tailoring.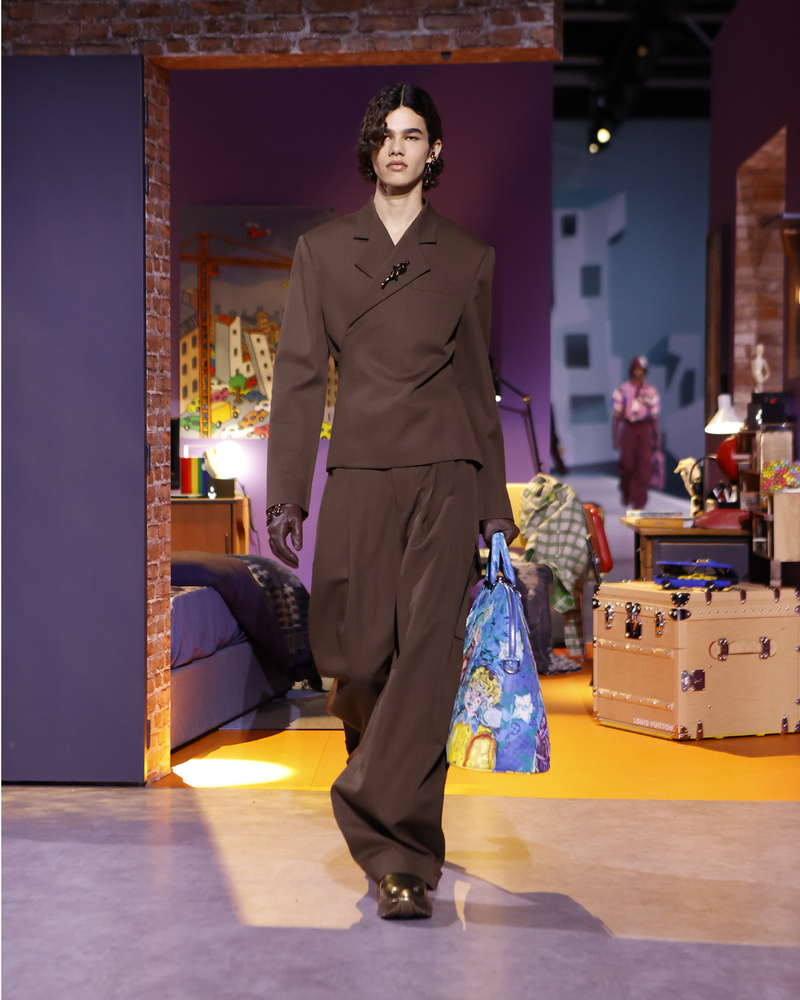 Knitwear interprets the illusory theme of the collection in plated3D diamond patterns, constructions with fringes and frayed edges, and cashmere grid knits, while the collection's face motif is evoked in a twinset with crochet-like embroidery and in a merino jacquard hoodie and shorts.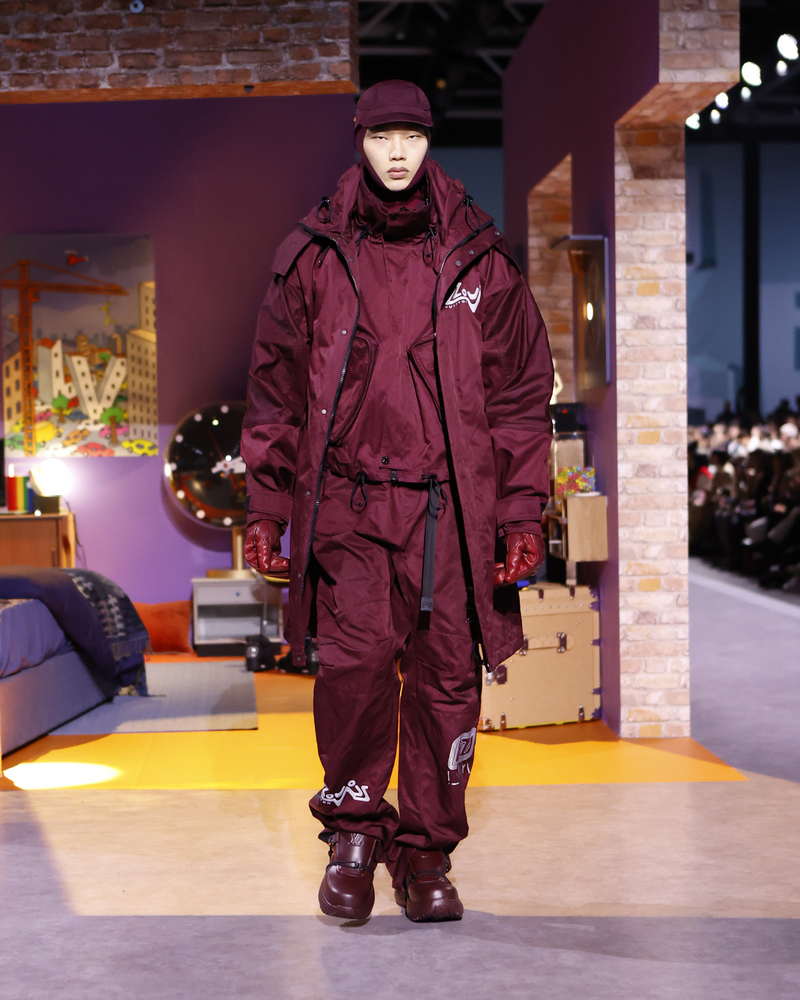 Motorcycling uniform effects are evoked through collaged appliqué in leather pieces. Movement-effect tailoring pieces are created with compacted crinkled and pressed fabric needle-punched onto a wool base for a three-dimensional effect, and fashioned onto the silhouette itself in a warped shape. Shapeshifting garments reconstruct panels from different garment genres into the same piece and appear across workwear, shirts and skirts.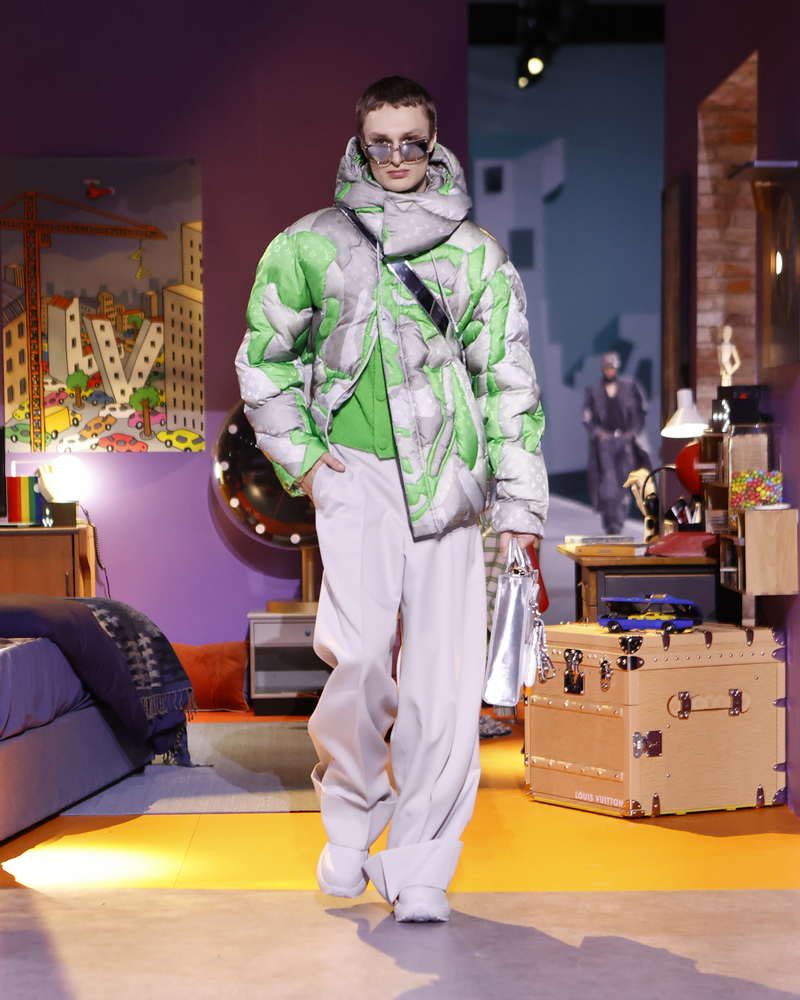 Shearling appears glazed and cracked in a flight jacket that echoes the same effect employed inbags. Silver laminated metallic Monogram leather pieces nod at effects tied to the TV universe. Tailoring is based on a young person's vision of grown-up dressing and materialises in a silhouette that oscillates between the over-sized and the fitted. TV Hallucination patterns are created through multicolour jacquard motifs employed in tailoring embroidered with sequins and pearls. Unravelling suit components that come apart stitch by stitch with movement are made from cotton yarns hand-knitted seamlessly from the shoulder of the top and the waist of the trouser and down,allowing them to unravel as the wearer walks. Workwear constructed in magnified volumes becomes increasingly oversized and culminates in trousers deconstructed into full skirts.