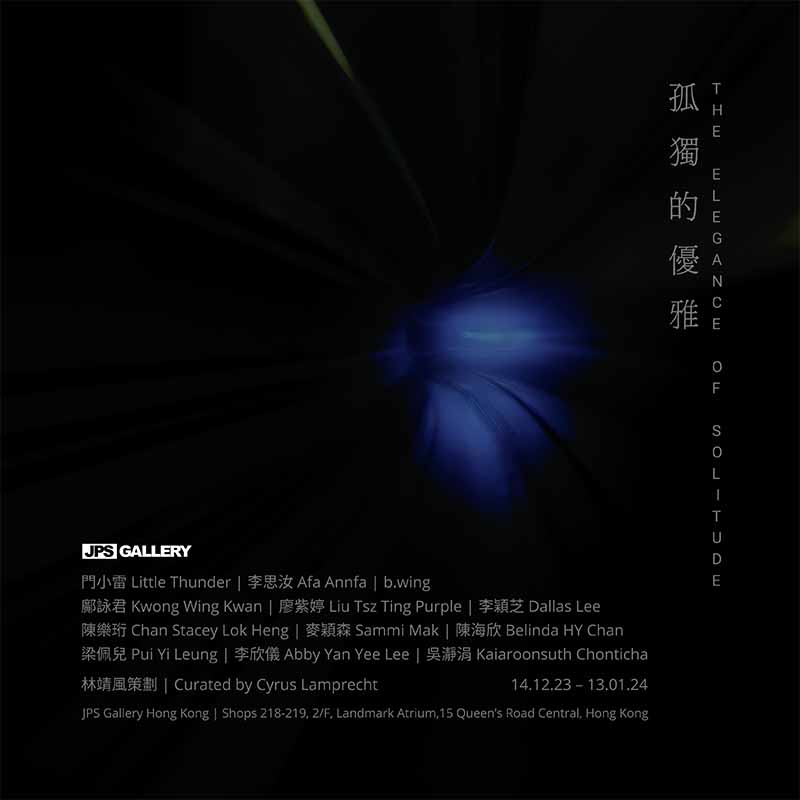 A group of twelve Hong Kong artists, including Little Thunder, Afa Annfa, b.wing, Kwong Wing Kwan, Liu Tsz Ting Purple, Dallas Lee, Chan Stacey Lok Heng, Sammi Mak, Belinda HY Chan, Pui Yi Leung, Abby Yan Yee Lee, and Kaiaroonsuth Chonticha, present their works of landscapes, architecture, abstraction, and portraiture in an exhibition that invites viewers to embark on a daily journey from home to the street. Within the spaces depicted in their art, a sense of elegance is conveyed through solitude. This exhibition serves as the final installment of the "Solitude Trilogy" art project curated by Cyrus Lamprecht, which explores the influence of solitude and absurdist philosophy on modern society.
Throughout history, individuals have grappled with the struggle between exerting control and being subjected to control. The essence of life lies in finding a balance between these opposing forces. If humans were confined to self-contained spaces and spent their days moving between rooms with varying scenarios, could they break free from the constraints of solitude? In the absence of others, the potential for internal dialogue emerges.
The existence of humans can be likened to the elegant decorations found in a hallway. Each room holds memories that are occasionally revisited, while the corridor serves as a pathway for forgetting.The reason for remaining within the room is to avoid the prying gazes from the corridor. Individuals find both freedom and constraint within their thoughts. Solitude is often equated with loneliness, a misconception that can only be dispelled by individuals who have personally experienced the sensation of excitement. For those who have lived in solitude, loneliness becomes as commonplace as breathing.
Human beings have always possessed a rebellious spirit, and perhaps the purpose of life is to rebel. In a solitary space, art becomes an elegant form of resistance. On the silent, empty canvas, chaotic strokes that capture the essence of life are left behind. The purest form of hope emerges from despair. People smile and allow pain to become the rhythm of their breath.
Participating Artists
Little Thunder (b.1984, Hong Kong)
B. 1984, Hong Kong. Currently based in Hong Kong. Cheng Sum-ling, also known as Little Thunder, is a self-taught artist who was born and raised in Hong Kong. Heavily influenced by her father, who is an ink painter, she has cultivated her enthusiasm for painting since childhood. At the age of 8, she started drawing manga, and at that time, her sister was her only reader. She fully committed to the world of manga and illustration in 2001, and her works were serialized in a variety of magazines. She was awarded the Best New Artist at the China Japan Comics Exchange in the same year.
In 2006, she published her first manga and art book and began drawing the trilogy KYLOOE the following year. The trilogy was completed and published in 2012. It has been translated into Chinese, French, and Italian. KYLOOE 1 – Downhearted Dragonfly received the Bronze Award in the 4th International Manga Award. Her debut solo exhibition, "CONFESSION," was held in Hong Kong in 2012, and she began to explore various forms of artistic presentation.
Afa Annfa (b.1983, Hong Kong)
Afa Annfa is one of the emerging stars in the local art scene. Her works probe the complexities of human emotions and our connection with one another, capturing tensions between the human psyche and worldly materials.
Afa approaches painting with her visceral meditation and observation that evoke strong sentiments. Her practice recalls the style of Japanese Ukiyo-e and irregular comics, depicting figures that seem to be fictional in an atmospheric environment yet remain substantial and grounded. Afa creates narratives and a unique language to manifest her inner visions through images adapted from popular culture.
Afa earned her BA from Hong Kong Polytechnic University. Before becoming a full-time artist, she worked in one of the biggest advertising agencies in Hong Kong. She enjoyed a successful career as an art director collaborating with international as well as local brands and musicians. In 2018, Afa was awarded the CreateSmart Young Design Talent Award from the DFA Hong Kong Design Talent Award. Since 2020 Afa has been participating in various charity events, including The ExtraOrdinary Exhibition with Karen Leung Foundation at Phillips and the HKAGA fundraiser event at Christie's. Her painting Sugar Cubes was also acquired by the iconic fashion brand Salvatore Ferragamo following their HKAGA x Ferragamo Collaboration in 2020.
b.wing (b.1972, Hong Kong)
Hong Kong artist b.wing's visceral works are renowned for their intimate and frank portrayal of personal yet universally relevant experiences. Her reinventing approach to art and expansive visual practice encompasses painting, sculpture and hand stitching on canvas. Driven by the profound changes in her life in recent years, she began to further develop immersive installations involving ink calligraphy graffiti presented alongside her wistfully meditative works. Playing with the characters' scale and composition, her childhood habit of scribbling on the school blackboard as a form of catharsis has now evolved into writing across exhibition walls in bold dripping ink, demonstrating a keen sense of graphical wordplay.
b.wing's earliest channel of expression was her iconic character A-boy, who she created on a piece of toilet paper in 2006. The forever seven-year-old boy with a pair of rabbit ears and dark circles underneath his eyes was first created as a way for b.wing to escape reality and accompany her in times of loneliness. Since then, b.wing's personal growth and artistic development are reflected in her portrayal of A-boy as she began to engage in more honest dialogues with herself through her emblematic character. b.wing's newfound courage to face daunting realities and inner turmoil inspired her to draw more references to trials and tribulations from her own life without the companion of A-boy, like her emotive ink graffiti which speaks directly to the heart of many viewers.
Kwong Wing Kwan (Hong Kong)
KWONG Wing Kwan lives and works in Hong Kong. Kwong received her BA in Fine Arts from The Chinese University of Hong Kong in 2012. Integrating with Kwong's feelings of disturbance, fear, and the transience of life, her visceral works compress layers of objects and scenery imbued with narratives. These works can be seen as projections of her psyche. Continuing the series "Good Morning, Sweet Dreams," in which Kwong portrays contrasting themes of tenderness and violence, familiarity and distance between the interior and exterior, her recent works accentuate sceneries oscillating between day and night, in exploration of the concept of "home" and ones' infatuation towards it.
Since 2021, some of Kwong's friends and relatives have been relocating from their "homes" for various reasons. The familiar landscapes that were once intertwined with their surroundings now encompass not only the enchanting glimmers of domestic lighting but also images of decay and captivating glamour that continuously revitalise the city. Despite being at home, the feeling of homesickness persists.
Kwong has participated in multiple exhibitions, including solo exhibitions titled "Good morning, sweet dreams. – Midnight Sun" (cadet capela, Paris, 2023), "Good morning, sweet dreams." (Gallery EXIT, Hong Kong, 2021), "Suspending World" (Artify Gallery, Hong Kong, 2014), "Clear-air Turbulence" (Grotto Fine Art, Hong Kong, 2013). Group exhibitions include "Art NOW 9th Edition" (Monnaie de Paris, Paris, 2023), "Taxonomies of Imagination" (Make Room, Los Angeles, 2022), "Art Basel Hong Kong" (Hong Kong, 2021-2023), "Grotto 20th Anniversary" (Grotto, Hong Kong, 2021), "In/outward" (Link Gallery, Beijing, 2017), "ART MO International Art Fair" (The Venetian Macao Cotai Expo, Macau, 2014), and "Art Nova 100" (Touring exhibition sites, China, 2014).
Liu Tsz Ting Purple (b.1993, Hong Kong)
Liu Tsz Ting, Purple (b. 1993 in Hong Kong) graduated from Hong Kong Baptist University with a BA (Hons) in Visual Arts in 2016. Using architectural motifs to illustrate the relationship between objects and beings. Her colour- and shape-driven paintings explore the boundaries between virtual space and tangible structure.
Dallas Lee (b.1999, Hong Kong)
LEE Wing Chi, Dallas is fascinated with the power of painting and drawing. She thinks it can interact with people and meanwhile within every part of the work. Her works lie between representation and abstraction. She intends to construct a world connecting reality and imagination at the same time to fulfil dreams. She paints like drawing and draws like painting unconsciously. She seldom defines whether her work is a painting or a drawing, as she believes that the blur brings the work to life.
Chan Stacey Lok Heng (b.1995, Australia)
Stacey Chan Lok Heng (b. 1995, Australia) received her BA from the Academy of Visual Arts at Hong Kong Baptist University in 2017. Chan's practice revolves around conceptual processes and the use of everyday objects as medium. Through her drawing, sculpture, and installation works, she presents the form of emptiness and nothingness, allowing for psychological dialogues between viewers and objects. Her pharmaceutical works, in particular, challenge the physical manifestation and inherent symbolism of Western medicine, deconstructing its meaning and reflecting on the relationship between contemporary art, medical cure, and religious redemption.
Her works have been exhibited in various exhibitions, such as solo exhibitions "Placebo" (Gallery Exit, Hong Kong, 2021) and "In-Itself" (Toni Areal Gallery, Zurich, Switzerland, 2018), as well as group exhibitions "Museum of Half Truths" (1a Space, Hong Kong, 2020), "Chinese Whispers" (Austrian Museum of Contemporary Art, Vienna, 2019), "Yicca 2019" (Prsten Gallery HDLU Museum, Croatia, 2019), and "Weight Watcher" (Kunstquartier Bethanien, Berlin, Germany, 2018). Chan currently lives and works in Hong Kong.
Wing Sum Sammi Mak (b.1996, Hong Kong)
Wing Sum Sammi Mak was born and raised in Hong Kong in 1996. She is currently based in London. She completed her Master's Degree in Fine Arts Painting at the University of the Arts London in 2022 and received her Bachelor's Degree in Visual Arts from the Academy of Visual Arts at Hong Kong Baptist University in 2018. Mak was also featured in the Financial Times, interviewed by VOGUE Hong Kong and China Daily, as well as in other local news articles. She was awarded the HKOP Award in Printmaking for the 2020-2021 year by the Hong Kong Open Printshop (2020) and also participated in an artist residency at the Hong Kong Open Printshop during the same period (2020-2021).
Recent exhibitions include Alter-native (Ugly Duck, London, 2023), Phases of Matter (Gallery EXIT, Hong Kong, 2023), a solo presentation at Hong Kong Art Central 2023 (Odds and Ends Gallery, Hong Kong, 2023), Highlights of 2022 Graduates in London (Liliya Art Gallery, London, 2022), This Art Exhibition (Espacio Gallery, London, 2022), Up Close – Hollywood Road II (Nan Fung Group "In Time Of" and MUSTHAVEKEYS, Hong Kong, 2021), and Dear Universe (HKOP, Hong Kong, 2021). Her works were privately collected in Hong Kong, the UK, Portugal, China, Southeast Asia, and the US.
Belinda HY Chan (b.1993, Hong Kong)
Born in Hong Kong in 1993, Chan currently resides in Vienna. She attended Wimbledon College of Arts, University of the Arts London, and earned a Master of Fine Arts degree in Fine Arts. Her work possesses an abstract, dreamlike sensibility that blurs the distinctions between figuration, abstraction, and tales. It investigates the uncanny nature of the subconscious's uncharted worlds and is driven by an intense sense of loss and longing.
Chan has exhibited her paintings in various locations, including Hong Kong, London, and Vienna. Notable exhibitions include her solo exhibition titled "The Veil of Solitude" (the Arca Hotel, Hong Kong, 2023), as well as group exhibitions such as "The Labyrinth of Solitude" (Seefood Room and Shout Gallery, Hong Kong, 2023), "Vertical Merger" (Riverside House, London, 2021), "Devils, Gods, and Software Engineers" (Deptford Does Art, London, 2020), "Der Frühe Vogel fängt den Wurm" (Anatolia Schnitzel Gallery, Vienna, 2019), "Postopia" (Ugly Duck Gallery, London, 2019), and "Who Will Provide?" (Crypt Gallery, London, 2018).
Pui Yi Leung (b.1996, Hong Kong)
Born in Hong Kong in 1996, Leung graduated from the Fine Arts Department at The Chinese University of Hong Kong. Specialising in Gongbi and painting, the artist seeks the possibilities within contemporary paintings by utilising traditional skillset with contemporary expressions, thus connecting her own feelings and things observed from her daily life. The artist tries to express the relationship between art and the self through her works. Her works often explore conscious and unconscious themes, and she creates by observing the subtle relationship between human potential unconscious states and established cognitive beliefs.
Abby Yan Yee Lee (b.1989, Hong Kong)
Graduated from the Hong Kong Academy for Performing Arts with a major in Scenic Art. During her time as a student, she had the invaluable opportunity to partake in a scenic internship at the Royal National Theatre in London, further enriching her artistic skills and perspective. She then graduated with a Master of Arts in Fine Art degree from the Chinese University of Hong Kong.
Lee likes to depict living and working environments, with favourite issues including collective cooperation and individual destiny. She has been working as a props maker in a theme park for 9 years.
Kaiaroonsuth Chontich (Hong Kong)
Kaiaroonsuth Chonticha graduated from Hong Kong Baptist University with a Bachelor of Visual Arts. Dynamic landscapes and subjects are often depicted in her works. She wants to gain a deeper understanding of personal consciousness, while also being aware of the complexities and ambiguities associated with it. Her mixed cultural background led to a greater sense of distance and transition in her personal development. Absolute traditions seemed to be nonexistent. Her way of seeing has become relatively fluid. Chonticha's paintings and writings reflect not only her personal stories or observations in daily life, but also literature, her walking routines, and the unexpected connections with strangers.
Location
Shops 218-219, 2/F, LANDMARK ATRIUM, 15 Queen's Road Central, Central, Hong Kong.
The Elegance of Solitude
Little Thunder, Afa Annfa, b.wing, Kwong Wing Kwan, Liu Tsz Ting Purple, Dallas Lee, Chan Stacey
Lok Heng, Sammi Mak, Belinda HY Chan, Pui Yi Leung, Abby Yan Yee Lee, and Kaiaroonsuth
Chonticha
22 December, 2023 – 13 January, 2024