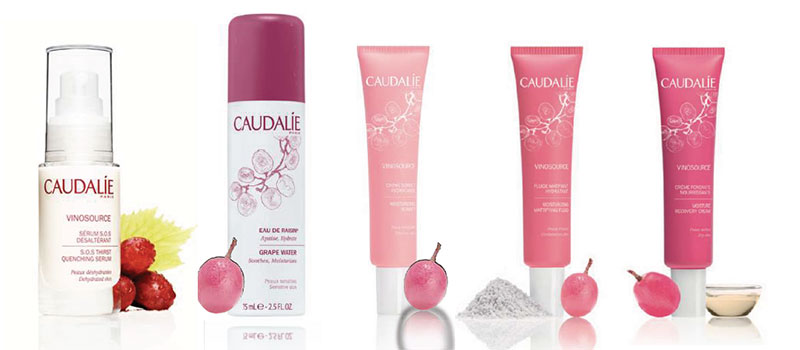 Created for them, to be a natural part of their lives, the VINOSOURCE range promises to deliver
extra-sensory pleasure derived from natural ingredients. All of the products with their ultra-natural formulas rich in organic Grape water ensure thirst-quenching, moisturizing and soothing sensations. Even better, the collection is adorned in a palette of sensual pinks. After use, the skin is delighted, and the senses heightened. Women always have Grape Water in their hand bags, a botanical mist that refreshes, moisturizes and soothes in one easy step.
All you need is love, and Grape Water…
Such is the dream life of modern young women. They trust their instinct, living free and singular, going wherever the road takes them. Their canon of beauty is freshness associated with a new spontaneous style. Instead of seeking to seduce, they live in the moment. They want to laugh, radiate and embrace life with their friends. Facial moisturizing is their number one beauty ritual. They want delicate and natural beauty products that stimulate their sensations and emotions. All while keeping things simple.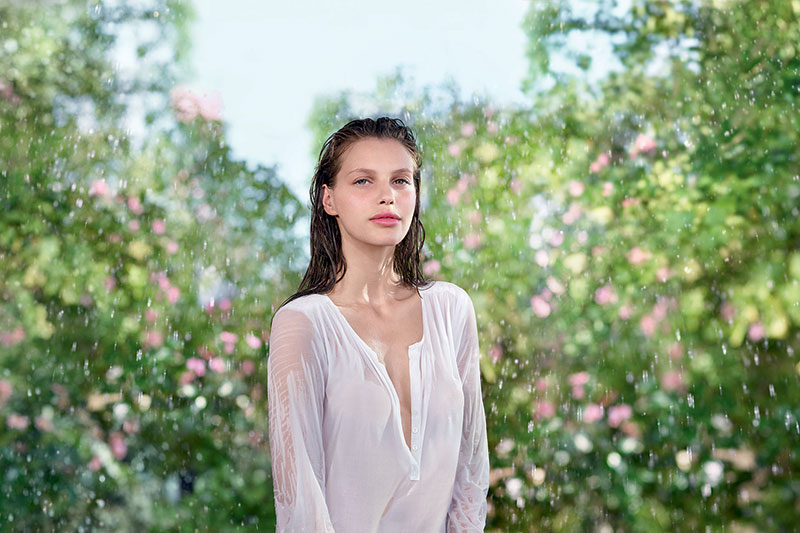 Organic Grape Water®
Harvesting Fresh Grapes
It all starts with the picking of fresh grapes during the very first days of the harvest. These grapes are primarily organic Merlot and Muscat grapes from the Gard and Hérault regions, particularly renowned for their sunshine and therefore the richness of their fruits. These 100% organic grapes are farmed in the best possible conditions protecting the environment: no GMOs or chemical pesticides are used, and natural balances are preserved.
Production Secrets
The harvested grapes are then pressed and distilled using a low-pressure process. This exclusive Caudalie process makes it possible to isolate water from the grape juice by evaporation and also purify and potentiate it. This exceptional water is combined with a very small dose of pure organic red grape juice to achieve the perfect formula: Caudalie organic Grape water.
100% Pure And Active
Grape water contains grape anti-oxidant Polyphenols and polysaccharides, as well as minerals that contribute to the maintenance and correct functioning of the skin barrier, for skin that is soothed and moisturized.
Hydrating efficacy:
Thanks to its hypotonic nature, Caudalie organic Grape water penetrates easily into the skin's cells to saturate them with water. It is also rich in polysaccharides, intelligent sugars that capture water and keep it at the surface of the skin. The skin is immediately hydrated: +127% hydration1
Soothing efficacy:
Scientific tests show that Caudalie organic Grape water soothes the skin:
• Feelings of irritation reduced by 61% for volunteers with irritated2
• Reduction of the production of mediators implicated in the appearance of redness3
Patented Grape Polyphenols
Among the most powerful anti-oxidants of the plant world, grape polyphenols stop free radicals, thereby preventing premature ageing of the skin and also preserving the reserve of hyaluronic acid naturally present in the skin.
Vinolevure®
Extracted from the cell wall of wine yeast, rich in beta-glucan, it captures and retains water to prevent dehydration of the epidermis and reinforce the skin's immune defenses.
1 clinical study with 12 volunteers, Corneometry measurement
2 clinical test,20 volunteers
3 in vitro test on skin fibroblasts
VINOSOURCE
Awaken the hydration power of Organic Grape Water® Hydration increased by 127%*
With divine textures and fragrances for a genuine sensory experience, the range redefines the hydration regimen even for the most sensitive skin.
Limited Edition
Organic Grape Water HK$60/ 75ml
A moisturizing ally for all skin types
Caudalie Grape Water is one of the brand's best-selling cult products around the world. This mist soothes, refreshes and moisturizes all skin types, even the most sensitive, at any time of day. Soothing like thermal spring water, this botanical water is also ultra-moisturizing. It is instantly absorbed by the skin so there is no need to blot after use.
Composition: 100% organic Grape water®. Preservative-free. Fragrance-free.
CULT PRODUCT
S.O.S Thirst Quenching Serum HK$320/ 30ml
For Sensitive And Dehydrated Skin
Hydration increased by 127%* & Skin sensitive decreased by 61%**
A moisturizing bubble: The S.O.S Thirst-Quenching Serum continuously captures and diffuses water deep within the skin to restore its moisture balance and leave it feeling soft and fresh.
Apply morning and evening to a cleansed face and neck. Avoid the eye contour.
Composition: 100% organic Grape water®, Hyaluronic acid & Grape-seed Polyphenols
Non-comedogenic.
*Corneometry®, 12 volunteers
** Clinical trial, 20 volunteers
Advanced
Moisturizing Sorbet HK$260/ 40ml
Moisture for dehydrated, sensitive skin
Soothed skin by 90% & Reduced redness by 77%**
Thanks to its "quick break" technology, this gel-cream turns into a patch of water on contact with the skin, which it soothes, moisturizes and strengthens.
Its notes of mandarin blossom, lemon tree leaf, cucumber water and fresh mint are delightful and refreshing. 98% ingredients of natural origin.
Composition: moisturizing and soothing organic Grape water®, protecting Vinolevure®, aquaregulating complex, soothing chamomile, anti-oxidant grape Polyphenols.
Non-comedogenic.
* Clinical test, % satisfaction, 28 days, 22 volunteers
Advanced
Moisturizing Matifying Fluid HK$260/ 40ml
Fights shine
100% Mattifying effect after 1 hour* & Refined skin texture: 75%**
This lightweight fluid with a blotting effect reduces excess sebum instantly, all while restoring the skin's moisture level. Rebalanced, the skin is matte and velvety. 92% ingredients of natural origin.
Composition: moisturizing and soothing organic Grape water®, protecting Vinolevure®, absorbing and sebum-regulating Java tea leaf extracts and flax powder, anti-oxidant grape Polyphenols.
Oil-free, non-comedogenic, does not cause acne.
* Brillancemétrie®, effect observed for 100% of the 22 volunteers, 1 hour after application
** Clinical test, % satisfaction, 28 days, 19 volunteers.
Advanced
Moisture Recovery Cream HK$260/ 40ml
Cocooning Care
Immediate comfortable skin & Suppler skin by 96%*
This smooth cocooning cream provides dry skin with plant lipid nutrients it needs every day to be nourished and comforted. 97% ingredients of natural origin.
Composition: nourishing grape and borage oils, protecting Vinolevure®, anti-oxidant grape Polyphenols.
* Clinical test, % satisfaction, 21 days, 23 volunteers
VINOSOURCE EXPERIENCE
The Vinosource treatment is one of the Caudalie Vinothérapie Spa's iconic treatments.
Vinosource Hydrating Facial
Soothing, Hydrating & Anti-Oxidant
60 minutes $800 | 90 minutes $1,150
Ideal for dry, sensitive and stressed skin, this treatment with fresh grapes was specially designed to restore comfort, radiance and softness to the skin. The combination of the Nourishing Concentrate with soothing massage relaxes tense facial muscles, while the application of our Polyphenols-rich Anti-Ox Mask accelerates cellular renewal and reveals skin radiance. Skin is soft, plumped and visibly brighter.
Store Information:
Caudalie Boutique SPA : 3 Gough Street, Central (Tel: 2319 1006)
Tsim Sha Tsui SOGO : Shop B1-16, 20 Nathan Road (Tel: 3911 1017)
Tsim Sha Tsui FACESSS: Shop F42, 2/F (Tel: 3102 1823)
Website: hk.caudalie.com
Launch Date: 6th May, 2016