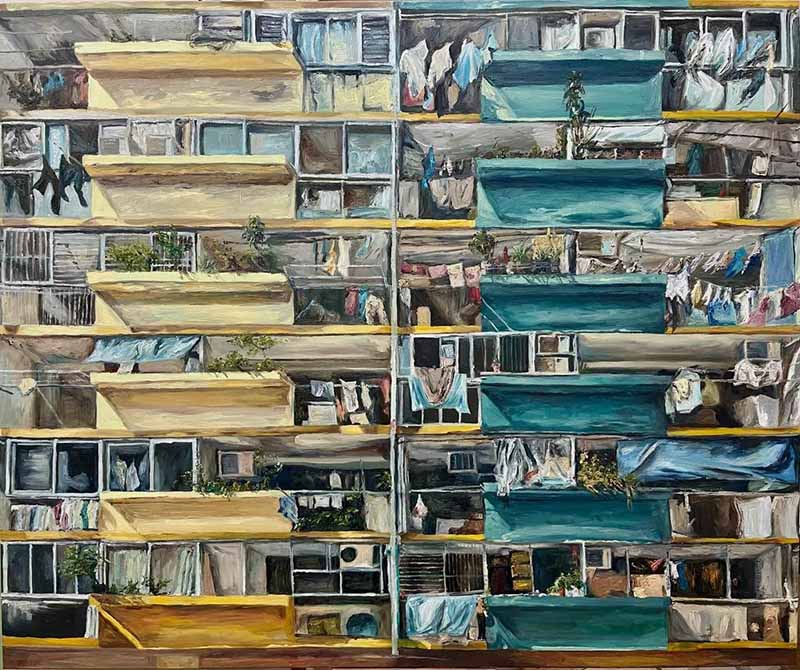 Karin Weber Gallery is pleased to announce the group exhibition 'tri-angles' curated by Eric Leung, featuring works by Cassandra Lau Po Yan, Chivas Leung and Kaiaroonsuth Chonticha. In geometry, a three-faced polyhedron cannot exist in a three-dimensional space unless it is a curved surface, hence, a three-faced polyhedron should not exist.
However, human perspectives and opinions are erratic and may be distorted. Considering issues from three different angles can create a three-dimensional thinking space. The exhibition hopes to examine the world through the visions of three young female artists and illustrate their unique perspectives on life.
Cassandra Lau Po Yan believes every city has its unique culture, which manifests through peoples' lives and identities. A place of residence presents the cityscape and connects people with their space. It is our interpretation and the concept of home. Our fast-paced city is rebuilding urban neighbourhoods in our communities, reflecting trends in globalisation and gentrification. Old-style residences such as
'tong laus' (Chinese tenements) have been gradually demolished and replaced by new concrete high-rise buildings, which isolate people and emphasise loneliness in the city.
Locals living in 'tong laus' have been a unique and memorable aspect of Hong Kong life since the 19th century, creating collective memories. Recording their forms preserves the beautiful city landscape in its concrete jungle.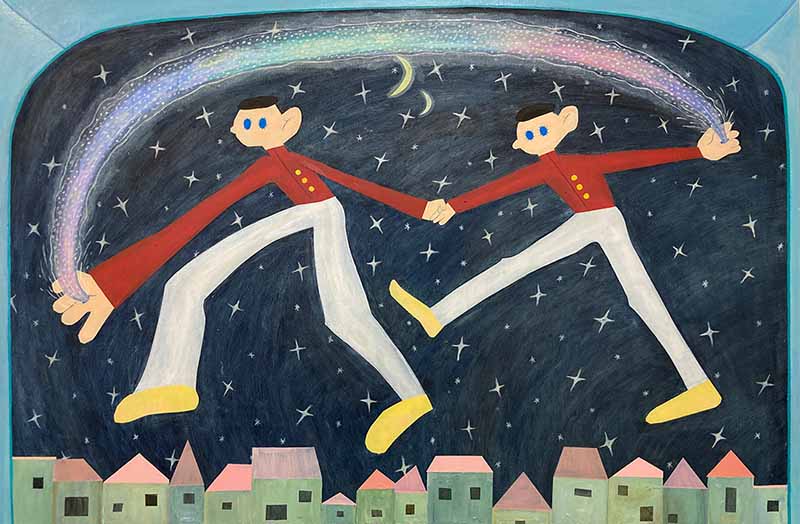 Chivas Leung sees painting as a ritual to complete a memory, as the irreversible nature of life prompts her to vividly recall the past. Inspired by Richard Sanderson's song Reality, which accompanied her childhood, this series of works interprets Leung's understanding of the song. An encounter between two people may just be a figment of the imagination, and the meaning of intimate relationship between people is explored.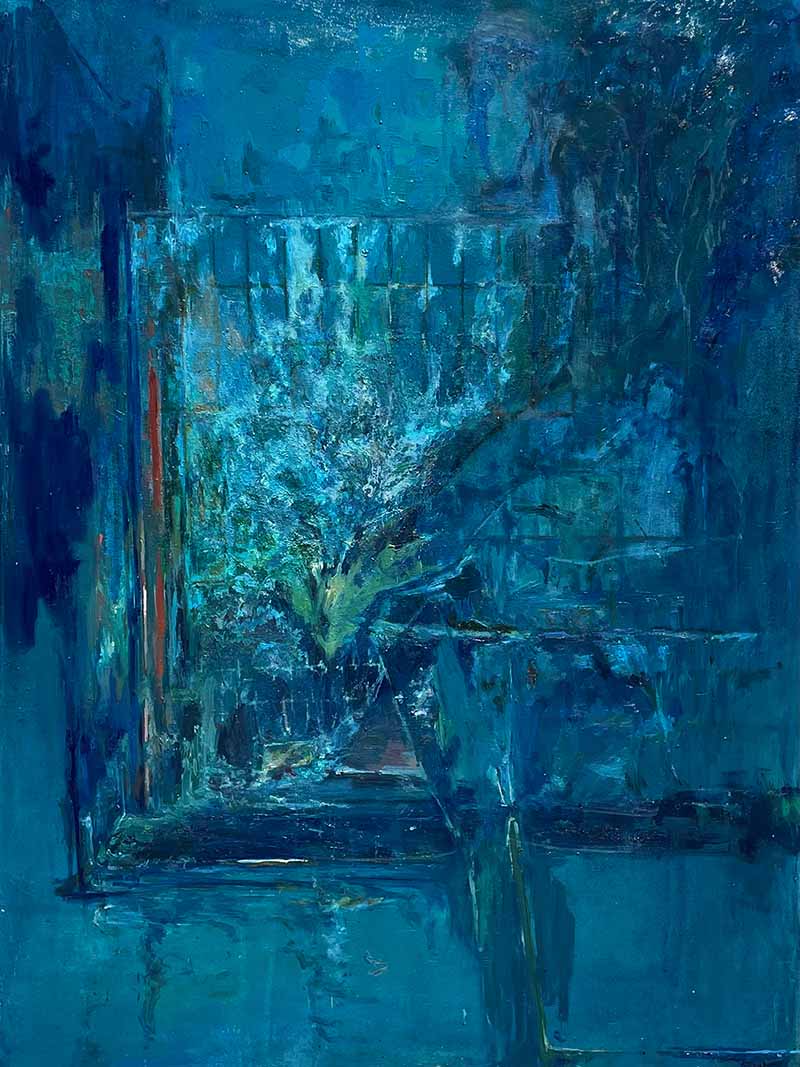 Kaiaroonsuth Chonticha's works in this exhibition were inspired by a long night. She tries to encapsulate some of her feelings during night- time. The works contains her experiences on several different nights. Many unfinished stories happen after nightfall, and through her works, she explores issues of which she is unaware, to find meaning the unknown.
About the Artists:
Cassandra Lau Po Yan graduated from the Chinese University of Hong Kong with an MA in Visual Culture Studies in 2019 and obtained her BA in Visual Arts with Education Diploma at Hong Kong Baptist University in 2014. She has exhibited in art shows, fairs and public spaces around Hong Kong and Macau. A decade of art and design studies, with work experience in interior design and art education, inspired Lau to focus on the topic of space. Lau's paintings and soft sculptures capture her very personal responses to Hong Kong daily life, especially issues of crowds and spaces.
Chivas Leung graduated from the Academy of Visual Arts, Hong Kong Baptist University, in 2018. Her varied art practice covers painting, illustration, comics and printmaking. Chivas' art is always "based on a true story," with anecdotes in her works often adapted from real- life experiences. Leung's stories contain secret clues to retrieve and commemorate missing pieces in her memory. At this year's Children's Book Fair in Bologna, Italy, she was recognised as one of the winning illustrators, with her comic book, NIGHT NIGHT also receiving a Special Mention in the 'Bologna Ragazzi' awards, Comics – Young Adult category.
Kaiaroonsuth Chonticha / Ng Ching Kuen's dual Cantonese and Thai name reveals her varied identities. Growing up, she frequently found herself in a different cultural context, transition and detachment her norm, experiencing stories and her roots as a 'transmitter' rather than a subject. Kaiaroonsuth Chonticha graduated from the Academy of Visual Arts of Hong Kong Baptist University in 2017. Her current paintings and writing focus on the dynamic relationships between things, integrating her reflections on daily experience. She hopes to find a place to settle down from the wandering landscapes.

About the Curator:
Eric Leung Shiu Kee is an active, experienced curator in Hong Kong. Eric has organized various types of art exhibitions for art spaces, art museums, galleries, art fairs and commercial organizations and developed a number of significant art projects including the "Fresh Trend – Fresh Graduate Joint Exhibition' series from 2005-2021, which serves as a platform for cultivating young artists.
tri-angles
curated by Eric Leung Shiu Kee
Exhibition Period: 13 April –13 May 2023
Opening: Thursday, 13 April 2023, 6-9pm
Karin Weber Gallery
20 Aberdeen Street
Central, Hong Kong