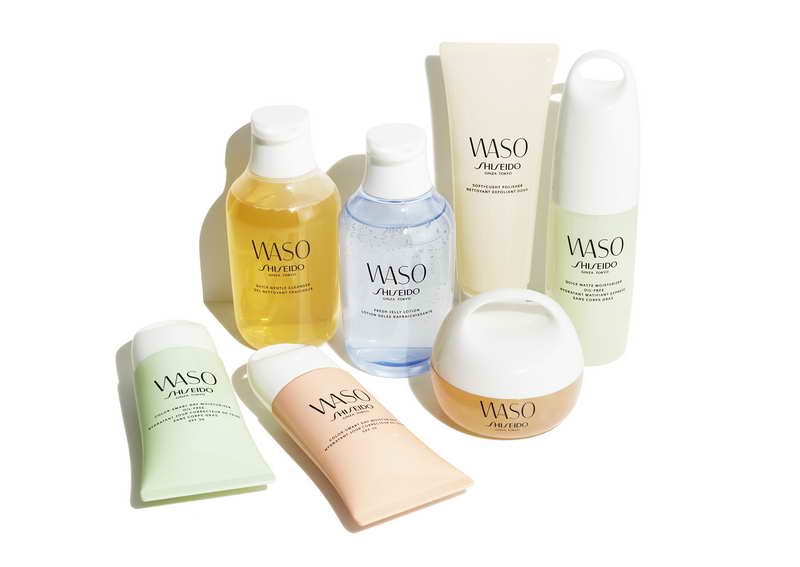 The time has come to challenge the status quo and change the conversation about beauty… SHISEIDO believes that all things beautiful come from nature. Introducing WASO by SHISEIDO for the Millennials, a new product range from skincare experts SHISEIDO. The name WASO is inspired by Japanese aesthetics and heritage. It originates from a combination of two words, "WA" meaning a Japanese sense of peaceful, harmony, and "SO" meaning inspiration, idea and thought. Through WASO, SHISEIDO is redefining beauty – empowering Millennials to feel beautiful in their own skin whatever their gender, nationality, age or status.
SHISEIDO has designed a unique method for formulating whole botanical cells into the WASO range, to deliver a total skincare solution, which is called "Whole Cell Release System W" (for moisturizers). Designed to treat the needs of Millennial skin, the product range resolves skincare concerns like dryness, oiliness and visible pores.
WASO is simplicity. In harmony with nature, bringing out our best.
Carrots
High in water and nutrients that can help keep skin looking healthy.
Clear Mega-hydrating Cream HK$285 / 50ml
The cream that looks like a gel. Instantly plumps and nourishes, and can be reapplied over makeup.
Color – smart Day Moisturizer SPF 30 HK$285 / 50ml
Long-lasting hydration that nourishes and brightens. With SPF30 and a tone-adapting tint.
Honey
Royal jelly extract from bees contains amino acids, vitamins and  minerals which can help to moisturize.
Quick Gentle Cleanser HK$215 / 150ml
A honey-like gel texture that foams without water to remove makeup and cleanse. Rinses off leaving skin soft, not stripped.
Loquat leaf
A delicate balancing act. Loquat leaf has an antioxidant effect that is known to help suppress sebum breakdown.
Quick Matte Moisturizer Oil-free HK$285 / 75ml
Mattifying nourishment minus the tint and SPF.
Color – smart Day Moisturizer Oil-free SPF 30 HK$285 / 50ml
Oil-free moisture that hydrates, brightens and mattifies. With SPF30 and a tone-adapting tint.
White jelly mushrooms
The kikurange or white jelly mushroom has long been treasured in japan as food for beautiful skin. Like a sponge, it holds onto water. Stored dried, it bounces back to its plump, just-picked state when soaked.
Fresh Jelly Lotion HK$235 / 150ml
Epic hydration in a gel-to-lotion formula that plumps skin and helps it hold onto water, instantly refreshing and restoring.
Soybean curd
An essential food in washoku, Tofu is made from soybeans. Lecithin, in soy, is also found in natural membrane walls. It can help to smooth and support.
Soft+Cushy Polisher HK$255 / 75ml
A gentle, creamy polish with soy that leaves skin fresh and smooth.