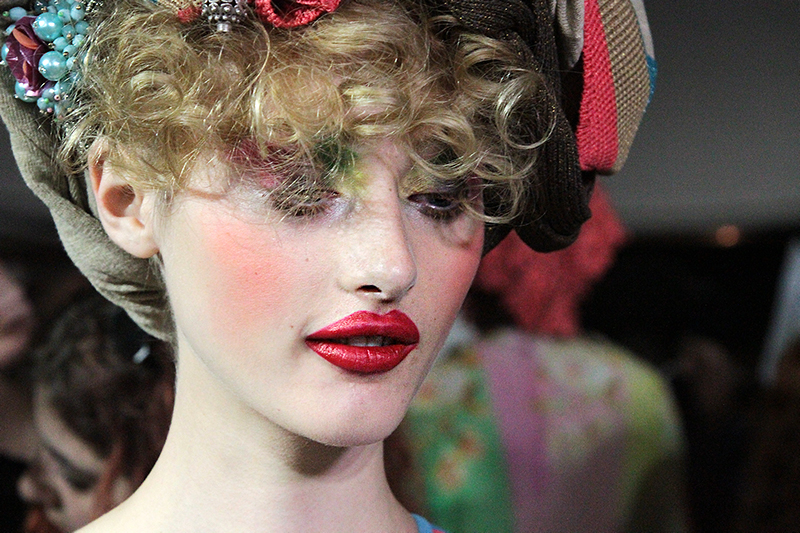 The fashion shows of the Italian designer Antonio Marras are like theatrical plays so it is not surprising that the fashion designer chose an historical theater for his SS 2018 Fashion Show. Not only the location was 'theatrical', also the make-up assumed a quite theatrical look. We interviewed top make-up artist Tom Pecheux backstage before the beginning of the show. Tom Pecheux and the M.A.C Cosmetics team created some spectacular looks here!
Watch the video interview with Tom Pecheux (or read the interview below), watch the photos, take out your make-up case… and let your fantasy go!
The interview with Tom Pecheux:
Can you explain the make-up look to us?
The look is many many different looks. It's a pure fantasy. We are in one of the most incredible theaters in Milan. The theater has been closed for 20 years. Antonio decided to show here so we are doing something quite theatrical. For this collection his show is going to be very generous, very rich, very luxurious but with tons of fantasy. When I look at the collection it reminds me of the craziness and the joy of Italy in the 70s, in the 60s, with Fellini, with Amanda Lear with Cicciolina. I think that Antonio is part of those people. He is a wonderful person, a crazy mind. So some girls will be in stripes, some girls will be in a romantic mood, some girls are going to be flowers, some girls are going to be like widows… So in the make-up we created many different looks. Everybody is going to be very very individual, almost like they are coming from the street or from another theatre, from a movie, from a TV show. It's fun.
It must be also a lot of work because we have many girls here, many looks…
Yeah, but for this show we do something different, not the same work for every model which is sometimes very tricky because in that case everybody likes to be guided. For this show I have suddenly given to my team the entire freedom to do as they want. I did a couple of girls at the beginning to show them the spirit and after that I said: 'You know what? Do it. Do it yourself! Enjoy, have fun, have craziness!' And that's what is happening now. Some girls are going to be very crazy like they are really coming from a play and some girls are going to come like they just walk down from the street…
Thank you, Tom
In association with ADVERSUS