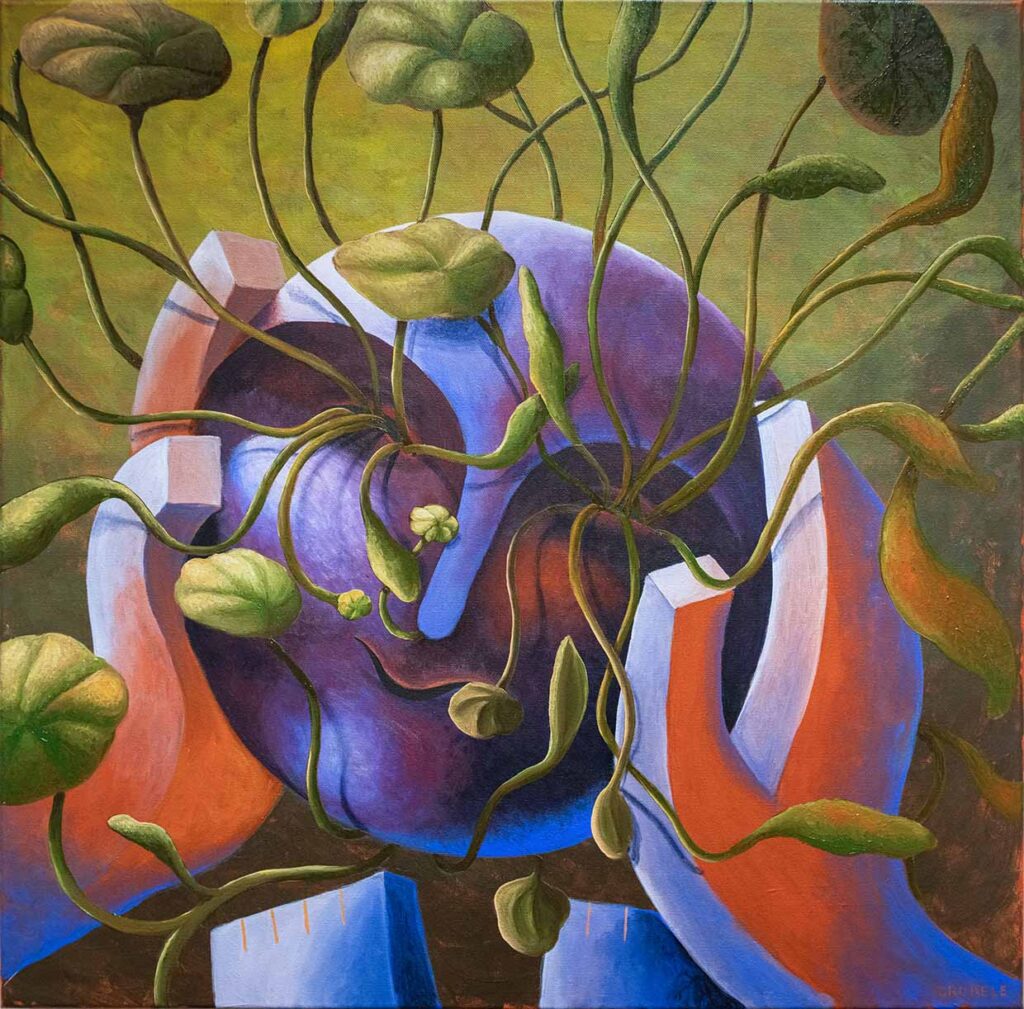 As the era of pandemic restrictions near the end across the globe, living under circumstances which demanded isolation and social distancing for so long has forced us to show tremendous resilience whilst adapting to the rapidly changing social structure. The group exhibition Sweeping Vistas invites six contemporary artists born or based in Hong Kong to present intuitive observations of their inner landscape through sweeping vistas threaded with uncertainty, possibility and imagination. Our diverse coping methods to the "new normal" is analogous to Cynthia Mak, Elaine Chiu, Gianluca Crudele, Lokz Phoenix, Ticko Liu and Tobe Kan's disparate artistic practices.
Imagine yourself looking over a sweeping vista, what do you see? Is it a place you wish to travel to or a place of familiarity? How does the vista make you feel? The group of artists was encouraged to create based on this prompt at a time when they began coming out of these long periods of isolation where they were forced to confront issues and traumas they had chosen to overlook.
Tobe Kan conceptualised her jungle scenery of dense and verdant foliage in tones of iridescent aqua blue, black and white experimenting with AI generated source images. Her paintings serve as a thought-provoking psychological mind map regarding identity, psychoanalysis, collective subconscious and feelings of alienation during this long period of isolation. Ticko Liu draws inspiration from memories of his past and lived experiences of Hong Kong citizens when creating another plane of realities on an extraterrestrial landscape where the tragic and wonderful realities of earth, humanity and interconnections all exist. Lokz Phoenix captures scenes of a dreamy forest landscape through a romanticised lens using her skilful play on the lighting of the sun and moon.
Showcased alongside her canvas paintings are snail ceramics that seemingly have crawled out of her forest paintings after a long night of rain. Gianluca Crudele's portrayal of natural vistas draws out qualities already inherent in reality. Yet, his strange depictions have a haunting and magical quality that adds an eerie sense of unease and cinematic narrative to his paintings. Elaine Chiu's poetic cityscapes exude a poignant feeling of losing something of vital importance. Her play with crisp lighting, deep shadows and dissolution of refined details indicates the passage of time and fading memories. Cynthia Mak uses a variety of simplistic, brightly coloured geometric forms to create unique abstract landscape paintings that capture the breadth of our ever-changing scenes of nature, stimulating positivity and excitement as we bid farewell to the end of an era and the beginning of a new chapter.Ranging from realistic depictions of European forests and Hong Kong cityscapes, where the artists capture the scope of these vistas through observation and engaging elements of nature and cityscape that are easily overlooked. To paintings of extraterrestrial and metaphorical landscapes with a haunting and magical quality that reflects the artists' ever-evolving imaginations and visions of beauty. Each artist's approach, interpretation and presentation of a landscape and cityscape were uniquely different, presenting a series of paintings that is a continual cascade of form and meaning.
Participating Artists
About Cynthia Mak
Cynthia Mak is an emerging Hong Kong artist who uses art as her creative platform to spread love and joy. Her abstract paintings compromised of geometric shapes cleverly arranged into unique compositions have become her signature artistic style. Working with a minimal number of shapes and forms, her endless imaginings and experimentation with line work and colours has resulted in countless picturesque scenes of life exuding a pleasant atmosphere that draws in viewers.
About Elaine Chiu
Elaine Chiu explores collective memories and cultural identities of urban environments through architectural forms. Elaine attained a Bachelor degree in art history at the University of Hong Kong in 2018, where she received the Talent Development Scholarship (2015) and Out Reaching Award (2016) from the Hong Kong SAR Government Scholarship Fund. Her work communicates hybrid memories, identity displacement, and the diasporic communities under urban development and redevelopment.
About Gianluca Crudele
Gianluca Crudele is an Italian painter and designer based in Hong Kong. Gianluca approaches his canvases with a contemplative manner, influenced by a vast spectrum of cultural references including metaphysics, magic realism and Taoism. Stylistically, he carries on the legacy of modern Italian painters such as Giorgio De Chirico, Gino de Dominicis and Lorenzo Bonechi by organically incorporating the essence of antique artistic references, Chinese in the case of Crudele, resulting in a modernised and inclusive artistic expression. The unique architectural presence of his figures and objects is often charged with a sense of wonder, nostalgia and serenity, forming a contemplative commentary upon the contemporary human condition and social reality we live in.
About Lokz Phoenix
Born and raised in Hong Kong, Lokz Phoenix is a painter and ceramicist whose artistic career began when she moved to Paris in 2016. Inspired by the female body as it is part of her identity and a visual language that best represents her, Lokz's artworks offer an intimate view into the emotion, power and sensitivity within them. By exaggerating the movement of her characters andstriking their faces, viewers can attain a deeper understanding of relationships and emotions through their body language. The sense of femininity instilled within her ceramics and oil paintings reveals Lokz's intention to provide viewers with an opportunity to appreciate the beauty of the female body through different mediums.
About Ticko Liu
Born and raised in Hong Kong, Ticko Liu is a contemporary artist with noted interest in the genre of landscape painting. As if mapping the traces of his past, Ticko uses bright colours and familiar scenes, interspersed with wavy, bright lines, to reflect on the city and his childhood. By rejecting fixed perspective, pictorial elements such as flames, clouds, and plants are distributed across the painterly plane and serve as salient metaphors for mutable futures and decay of material life.
About Tobe Kan
Tobe Kan is interested in psychoanalysis, studying her own state and exploring in retrospect causalities. Her work explores autobiographical experiences and mental states. Experimenting with painting, drawing and installation, the focus of her practice examines the human condition of insecurity in relation to feelings of alienation or being forgotten
Sweeping Vistas @ JPS Gallery Hong Kong
Location: Shops 218-219, 2/F, LANDMARK ATRIUM, 15 Queen's Road Central, Central, Hong Kong.
Cynthia Mak, Elaine Chiu, Gianluca Crudele, Lokz Phoenix, Ticko Liu and Tobe Kan
13 January – 7 February, 2023
Opening Reception: Thursday, 12 January, 2023, 5 – 8 pm (All artists will be present)