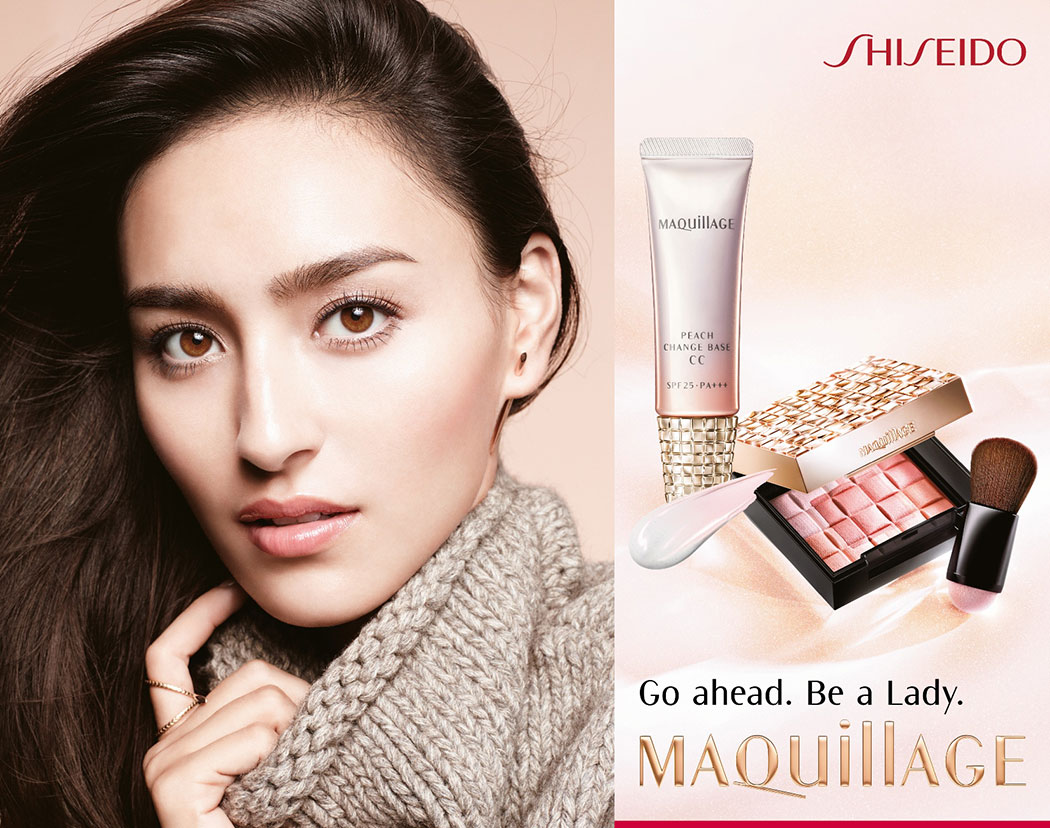 SHISEIDO MAQuillAGE lunched the Peach Change CC Cream SPF25 PA+++, a new makeup base that creates natural peachy complexion. It offers a new makeup base experience that the beauty essence releases powder-coated colorants while massaging gently for about 10 seconds. It corrects visible pores and dullness and improves makeup adhesion.
Applying with our Dramatic Mood Veil, gives the skin a natural rosy complexion and elegant luster from within to the cheeks.
New Peach Change CC Cream SPF25 PA+++
The innovative CC makeup base that instantly changes the uneven skin tone to natural soft peach color with powder-coated colorants seeping out from the beauty essence base while massaging gently for 10 seconds. It creates a peach-like natural rosy complexion that reduces the appearance of visible pores and dullness.
Freshly mixed moisture and powder-coated colorants blend on the skin and reduce visible dullness, pores for a bright, natural soft peachy complexion and smooth texture with less fatigued-look.
Smooth application with excellent spreadability, adhesion, and lastability without making the skin look dull or makeup deterioration over time. *
While replenishing dry skin with dewy moisture, it leads to the soft, plump skin. Formulated with moisturizing ingredients : Super Hyaluronic Acid (Sodium Acetylated Hyaluronate), glycerin, water-soluble collagen, and Glucosyl Hesperdin.
Protect your skin from UV-rays and other external hazard which deteriorate the appearance of skin tone and texture.
 * Tested for 10-hour long lasting finish (skin texture, anti-dullness and sebum)
How to use
After condition the skin with lotion, take up a pearl-sized amount onto your fingertip and smooth over from the center of the cheek or forehead while lightly massaging with a circular motion.
Reapply a small amount to the areas where dullness is a concern.
Applying with True Liquid Moisture UV及Dramatic Powdery UV, to have a better finishing.
MAQuillAGE Peach Change Base CC
Peach Change Base CC SPF25 PA+++
A new experience that powder-coated colorants seep out from the beauty essence base while massaging gently for about 10 seconds to change visible skin tone to a natural soft peach color. It will makes the skin tone and texture beautiful while replenishing the skin with moisture and correcting visible pores, dullness due to fatigue. $300/30g
Dramatic Powdery UV SPF25 PA++
"Dramatic Powdery UV", a powder foundation that lightly spreads as if it is being used under zero gravity, covers pores, uneven complexion and dryness as if they do not exist and becomes part of skin, and let the finish skin itself to be beautifully glow. $420 (Refill$300, Case$120)
Dramatic Mood Veil RD100
Dramatic Mood Veil gives a natural rosy complexion and elegant luster from within to the cheeks.
How to use:
・Use the dome-shaped sponge to apply main color lightly in the center of each cheek with tapping motions.
・Use brush to mix②③ and blend the contour of ①
・Add a sweep of ④ to the under eye area
・Use the brush to apply⑤, starting from the top of cheekbones, gradate to the outer corner of the eyes . $340/8g
Dramatic Mood Eyes PK251
MAQuillAGE Dramatic Mood Eyes creates eyes that shine pinkly with a blink, also eyes that shimmer glossy colors and look innately stereoscopic. $240/3g
Dramatic Melting Rouge BE322
With just one stroke lips are wrapped in a beautiful, brilliant color. Beauty oil forms a thick, lustrous coating film that adheres to the lips, with long lasting brilliance finish. With its excellent moisturizing effect, the lustrous coating film repairs lips with vertical lines so lips become more beautiful with every application. $240/4.1g
MAQuillAGE will be available at all Hong Kong and Macau SHISEIDO shops and counter.