We interviewed Kabuki backstage at the Moschino Men's Fall Winter 2018 2019 Show at the Milan Fashion Week. The makeup was extreme, sexy and very original both for male and female models. Kabuki was in charge of the makeup and with his MAC makeup team he absolutely created a stunning look for this show. WATCH THE VIDEO INTERVIEW ABOVE
The look is inspired by the prints on the clothes and by just the feeling that I picked up from the elements of the S&M; and also maybe the mood which I felt it was a little bit like a Leonardo da Vinci painting, but actually the color palettes and the prints are from Carlo Mollino he hand tinted photographs of portraits of prostitutes. So in a way even though I didn't know that was the subject matter at the time, I think it inspired the makeup because the makeup is a feeling of a loss of innocence you know it's kind of young and beautiful and very delicate but when you get closer you see that there's a metallic texture to the lip almost like an insect and the eyeliner is burgundy like a red wine color. So it's something a little bit dark about it.
I think that people are being more curious about different textures you know so I think metallic on the lips is a trend and you know the MAC collections that are current do feature a lot of metallic lips so, it worked very well it was quite an easy test everything seemed to kind of flow easily.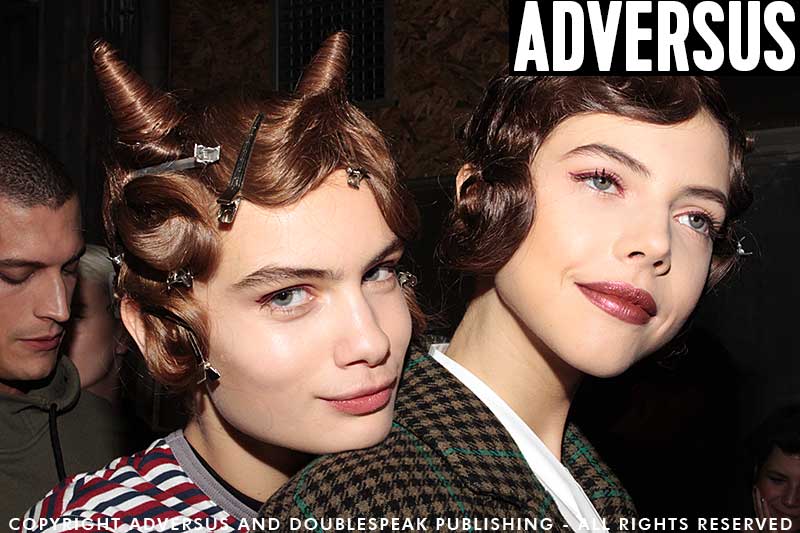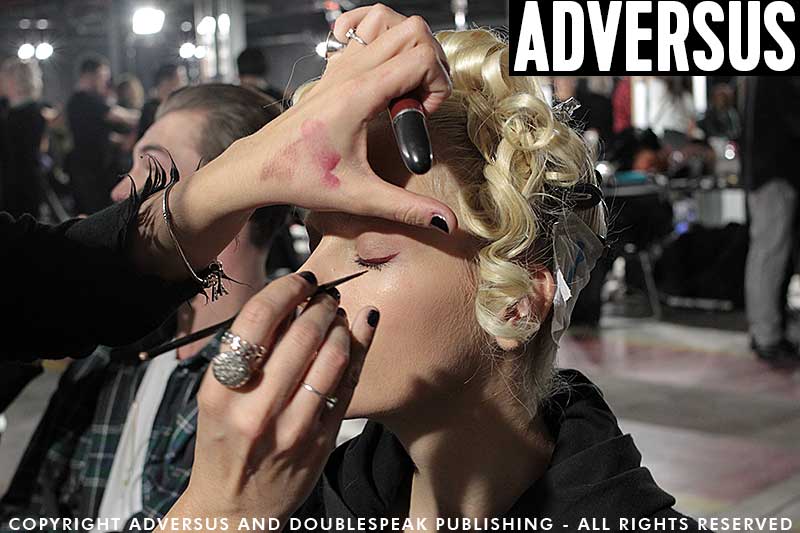 Lips. It's a layered product because I think that's what gives it the beauty, it feels not so every day it feels a bit more like it a hand-painted photograph so we're using a matte lip long wearing lipstick as the base, then we're building with pencils to deepen the sides and then highlighting with the metallic powders two different kinds in the center, so it looks more perfect with all those steps it feels more regal.
The eyeliner.  The eyeliner is actually a lipstick it's the same kind of formula that is on the lips a long wearing matte, retro matte lips, so but it works very well as a liner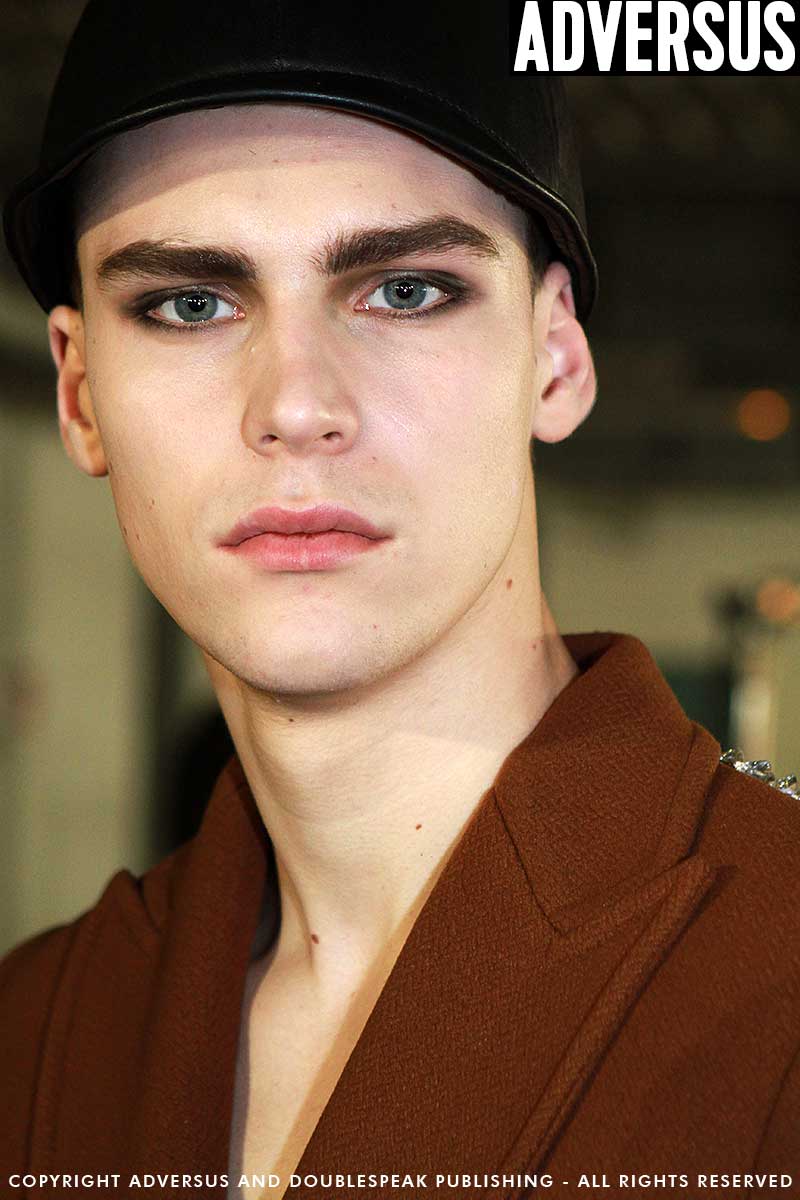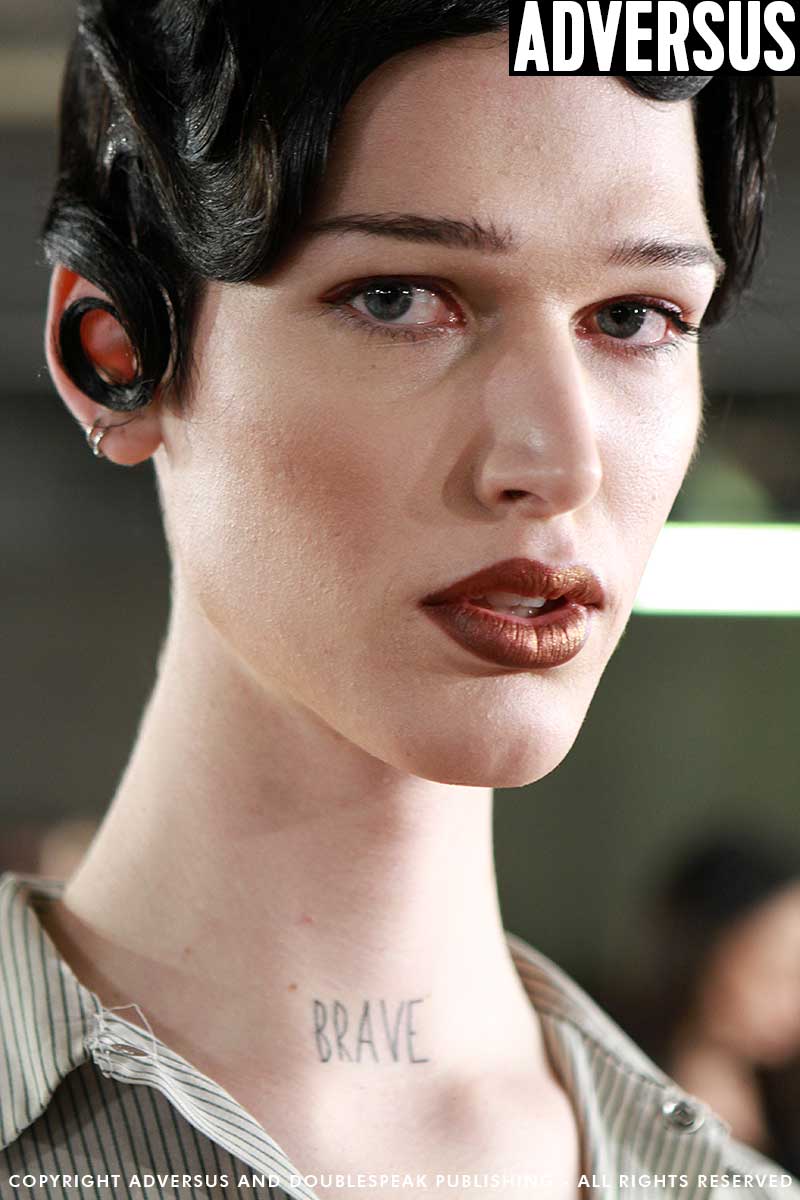 Men's makeup. The male models do have a little bit of eye makeup this time, and it's a black pencil that we just almost rub into the eyelashes so it's not a hard line it's a dotted on and then rubbed with a brush with our eyes closed and then a little bit of a brow taupey color that is deepens in the socket of the eye because, I mean they're having like a black cap, like rubber cap, and they're quite Berlin and S&M feeling, so the make up actually looks a lot less, it fits in when in their outfits.
Men and makeup. Well I think it's for the individual to decide you know I don't think that it should be anything should be off the table, I think it's all about you know expression at the individual and I think that that's the thing. Is like some people are very masculine and everyone interprets gender a different way so I think that everybody has their own story to tell and their own way of telling that story.
In association with ADVERSUS