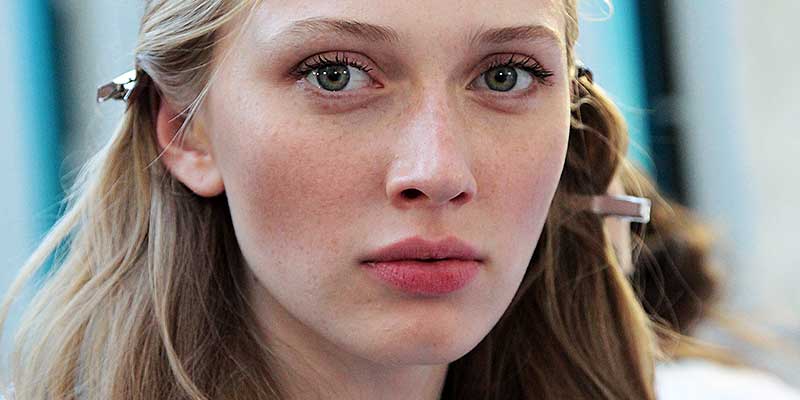 How to get that catwalk skin? Glowing, radiant and fresh? Be young and cover as little as possible. This is top make-up artist's Tom Pecheux advice. All good and well, but what if we are not so young anymore? In that case the backstage secret for a glowing catwalk skin is… oil!
Watch the video interview with top make-up artist Tom Pecheux in collaboration with M.A.C Cosmetics backstage at N21 SS 2018 Fashion Show in Milan (or read the interview below). Don't forget to have a look at the pictures, get your brushes (and oil) and give yourself that glowing catwalk skin.
WATCH THE VIDEO INTERVIEW BELOW:
This is what Tom Pecheux told us:
The make-up for N21 is super, super fresh… very young, very young. The cast is also very young. Very young girls, very cool girls. The make-up is barely nothing on the skin. We applied just some skin care, a little bit of concealer, no foundation. And we made a little bit of a bushy eyebrows. We call them 'the virgin eyebrows'. On the eyes nothing much except a little bit of mascara and false lashes just at the corner and a little bit of a black eye shadow in the corner to make it very smokey, like a smokey eyeliner. The false lashes have the effect of a cat eyes but very very youthful cat eyes. And further we put a lot of gloss on the lips. We also used gloss for the contour. So it's basically no color. The contour is going to give the girls some kind of power. The eyebrows as well. All this is going to give a youthful glamour to the face of those young girls here at the fashion show. It makes them look very cool and fresh.
What did you use for the skin?
For the skin we used different skin care products. It depends on the skin. You know, I am a big lover of oil. So I love to massage the face with the oil because it leaves a very light film. And that is what gives a lot of glow to the skin. Every season is different; also the skin is different every time. I love September because everybody has just come back from vacation and the girls still have a beautiful soft tan and the skin is rested, so there is very little to cover and there is very little to hide. They still have a nice skin tone. So why should we use a lot of foundation and everything? Alessandro [Dell'Acqua] wanted the girls to look extremely fresh. That is also why we used very little product. It is only when you get older that you want to hide certain things… 🙂
In cooperation with ADVERSUS