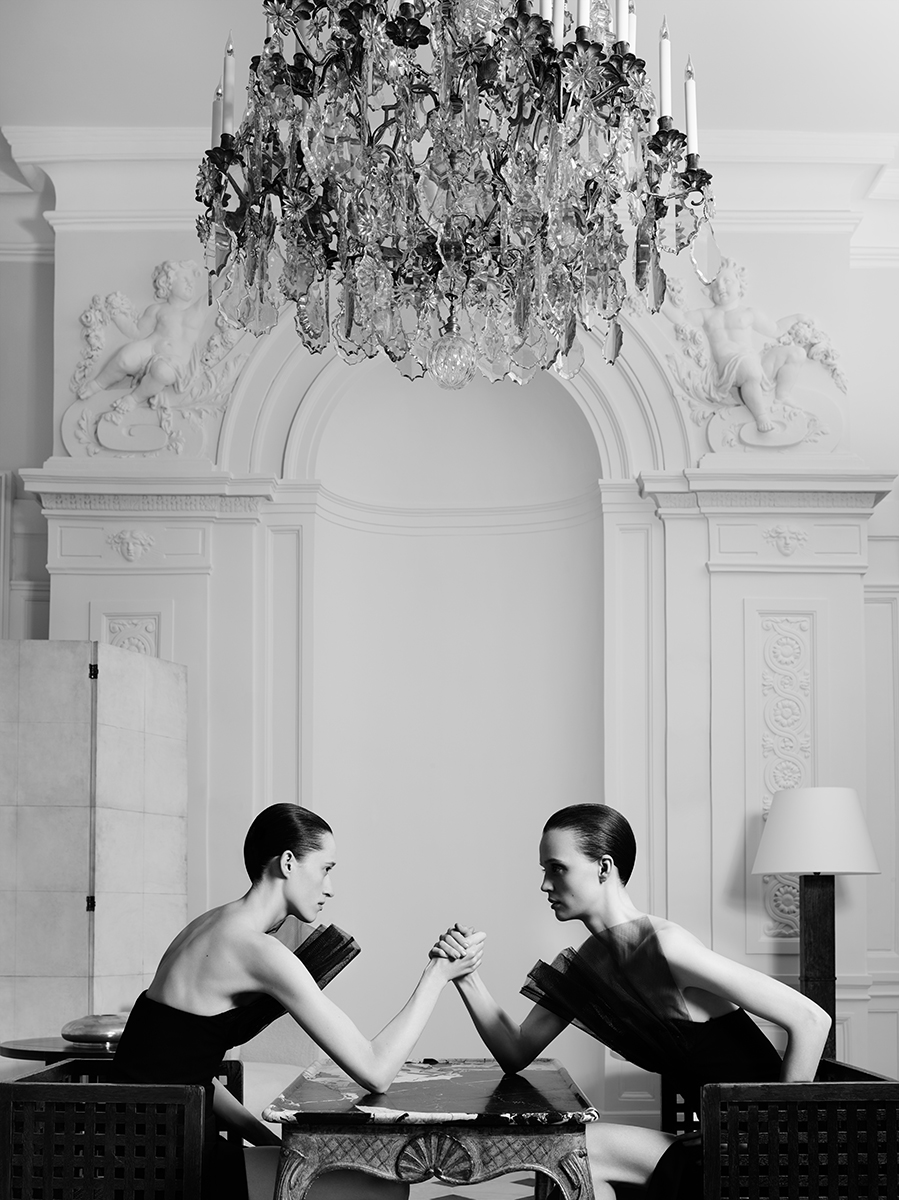 The Saint Laurent Couture campaign was shot in the new Couture House of Yves Saint Laurent. Renovated by Hedi during the last 3 years, the design follows French 18c period elements and principles of architecture. The Couture House is named "Hôtel de Sénecterre" and was originally built in 1685 by architect Thomas Gobert. Thomas Gobert was the building planner of the King of France, Louis XIV. The Yves Saint Laurent new Couture House is located at "24, Rue de l'Université" in Saint-Germain-des-Prés. "5, Avenue Marceau" was the last Couture House of Yves Saint Laurent and became "La Fondation Pierre Bergé-Yves Saint Laurent".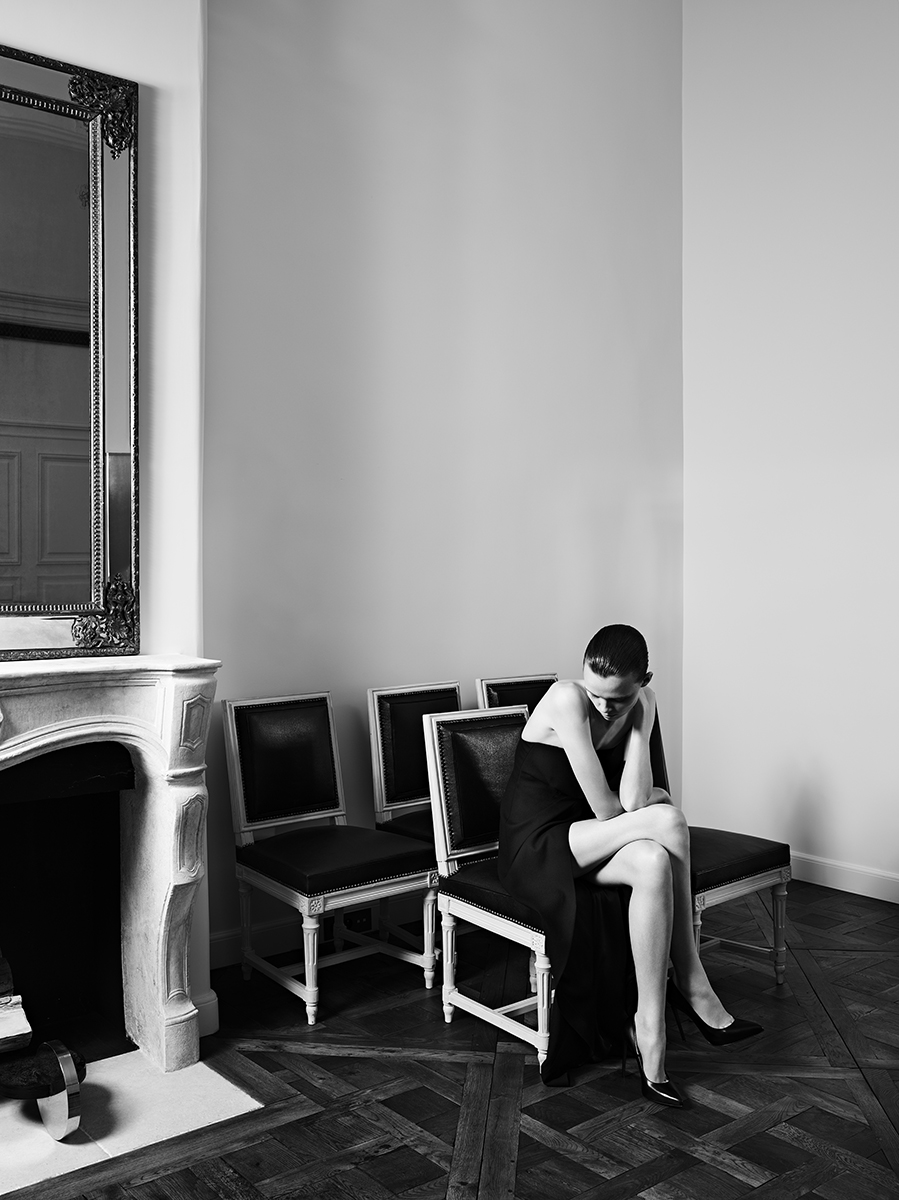 The Yves Saint Laurent Couture House monumental staircase was built under Louis XV. Hedi Slimane comissioned New York artist Garth Weiser to paint a black and white diptych for the staircase. It was completed in 2014.
The first floor has 4 salons. "Le Salon d'Honneur" faces the classic column facade. Hedi found and restored a monumental XVIII century period crystal chandelier for the salon and historical staircase.
The new geometric garden of the Couture House has been entirely replanted from XVIII century archives. There was no garden left. Hedi commissioned the help of historian to replicate the precise authenticity of the design.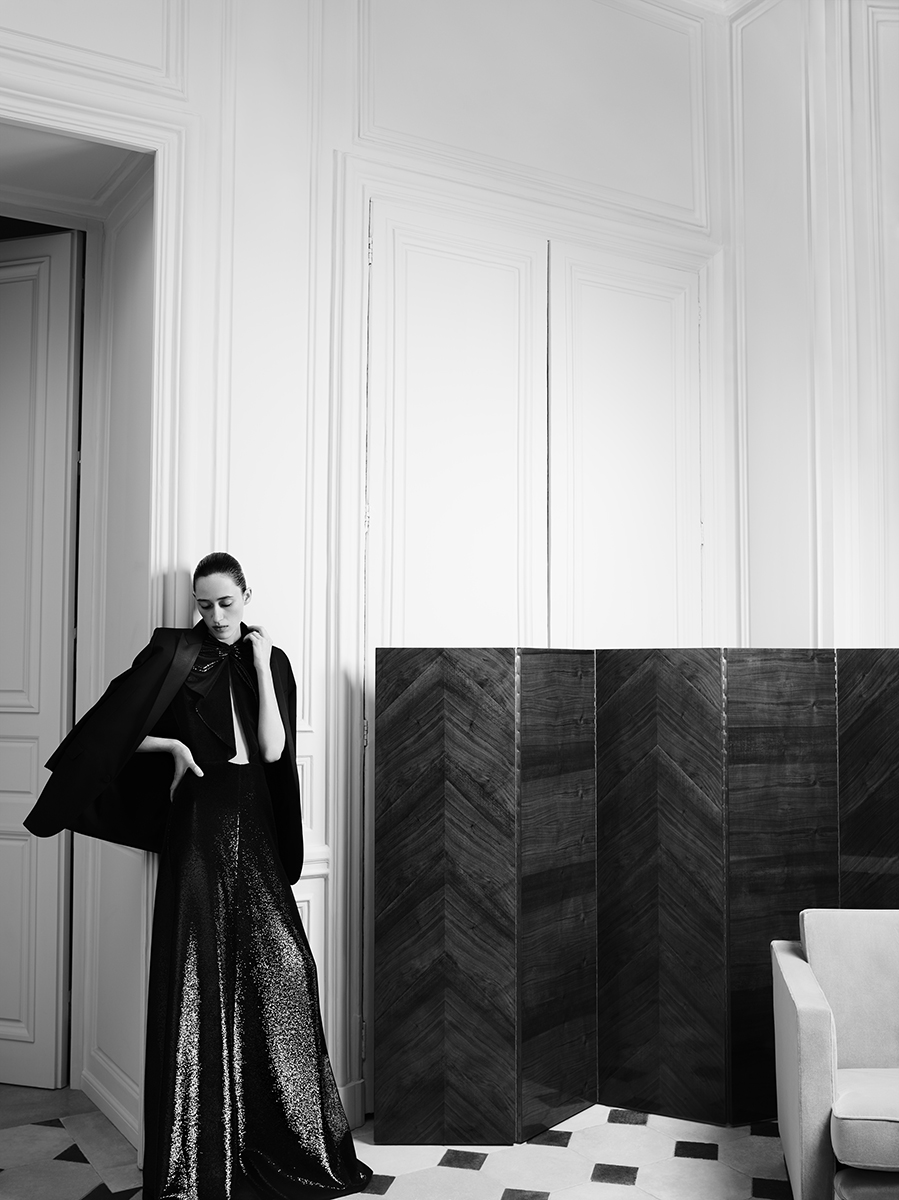 The furniture includes both the House and Hedi Slimane's private collection composed of modernist, Art Deco and XVIII century French pieces. Hedi's personal collection includes an important ensemble of furniture from 1930's designer Elizabeth Eyre de Lanux, Hedi's favorite modernist designer. Her rare design is reduced to strict minimal luxury. One of
Elizabeth Eyre de Lanux's pieces is a 1930's parchment desk that belonged to Yves Saint Laurent, Rue de Babylone. The American artist lived in Paris, her work was often collected by French couturiers.
Pieces from Jean-Michel Frank, Paul Dupré-Lafon, Francis Jourdain and Pierre Legrain are part of both collections. Furniture by Louis Sognot, Rateau and vases by Dunand were also found by Hedi for the House and his own collection. The House collections curated by Hedi Slimane include paintings of Ad Reinhardt / a black "Ultimate" painting, a Daniel Buren black and white striped painting and a Carl Andre sculpture.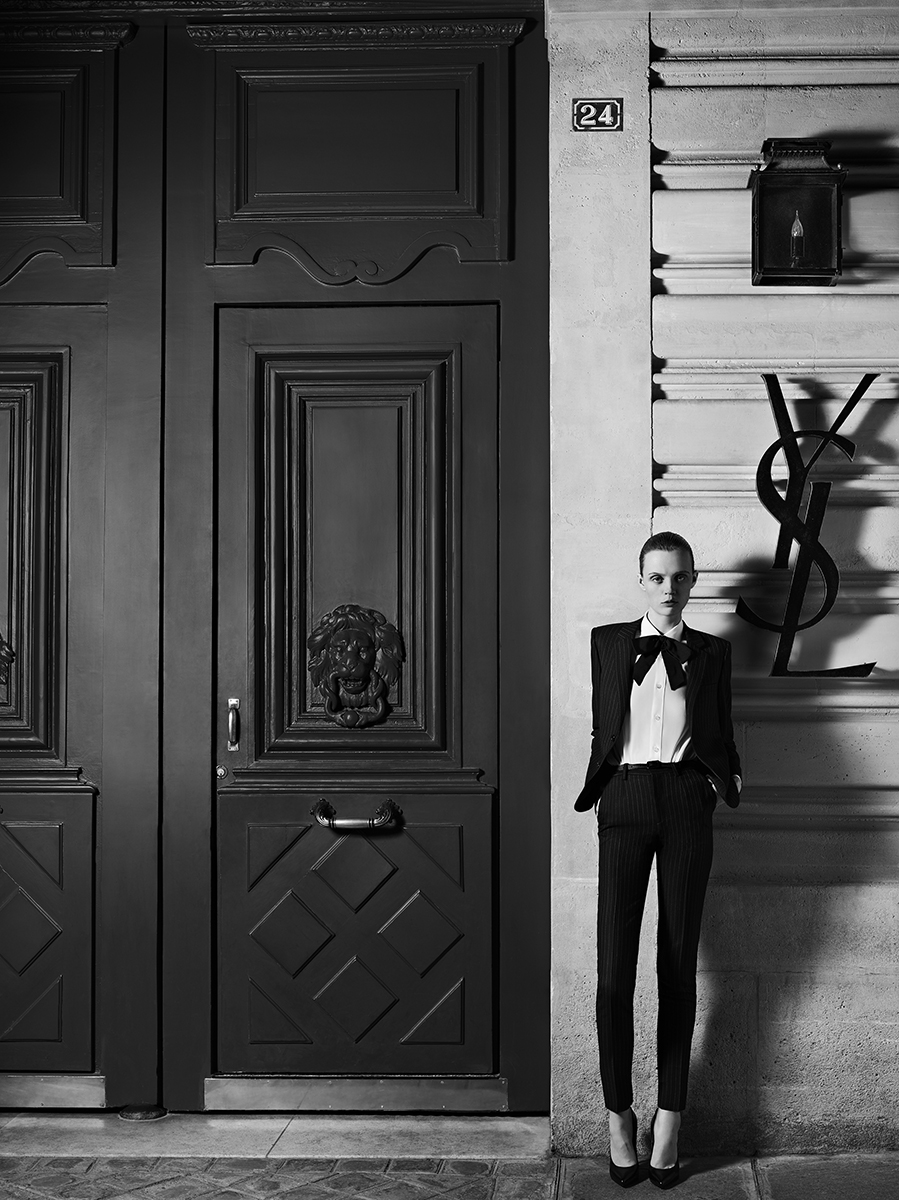 The Couture Ateliers are located on the third and fourth floor, one floor above the Couture Salon. There are two ateliers. "L'Atelier Flou" for dressmaking and "L'Atelier Tailleur" for the tailoring. Hedi began to recompose the traditional Couture Ateliers of the House in 2012 . The Ateliers are now at the center of the Saint Laurent project by Hedi Slimane. The Ateliers
also produce commissioned hand made pieces for movie stars and musicians. Hedi determines which of these pieces will carry the ateliers hand-sewn couture label "Yves Saint Laurent". These couture pieces may be women or men, a tuxedo or an evening gown, daywear or eveningwear. The "Yves Saint Laurent" private atelier label is made of ivory silk satin and is numbered by piece. The Ateliers keeps a strict record of all the couture pieces in a gold monogram book.