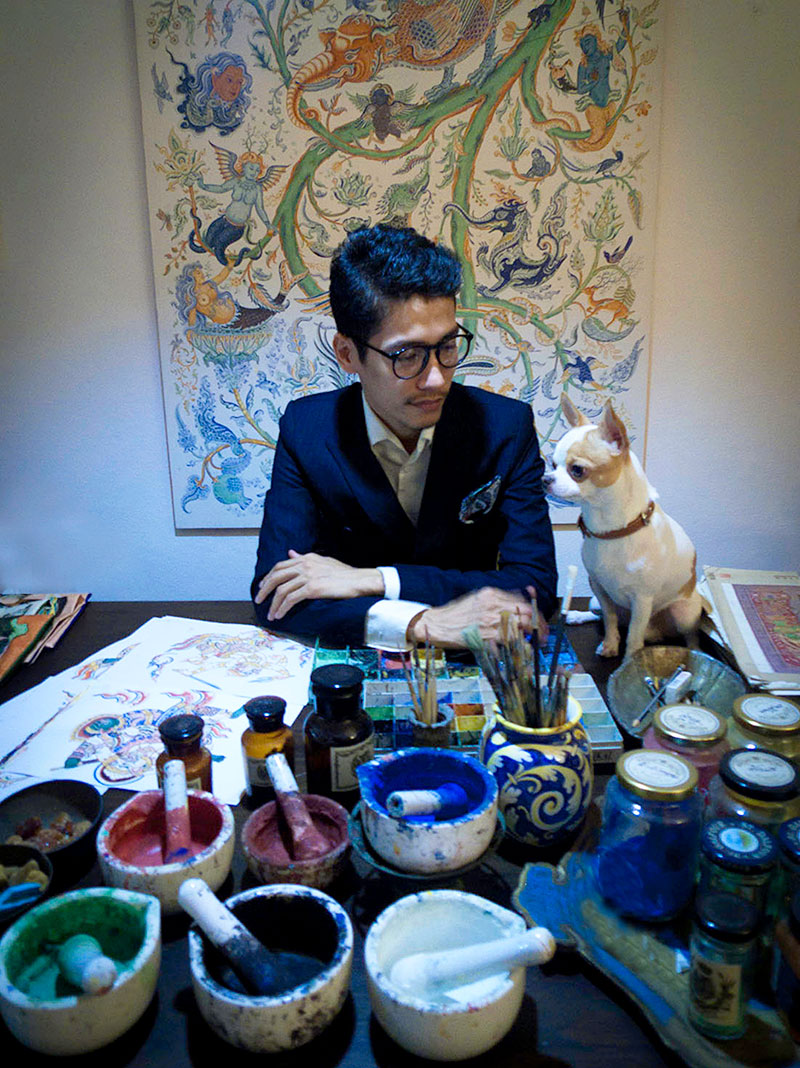 Interview with Preecha Lim, contemporary Thai painter and designer of the luxury design brand Kamuilim Fine Art & Décor.
During one of my stays in Bangkok I was introduced to the young and talented Thai artist Preecha Lim, painter and designer of the luxury design brand Kamuilim Fine Art & Décor. Intrigued as I was by Preecha's stylish appearance, dressed in wonderful prints he designed himself, I was more than happy to visit him in his home studio annex showroom in the center of Bangkok. It turned out to be a most wonderful afternoon filled with lots to talk about art and – especially – lifestyle and fashion.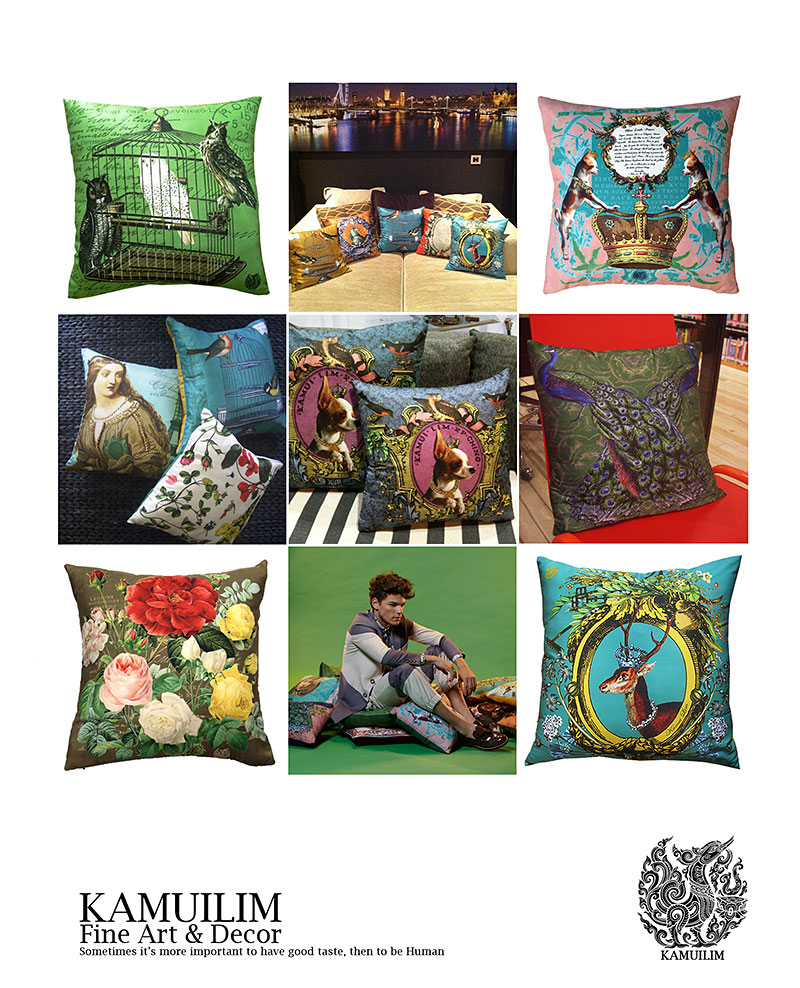 Meeting Preecha Lim – better known as Kamui – is like being in an accelerated art class. Kamui, as I will call him from now on, has a profound knowledge of Thai culture and art which he skillfully applies in the design prints he creates for scarves, foulards, pochettes, cushions and occasionally menswear. His work – paintings, scarves or clothes whatsoever – is, what I would call, a modern evolution of Thai traditional art with a personal twist.
Though his passion leads him to paint nearly every object that comes to his hands, Kamui's main focus is on scarves and foulards for his Kamuilim Fine Art & Décor collections.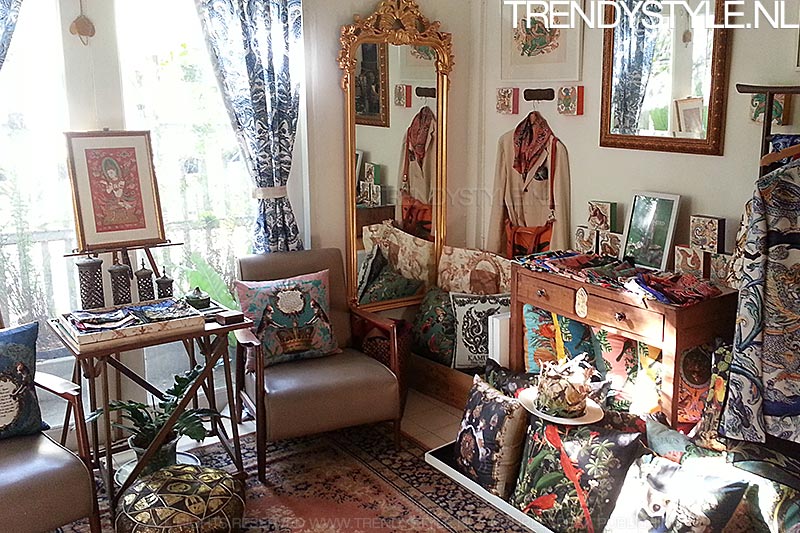 The high quality scarves and foulards are decorated with the most beautiful prints that Kamui designs and eventually elaborates on the computer. Every scarf and foulard is a masterpiece on its own: handmade, in high quality printing and available in limited editions, 5 or 10 pieces at the most.
Recurrent themes in Kamui's work are animals and trees mixed with symbols of the Thai culture, forming together a colorful and surrealistic world. At the showroom I literally fell in love with a big scarf of the Garden Collection. The design showed a magical animal world by night. Kamui draped the scarf around my body. Thus it became a wonderful gown, appropriate for a chic dinner or a classy party.
Upstairs in the studio which reflects the whole process of the artist at work – the creative thinking process, the sketching, the painting and coloring, the print-making, the sewing and also his earlier work (the walls are packed with paintings, for several of them Kamui has been awarded prizes) – Kamui told me more about his work and passion.
How did you start Kamuilim Fine Art & Décor?
I have always loved drawing and painting. As a kid I was inspired by Japanese cartoons. When studying Traditional Painting at the Poh-Chang Art & Craft University Academy in Bangkok [Preecha graduated in 2002] I started mixing these influences with elements from the Thai culture. I think that it is very important to preserve our culture. The patterns and art forms of past civilizations are of an extraordinary beauty. I am especially fond of the late Sukhothai and early Ayutthaya style. Without culture, we would not have our identity today. I like to use the ancient patterns and forms to conserve our national artistic treasures.
But your work is not only about Thai culture. It is more… Where else do you get your inspiration come from?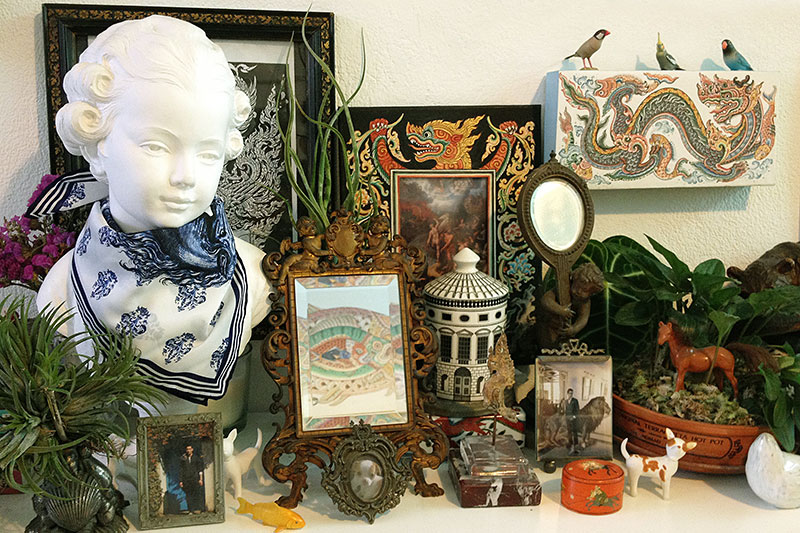 I do get my inspiration from everything that surrounds me and from everything I do. I can be inspired by an antique Buddha statue, an art book, a visit to Ayutthaya [Siam's antic capital], a butterfly, a child's head bust sculpture, a movie about Yves Saint Laurent or Coco Chanel, the sunlight, a journey to Florence in Italy where I did a scholarship, a stone, a color… Everything. As you can see my work desk is full of gadgets, toys and little art objects. [Actually, it feels like being in a Wunderkammer].
Oh, and let's not forget one of my biggest [smallest, I would rather say] muses, walking around on four legs: Chino! He is everywhere to be seen in my work.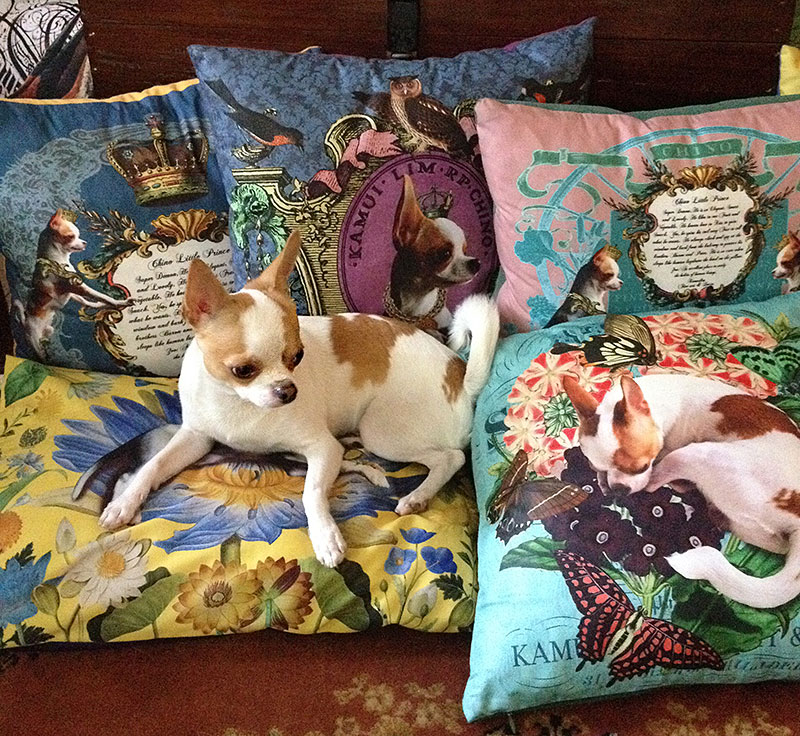 Animals and trees are very important to me. Some might say my work is about religion, but I actually want to capture the essence of life which, in my opinion, lies in nature. For me flora and fauna are the origins of the universe from where everything else arises. I really want to exalt the beauty in nature. Beauty is the truth in nature. For me existence is about all beautiful living things being mysteriously connected to each other.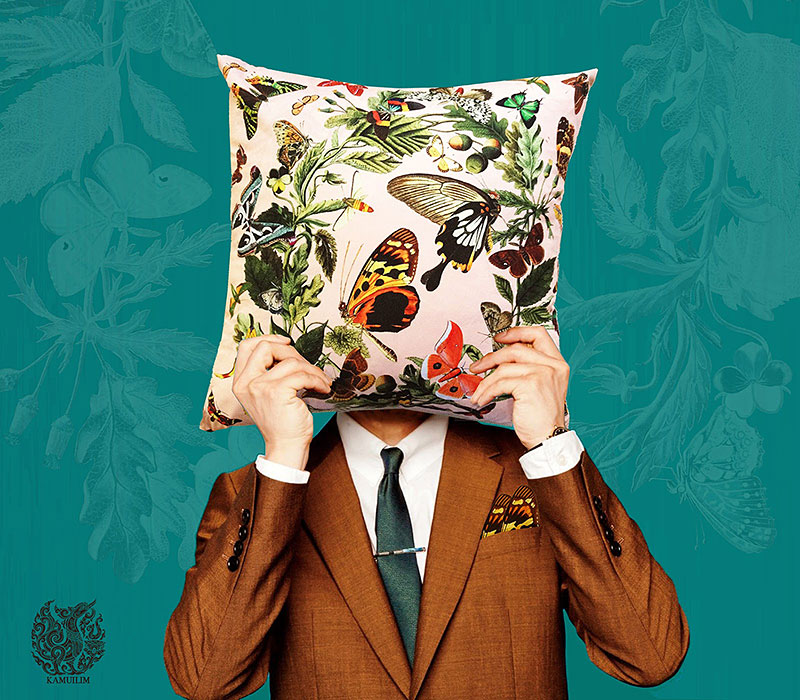 Which techniques do you use?
Once I have an idea I start sketching. For painting on silk or cotton I use tempera colors and natural pigments to be melted with a natural glue, the resin of a tamarind tree. Also the printing process needs a lot of attention. I personally follow all the printing work that has to be of the highest quality.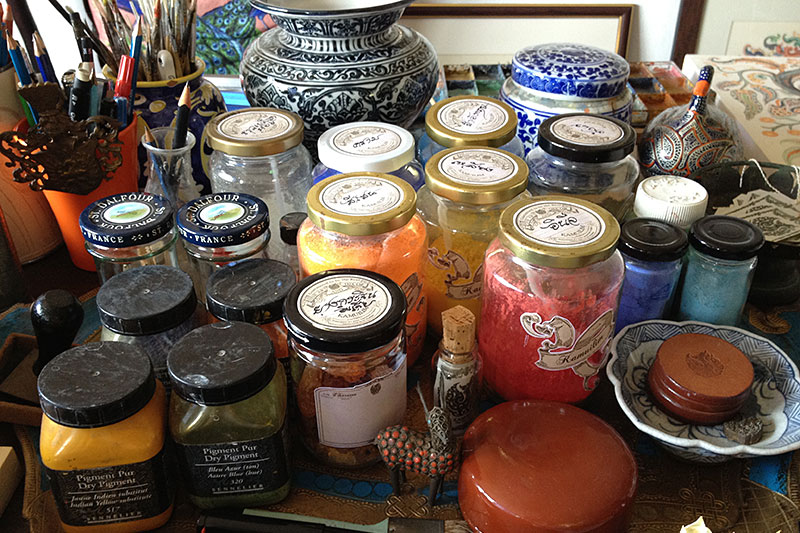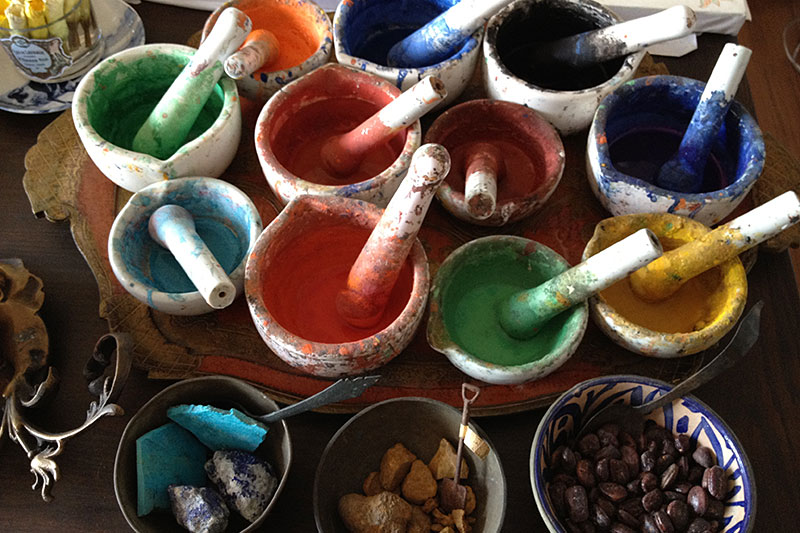 What have you been working at recently?
This time ancient Karuda got my attention, so my latest Kamuilim Fine Art & Décor collection is inspired by this bird-like creature that appears so often in Thai art and culture. When I draw I concentrate myself on beautiful thoughts and just let them come over me. I would say I put my soul into my design.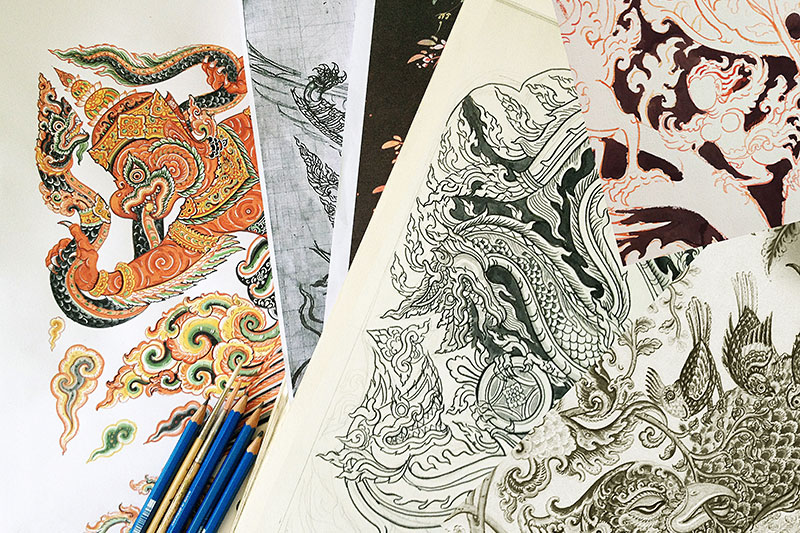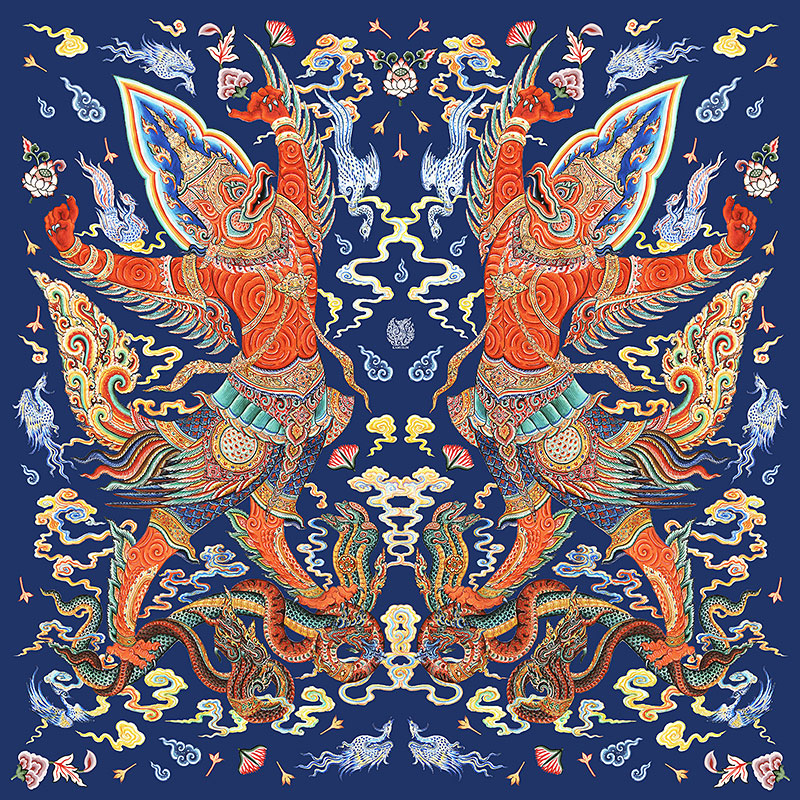 Thank you, Kamui, for this interview.
Kamuilim Fine Art & Décor collections are for sale at the Mandarin Hotel and Siam Hotel. The showroom can be visited by appointment. For more information please contact Kamui: (+66) 089.601.3148.
By Charlotte Mesman