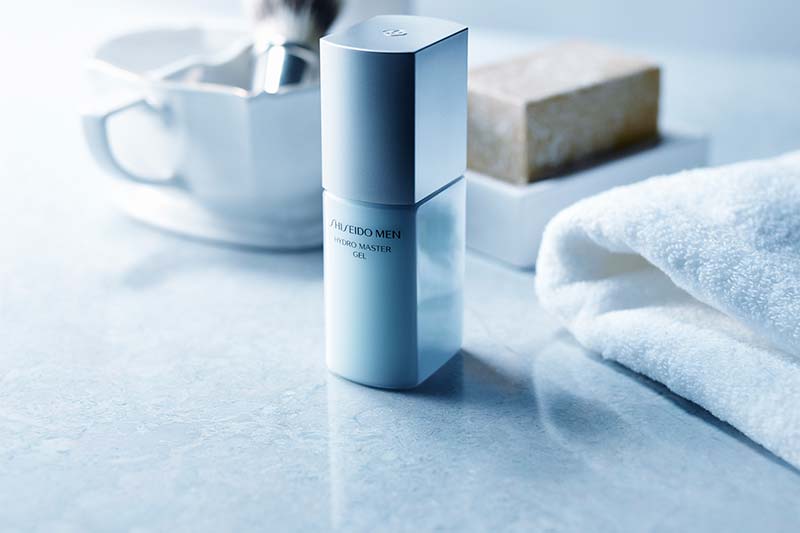 Today's modern man experiences more stressors and an influx of information. As a result, his skin may react adversely, with dryness, excessive sebum production or unhealthy pores—especially with increasing age.
EXPERIENCE THE INSTANT SHIFT
NEW SHISEIDO MEN HYDRO MASTER GEL, with new HYDRO MASTER TECHNOLOGY, is designed to manage and resolve the multiple causes of skin concerns by providing high moisture retention effects that the skin can then control on its own. It would be refreshed, fully hydrated skin to match his fresh mind and total focus.
HYDRO MASTER GEL
SHISEIDO MEN signature Damage Defense Complex, Improving the skin's tolerance for damage*,helps skin at the cellular level **, giving it essentials to not only function at its best, but better resist visible signs of aging. HYDRO MASTER GEL is formulated with new HYDRO MASTER TECHNOLOGY, to give skin the power to help control its own moisture. Both refreshing and moisturizing, HYDRO MASTER GEL reveals high-quality, smooth and radiant skin, and contains subtle aromatic essences that appeal to the senses. Formulated with an ideal ratio of components, the gel is non-sticky, leaving skin feeling immediately moisturized and fresh at the same time. Targeting unstable skin conditions, HYDRO MASTER GEL helps shift both your skin and your mind into total focus.
Making skin the master of its own conditions
The ability to control moisture, defend against damage and manage overproduced sebum helps skin resist problematic changes. Unlike products that only treat skin concerns after they appear, HYDRO MASTER TECHNOLOGY helps enhance the skin's own natural abilities to resolve issues such as dryness, uneven texture and overproduced sebum. It helps skin control its own condition, empowering it to maintain a consistent, healthy-looking and sufficiently hydrated state.
Test Results
After application, skin will immediately feel the moisturizing and refreshing effects. With continuous use, skin will feel transformed and empowered with more moisture, and extreme dryness will be improved.
NEW! SHISEIDO MEN HYDRO MASTER GEL
Rehydrate. Refresh. Oil Control.
With signature Damage Defense Complex, improving the skin's tolerance for damage
Formulated with new HYDRO MASTER TECHNOLOGY, to give skin the power to help control its own moisture, to resolve issues such as dryness, uneven texture and overproduced sebum.
non-sticky, leaving skin feeling immediately moisturized and fresh
contains subtle aromatic essences
HK$ 235 / 75 ml