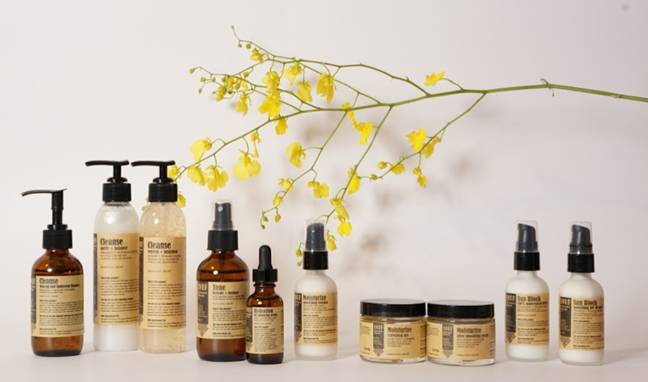 "Good skin needs no cosmetics." – Olive Wong, founder of "I Never Use Foundation Breakfast Club (INUF)"says.
Established since 2014 on Facebook, "I Never Use Foundation" (INUF) is a professional skincare brand created by I Never Use Foundation Breakfast Club in Hong Kong. Formulated in state-of-the-art research and development laboratory with extensive libraries of skin care ingredients in sunshine California, INUF products are made in GMP certified facilities to provide safe and effective products to all the users.
In INUF, it is believed that apart from safety and effectiveness, everyone deserves to be treated with responsible skincare, therefore we insisted to formulate our products naturally without any harmful chemicals like Silicone/ Mineral Oil/ Alcohol / Parabens/ Artificial fragrance and colorings. The lightweight and comfortable textures are especially targeting Asian users who have to tackle humid climates and polluted environment every day.
Growing up in a family whose mother is a true professional in the beauty industry, Olive, the founder of INUF, has been exposed to all kinds of beauty advices since she was small. Thanks to her mother's expertise and her own effort, Olive's healthy and flawless skin can always attract people to ask what kind of foundation or powder she is using, however, the fact is she does not use any; and one day she decided to utilize her entrepreneurial experience together with her passion in skincare to create her own INUF products so as to share her secret beauty tips to flawless and healthy skin with more people in the world.
INUF carries a large variety of products that can cater to various skin types including cleanser, toner, serum, essence, moisturizer, sunscreen and so forth. Different types of masks are also available as targeted treatment for different skin concerns.  Among all, B5 balancing serum is one of our signature products which is a combination of both high and low molecule hyaluronic acid together with vitamin B5 and oxygen molecules, enhancing the skin's ability in binding and absorbing water.
In these two years, INUF has been very successful in gaining popularity among public by helping lots of customers to customize their own skincare routine on both Facebook and at our Skin Studio at Hung Hom. Our hard work is greatly appreciated and we are invited by the Lab Concept group to start our first pop-up store in Admiralty at 1st March! If you would like to understand your skin better or to find out which product suits your skin best, come visit our pop-up store and have a brand new skincare experience!