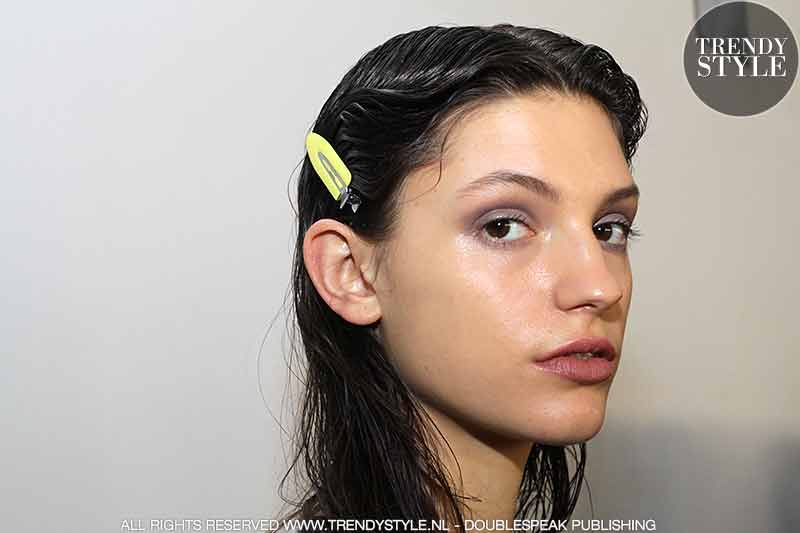 Backstage at Vionnet FW 2018 2019 we met make-up artist Pablo Rodriguez. Pablo created – together with the M.A.C. Cosmetics Team – a wonderful make-up look for the Vionnet Fashion Show. The look consisted of a perfectly matte skin (matte skin looks so sophisticated!) with shiny wet eyelids in different colors. Watch the video interview, have a look at the pictures and… copy the look!
WATCH THE VIDEO INTERVIEW AND MAKEUP LOOKS
This is what Pablo Rodriguez told us:
"For Vionnet we did a story of four different looks. So it's almost like one look that evolves into the other. The inspiration for the collection is basically an old Japanese book about a merriment that comes through many things in life".
"The collection is organized in various sections. So we did the same thing for the makeup. The looks are kind of similar but there are subtle differences. Most of the looks have very matte skin and a very glossy eyelid, like all around, and glossy eyebrows. So there is a lot of contrast of textures. So the lips, the skin… everything is matte but the rest looks super wet. So it really stands out, especially the eyes".
We saw also a kind of tattoo…
"Yeah, all the girls have a symbol painted. The designer asked me to do so. It's like a mix of two different symbols from alchemy. So there is a symbol for water and the other one stands for air. So we kind of get like a fusion of both of them. We don't create a new one; so it's like an upside down pyramid with a line across".
Back to the make-up. The looks are kind of similar. What are the differences?
"The main differences are the changing colors. So some of the looks are prettier, pink, a lot more feminine and romantic than others. There is a section that is a little bit darker in the clothes… So for that in the make-up we go for a silver. There is a section that is all black models so that comes with very natural makeup with like a metallic silver gloss on the eyelids as the only element, but on the skin it looks so like reflected. It looks incredible; it looks like water".
You mentioned 'matte skin' earlier. Is matte skin coming back?
I think matte skin will always be around because it looks good. You know, skin looks really smooth when it's matte. If there is any imperfection and you make that matte and you kind of soften it a little bit in… it looks much better. So there is a bit of everything. You know, when you do very natural skin normally it's not matte. Like natural skin without makeup on, is not matte. So when you do matte skin it looks a little bit more made up, but it is a good look.
And what did you use to make the skin matte?
Just powder!
Loose powder?
Well, loose powder is more refined so when you do the makeup it looks better but then, at the moment of the line-up for the show, when we do the final touch-up, we're going to use pressed powder because it's easier, it is less messy. And also because we have to be careful with the clothes.
Thank you, Pablo.
In association with ADVERSUS