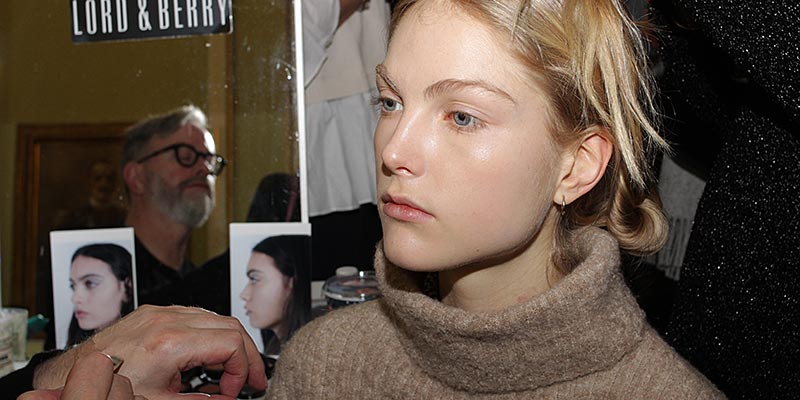 Backstage at the FW 2018 2019 Genny Fashion Show we watched (and filmed) Lloyd Simmonds – makeup artist – create on the most beautiful skin ever for the models of this show. It struck us that Lloyd created the foundation step by step. Patiently he went over and over the skin again, erasing every little imperfection and adjusting the skin tone. In this video interview Lloyd Simmonds explains how to create such a beautiful skin. Simmonds also explains how to create a 'drama' make-up look in not more than two (!) minutes. This make-up is super easy and great for special occasions. Watch the video interview and copy the look!
This is what Lloyd Simmonds told us:
We are backstage at Jenny. We're here with Lloyd Simmonds. I see a lovely makeup look here. Can you explain the look to us?
It's a very very simple look. The clothes are very dramatic and they have a lot of intensity so we wanted to have a similar kind of intensity but with a very simple idea. So Sara [Cavazza Facchini, creative director at Genny] just said to me that she wanted something that looked a little bit like a butterfly's wing but just made out of sparkles. So it's just that very simple beautiful clean skin, groomed eyebrows and then this little butterfly wing shape of glitter applied to the eyelid. That's it. Just to give that beautiful sparkle in the eye.
How did you apply the glitter?
I put a little bit of (sort of) lip balm on the eyelids first and then I just pressed the glitter in with my finger. That's all. Very very quick. You could do this in two minutes at home.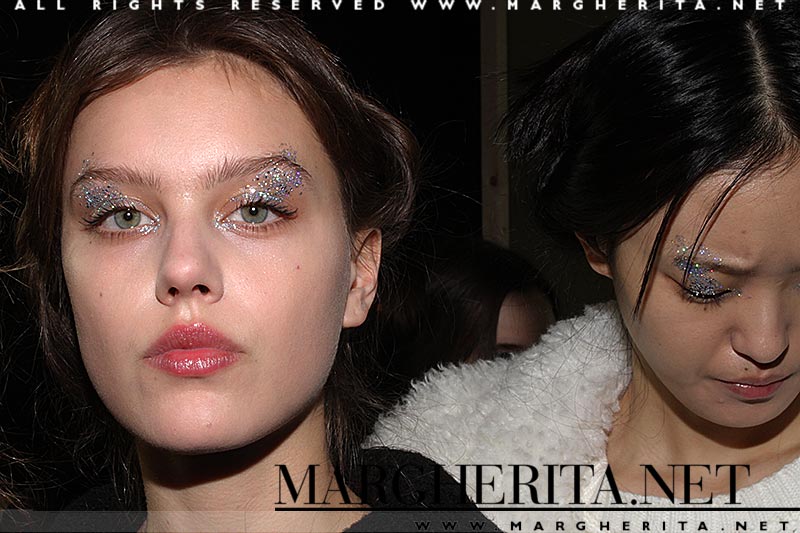 Is this a trend?
Absolutely. I mean, for drama nothing beats just a tiny touch of glitter, right?
And the skin is really beautiful…
Luckily here I'm working on beautiful girls but the steps are the same for everybody. First clean and moisturize. That is the most important thing and then afterwards slowly with foundation build up only where you need it. So in the center of the face, usually around the nose and then you spread it out, thin it out, so that you keep as much of your own complexion as possible, certainly all around here, that makes it everything look fresher and more natural. And then you go in with a concealer wherever you need to, maybe around the nose or just under the eyes. And that's it. Keep it clean and fresh and just powder a little bit on the middle of the forehead.
Thank you very much.
In association with
ADVERSUS