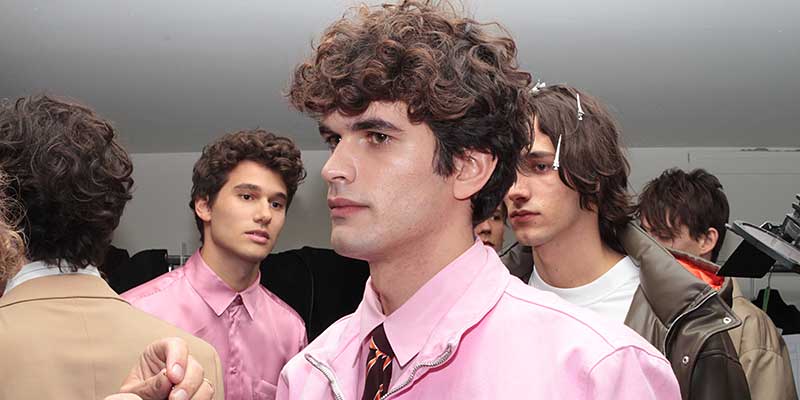 Curly hair styles for men at the MSGM Show. "The look is very… it's a little bit on the retro side, we have sort of looked at the 80's you know. The MSGM Fall Winter 2018 2019 collection is all about… it's kind of like groups of students and actually they've done a street casting for the show, which is really interesting. But one of the things that we have done is we have really tried to sort of celebrate curl in the hair, which is really great because I have that too :-)" Neil Moodie told us backstage at the MSGM Fall Winter 2018 2019 Men's Show at the Milano Fashion Week.
"But we have kind of gone for that 80's style, but the hair here is a little bit bigger, it's not so flat and also not so styled. The hair here is a little bit more disheveled, the curls are a little bit more wild and a bit crazier and also not too heavy in product. So it feels like there's a realness to it, you know, there's a real realness in the texture".
WATCH THE VIDEO INTERVIEW WITH NEIL MOODIE
"Obviously we are using product to create that with the boys, but I just didn't want it to look like there's a lot of product in the hair because I think especially curls tend to look a little 'over producty' if we're not careful. And the guys with the straighter hair… we're just sort of working on that slightly disheveled sort of like two-day-old kind of hair. You know that kind of hair that  when you wake up it's kind of big in places… and then you actually don't sort of groom it, so we're trying to get it to that point straightaway". Continues under the pictures below.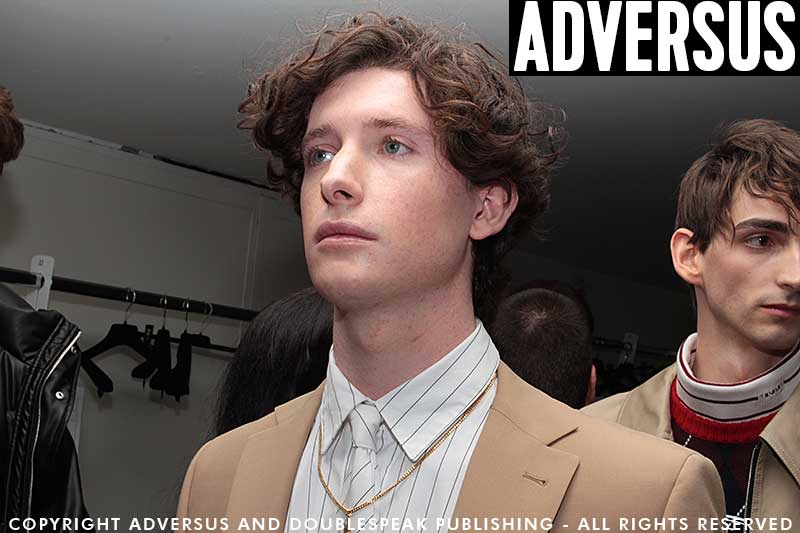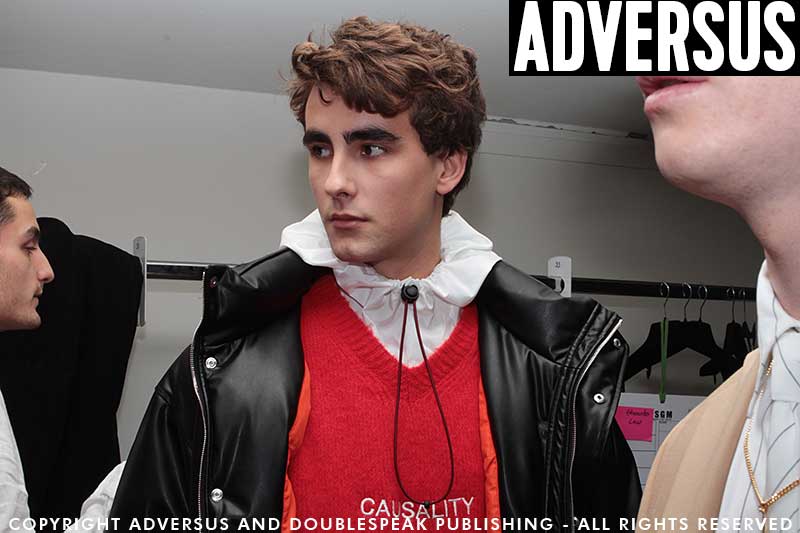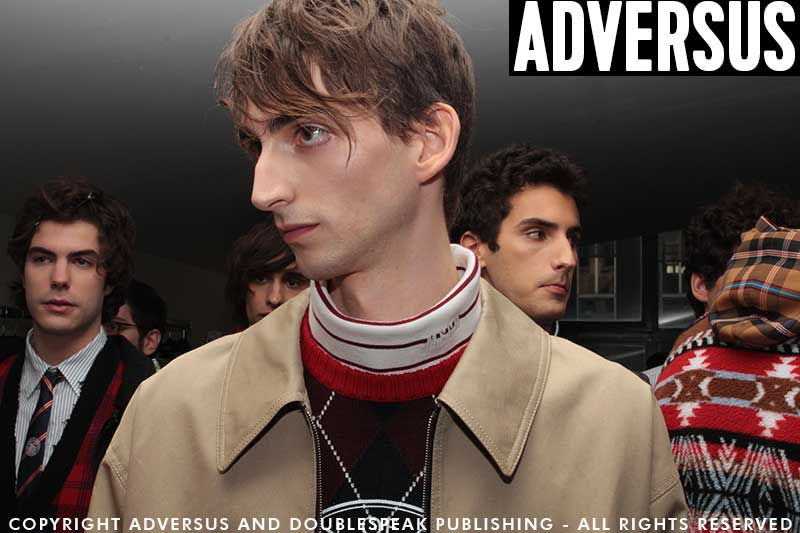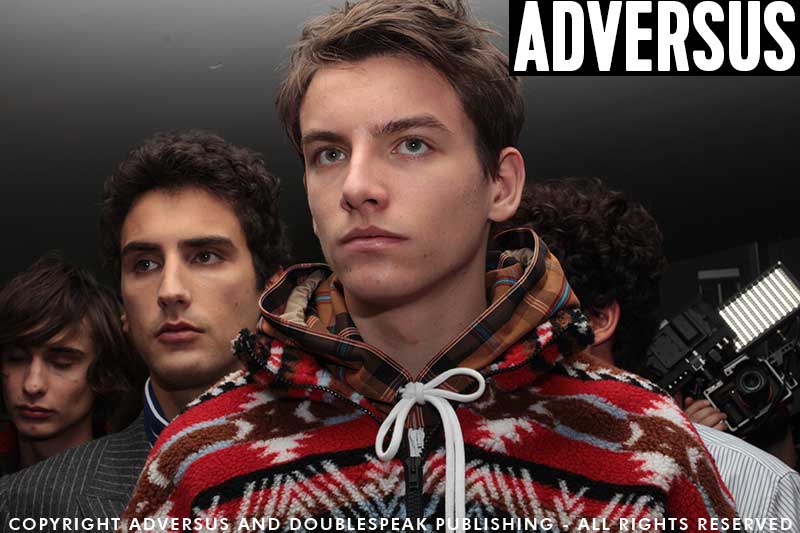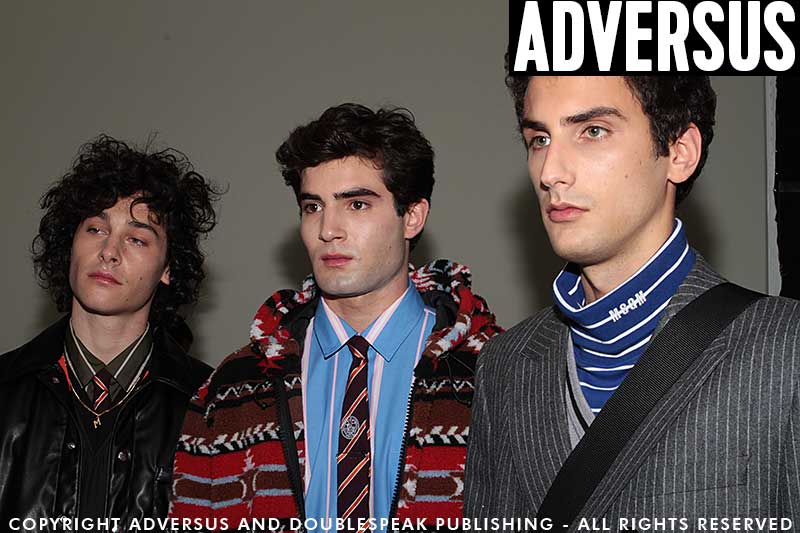 So which products did you use for the curly hair and for the straight hair?
"We're using a mixture products depending on the hair type that's in front of us, so on the guys with the straighter hair we're using the sea salt spray and then we're also using the texturizing volume spray as well, and then for the curls we're using… Some of them were using leave-in conditioner because it's kind of you know… the hair lacks a lot of moisture so we're giving it more moisture, but then we're also putting in the protein spray as well. And then we're finishing again with the texturizing spray just to keep the hair looking a little bit more matte because one of the things I am trying not to do is give the hair too much shine, because again it will look more like this product in so it's a more about the matte texture really".
Big curly hair is a trend, right? And do you see other trends?
"I really think for men one of the trends that's happening right now is longer hair, not only for curly hair but just in general. It seems like guys are really starting to grow their hair out. I think, or it feels almost like everybody's bored of that sort hair… And so the hair is just getting longer and longer but what's nice is people are celebrating their own texture rather than trying to change it. So if they've got curls it's longer curls, if they've got waves… it's longer waves, and if they've got straight it's long and straight. It's not like there's a specific style or such, it's just about the length and have fun celebrating what you have".
In association with ADVERSUS