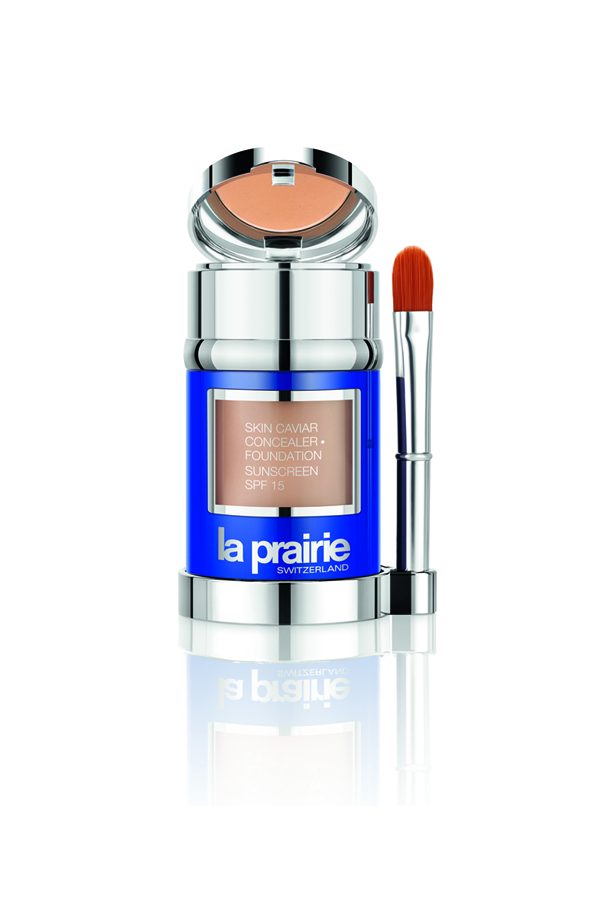 One part luxury foundation, one part professional-level concealer, now dressed in our iconic caviar blue, Skin Caviar Concealer • Foundation SPF 15 is everything you need for flawless, natural-looking skin in one convenient bottle.
A perfect blending of colour and treatment, Skin Caviar Concealer •    Foundation SPF 15 offers instant perfection the moment it slips onto your skin.
The luxurious lightweight formula, enriched with a new peptide for increased firmness and elasticity, gives the look of a naturally flawless complexion and keeps the skin hydrated with a dewy finish.  A perfectly matched, professional-level concealer in the bottle cap camouflages under-eye darkness and imperfections.  Both formulas support firming with legendary caviar extracts and help shield skin from aging factors.  Beloved for its skin-perfecting texture and long-wearing coverage, Skin Caviar Concealer • Foundation SPF 15 is a make-up must.  Available in 12 shades to suit all skin tones.
The new design features the Skin Caviar Collection's signature cobalt blue packaging.  The inspiration for this iconic shade of blue came from sculpture and architecture so prevalent during the 1980s.  Seen in styles ranging from modern to flamboyant, this particular blue came to symbolize all that is royal and lavish – two words synonymous with Skin Caviar.  Anil Kalyanapur, who is in charge of La Prairie creative packaging design, states, "We were captivated by this particular shade of blue – a deep cobalt that immediately resonated as regal and upbeat. This blue became the perfect avenue to showcase Skin Caviar.  Radically different from the rest of the packaging seen in the skincare market, it simply could not be ignored.  We stumbled upon this beautiful blue jar, and we went with it (for the launch of the original Skin Caviar).  It was just that simple; yet now, here we are 30 years later, and it's become a legend."
A flawless finish on the surface, a firming legend for your skin… this is the foundation of perfection.
How to apply:
For the foundation, shake well before applying. Using fingertips, remove a small amount of the foundation from the spatula and dot on forehead nose, cheeks and chin.  Smooth and blend downward with fingertips for maximum coverage, or blend with sponge or foundation brush for lighter coverage.
For concealer, if addressing spot treatments – i.e.: under-eye darkness, spots or blemishes – use your finger (or the brush that accompanies the product) to tap or pat concealer onto over foundation. You can then use the concealer brush to blend away the edges.  If applying concealer to a large area, apply prior to foundation and blend with concealer brush.
Product description:
Packaging:                               Cobalt blue bottle with transparent window
Size:                                         30ML / 1.0 OZ.
Suggested Retail Price:              HK$1,920
On Counter:                              October 2015
 skin caviar CONCEALER • FOUNDATION SPF 15
KEY INGREDIENTS
 Caviar Extracts
Rich in amino acids, vitamins and minerals, it is a source of natural compounds required for the structure and vitality of healthy skin.  Offers unparalleled firmness, protection, nourishment and energy to the skin.
 Palmitoyl Hexapeptide-14 – NEW!
Designed to harness the stimulatory aspects of peptides to promote healthy skin and help to reduce the appearance of fine lines and wrinkles.
 Malt Extract
Help protect collagen by inhibiting the collagen degrading enzyme MMP-1, leading to extended skin firmness.
 Arnica Extract
Plant based ingredient; provides anti-irritation benefits to the skin.
Licorice Extract
Imparts a brightening effect on skin, as it works to block tyrosinase thus inhibiting melanin production to help prevent new spots from forming.
 Vitamin E
Provides anti-oxidant protection.
La Prairie's Exclusive Cellular Complex
A scientific signature from La Prairie, a closely held secret for nearly four decades.  This proprietary complex has been at the heart of every La Prairie skincare formulation since the beginning. Our exclusive Cellular Complex uses cutting-edge biotechnological research to give new life and energy back to the very cells where beauty begins.  It targets essential cells and components of the extracellular matrix, for a rejuvenated skin appearance.