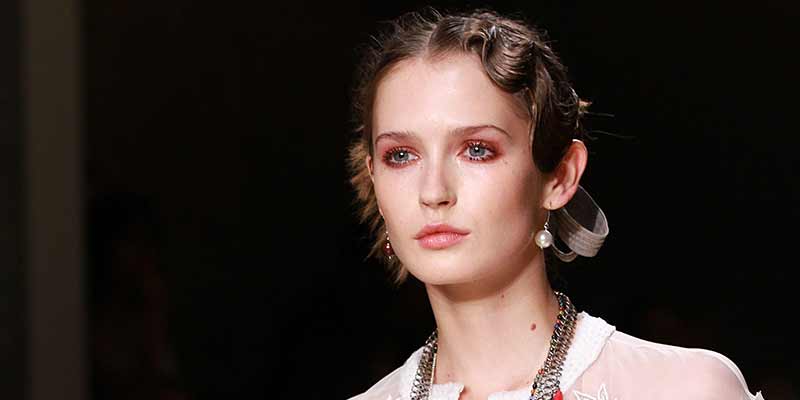 We interviewed hair stylist Peter Gray backstage at the Les Copains SS 2018 Fashion Show. In this video interview the renowned hair stylist explains the hair look he created for this fashion show, that is finger waves with a modern twist. He also explains the hair trends for the upcoming season. It will be a mix of many many hair styles, so that every woman can choose her own, individual look.
Watch the video interview (or read the interview below), have a look at the photos and… copy the look. We love it!
This is, in short, what Peter Gray told us (for the full interview see the video):
The inspiration that the designer took was from Millicent Rogers, an American socialite, fashion icon and an extremely wealthy lady. She was a real patron of the Arts and we wanted something like a creative version of her and her deep and strong curls.
So the hair look is smooth and straight on one side and has more of a wave asymmetrically on the other. We [Peter Gray and the L'Oreal Professional Team] created a flat finger wave using Constructor Spray on one side of the front quarter of the head going into a very low ponytail. We knotted the ponytail, leaving all the ends out, a little bit rock-and-roll modern, and then we used a fabric bow that the designers have provided us on the back of it. So you've got this kind of duality of rock-and-roll and soft and pretty. You've got the really sleek modern look on one side with a bit of texture and then the waves on the other.
We are going to see a lot of waves for next summer. I think we're gonna see a lot of everything. I think it's like a real mixed bag. There's so much information out. There so many great products right now and so many options so that women really can choose to be individual now.
In association with
ADVERSUS