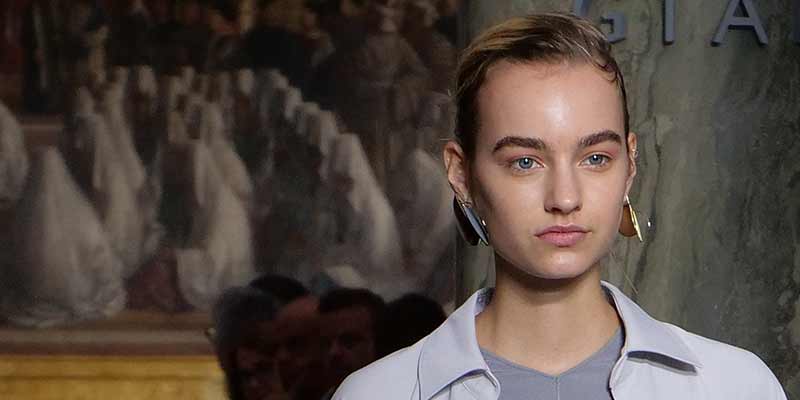 Backstage at the Giada SS 2018 Fashion Show – a very exclusive off-calendar show – we met and interviewed Francelle Daly, makeup artist. Francelle created the make-up look for this show, together with the M.A.C makeup team. In this video interview she explains the make-up look of the models, and provided us with some golden make-up tips for a very natural and beautiful skin! Watch the video or read the interview:
Francelle Daly: In this season we wanted to do like a watercolor eyelid. So on the skin – what you see on beautiful Maartje [Verhoef] – everything is like really sublime with skin tone. We used Face and Body by MAC Cosmetics. It really emulates skin. The eyebrows are brushed out and we're using a color cream base on the eyelid. And then there's a blush on top of the eye. The reason why we choose blush instead of an eye shadow is because it's a bit warmer and it really pops everybody's eye tone. The eyelashes are not curled in this season. We actually did one coat of a brown mascara on top and bottom but very very lightly, and then last but not least to finish everything up there's a nice beautiful cheek color. Actually it's a cream and cheek color for the lip. When you see everything, on the eye, on the cheeks, everything is like a beautiful monochromatic color wash this season.
It's really beautiful. The skin is great! Can you explain what products you use for the skin?
For the skin it is really important that you do a nice face massage and get all the circulation going. We did a lip scrub on the lips as well to bring up the circulation and to get any of the dead skin off. So on the skin we used Face and Body by M.A.C Cosmetics. It's a really beautiful next-to-nothing foundation because it's covering with the pigment and not with the weight of the product. Everything is finished off with a little bit of Prep + Prime loose powder. There's a little bit of concealer but as you can see you still see a little bit of the integrity of the skin which is very important. I don't like a heavy coverage. I love to see the beautiful skin tones coming through.
Last question. If we don't have such a beautiful skin as Maartje, what can we do at home to create such a beautiful skin?
That's a great question. So what you can do? You can actually use the same foundation into the skin, but instead of using a heavy coverage cover imperfections with concealer with a brush. A lot of people tend to go heavier with the foundation and then use a concealer. It's actually a good trick and an artist trick to runway to reality to do a very light of a foundation and then going on top with concealer with a brush.
That's a great tip. Thank you very much, Francelle!
In association with
ADVERSUS