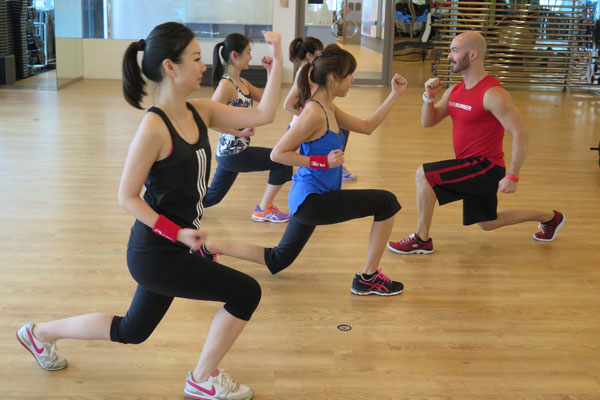 HIIT (High Intensity Interval Training) is definitely one of the most important new trends in fitness. It is something we all, if you are also into fitness, have heard about, and it is getting more and more popular. Why? Because HIIT works.
Burning excess fat effectively has always been one of the main concerns for a lot of women (and men) and HIIT offers a solution. You have to work hard of course, but it works. If you are curious by now, then in this interview you will learn more about HIIT, and other new trends in fitness, with the help of a real expert. Nuno Fidalgo, Group Fitness Instructor of Pure Fitness in Singapore, http://www.pure-fitness.com/en/singapore/ will guide us through the latest fitness trends, nd give us his expert advice on some of the most important ones. Read on to know more.
HIIT, or High Intensity Interval Training: Is this something for everybody, and is it the new trend in weight loss through aerobic exercise?
Yes to both questions. HIIT is something everyone should try, although you should scale it to your level of fitness. Always look for options that match your ability in movement patterns and fitness level. As the name suggests, the key factor is intensity. You will have to work at a level of intensity you've probably never done before, which demands a lot of willpower and self-discipline.
It has become a trend in fat loss because high intensity interval training elevates your heart rate and allows you to go up to 170% or more of your VO2MAX (VO2MAX or maximal oxygen consumption reflects the aerobic level of the individual, determining intensity), creating an effect called EPOC in our body. EPOC stands for Excess Post-exercise Oxygen Consumption, also known as the Afterburn Effect. It restores the body to its normal state and adapts it to the workout you just finished. EPOC replenishes the energy, balances the hormonal level of our body and also fuels the body's increased metabolism from the raised body temperature which occurs during and after exercise.
This means your body can burn calories up to 48 hours post workout due to the elevation in baseline metabolic rate resulting in huge effects on fat loss. On a side note, the calories burned during exercise are not as important as what happens afterwards. Why? It's because during exercise, your main source of energy is glycogen, but the body turns to fat as its major energy source to replenish itself during recovery.
Please help us get up to date with the newest fitness activities. Which are the latest trends in fitness, and which are the latest new classes at Pure Fitness? We also heard Roller Release is one of the new ones, can you tell us more about it?
According to a report featured in the ACSM (American College of Sports & Medicine) and also IRSHA (International Health, Racquet & Sports Club Association) entitled "The Top 20 Fitness Trends for 2014", activities like HIIT Training, body weight training, gymnastics, strength training, weight loss, functional fitness, and having educated professionals and exercise leaders, are among the year's top 10 trends.
At Pure Fitness, you can find all these options and more. We were the first in Asia to introduce many of these concepts to a group fitness setting. Our classes offer a variety of programmes and choices like TRX, Tabata , ViPR , Circuit Blitz, Les Mills programmes, and our newest class, Roller Release, which focuses on self myofascial release (a form of self-massage), flexibility and mobility. We also have a team of experienced and highly qualified Group Fitness Instructors who will always make their best effort to deliver a safe and fun workout with great results.
Two of our most successful classes are Tabata and the new Roller Release.
Tabata is based on a study by Izumi Tabata in Japan. It's a training protocol designed with a key factor, intensity. The idea is to bring you to 170% of your VO2max for 20 seconds, followed by 10 seconds of rest done for 7 or 8 sets (4 minutes total). Alternatively, you can do an 8-minute round at intervals of 40 seconds work/20 seconds rest. You should go as hard as you can for that period of work and alternate it with periods of rest.
Preferably, we program exercises that drive the metabolic stress and challenge your body in order to create that change. We combine integrated full-body moves with weighted exercises, using equipment, like thrusters (squat and shoulder press), squats, or using body weight calisthenics with plyometric work like squat jumps and plyometric lunges. We also use a strong core component, alternating some of the more challenging exercises with core-focused movements like planks to give participants a chance to recover better and reach higher levels of intensity and at the same time build a good core functional foundation.
Key advantages:
It brings your fitness to the next level.
It's fun.
It's efficient as you can finish a workout in 30 minutes.
The afterburn effect can last up to 48 hours.
Roller release is a class that focuses on self-myofascial release with the use of a rumble roller or foam roller. Self-myofascial release is a technique similar to a deep tissue massage to work the knots in your muscles, improve mobility, flexibility and blood flow.
Muscle tightness leads to pain and soreness, mechanical dysfunction and eventually, injury. So everyone should do it, especially if you are an athlete who wants to get stronger or better at a specific movement or someone who works at a desk job the whole day and is feeling some tension and soreness. Flexibility and mobility are two of the most undertrained qualities in sports and fitness, so Pure Fitness, realising this gap, launched this fantastic new programme for our members in a group setting.
Key Advantages:
Improves blood circulation
Releases tight knots
Helps control high blood pressure
Improves nerve function
Increases flexibility/mobility
Helps strengthen immune system
Thank you
Alessio Cristianini for TRENDYSTYLE HONG KONG
Nuno Fidalgo, Group Fitness Instructor of Pure Fitness in Singapore
http://www.pure-fitness.com/en/singapore/
After being a Capoeira Martial Artist for 7 years, in 2001 Nuno decided that fitness would be his life passion and career. His passion about movement and fitness has been growing each year ever since. After working as a successful personal trainer and group trainer with 12 years of international experience in Europe and Brazil, Nuno looks to inspire people to lead a healthier life through movement and fitness. With his high energy and never ending motivation Nuno will certainly keep you engaged in training.
Nuno teaches Group Fitness classes at both locations listed below
Pure Fitness Knightsbridge
Level 3 Knightsbridge
270 Orchard Road
Singapore 238857
T +65 6100 3813
Pure Fitness Asia Square
Level 6
Asia Square Tower 1
8 Marina View
Singapore 018960
T +65 6100 2233