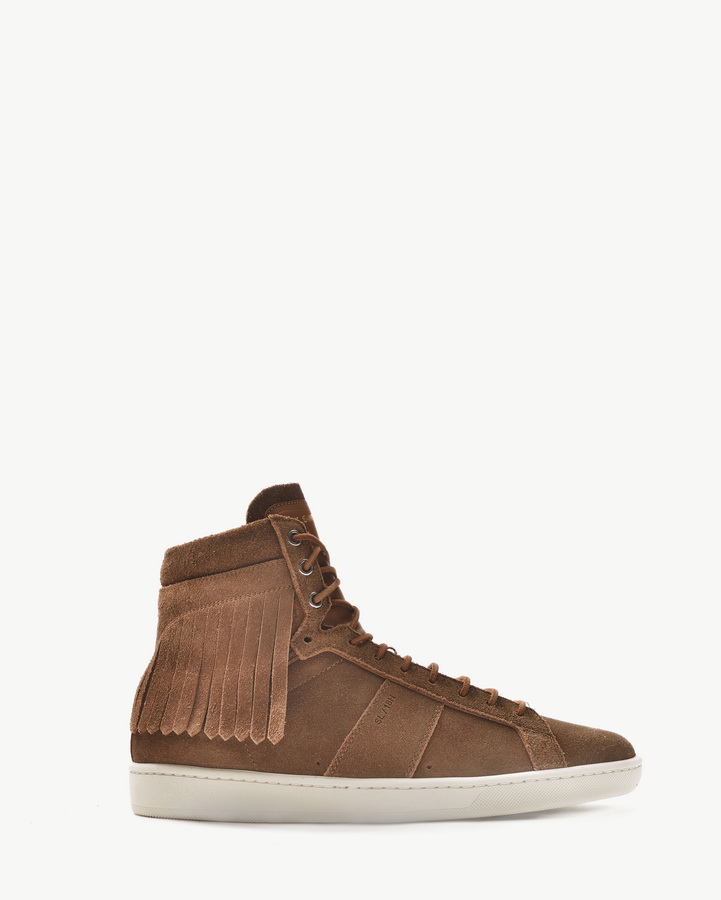 Court Classic and Skate are ranges of signature sneakers from the Saint Laurent wardrobe.
The upper and sole of each Court Classic sneaker are assembled and glued by hand, and still constructed and manufactured in a traditional way. In the original tradition of sports shoes, the Saint Laurent Court Classic is lasted on to a vulcanised rubber sole. An easing support and perforations ensure comfort and functionality, making the Court Classic suitable for everyday wear. The name of the style and Saint Laurent logo are embossed on every pair. To link to the Psych Rock Collection, folk details such as fringes are added to the design.
Skate was designed as causal and comfortable sneakers with slightly bevelled heel and vulcanized ivory sole. In the Psych Rock Collection, Skate echoed prints and ready-to-wear animations in the collection including camouflage and Daim Leopard Saint Laurent, which is an iconic Saint Laurent material.
COURT CLASSIC SL18H FRINGED SNEAKER IN HAZELNUT SUEDE – HK$7,250
COURT CLASSIC SL18H FRINGED HIGH TOP SNEAKER IN BLACK SUEDE – HK$7,250
SKATE SLIP-ON SNEAKER IN KHAKI CAMOUFLAGE PRINTED CANVAS GABARDINE – HK$3,850
SKATE SLIP-ON SNEAKER IN TAN LEOPARD PRINTED BRUSHED LEATHER – HK$4,750