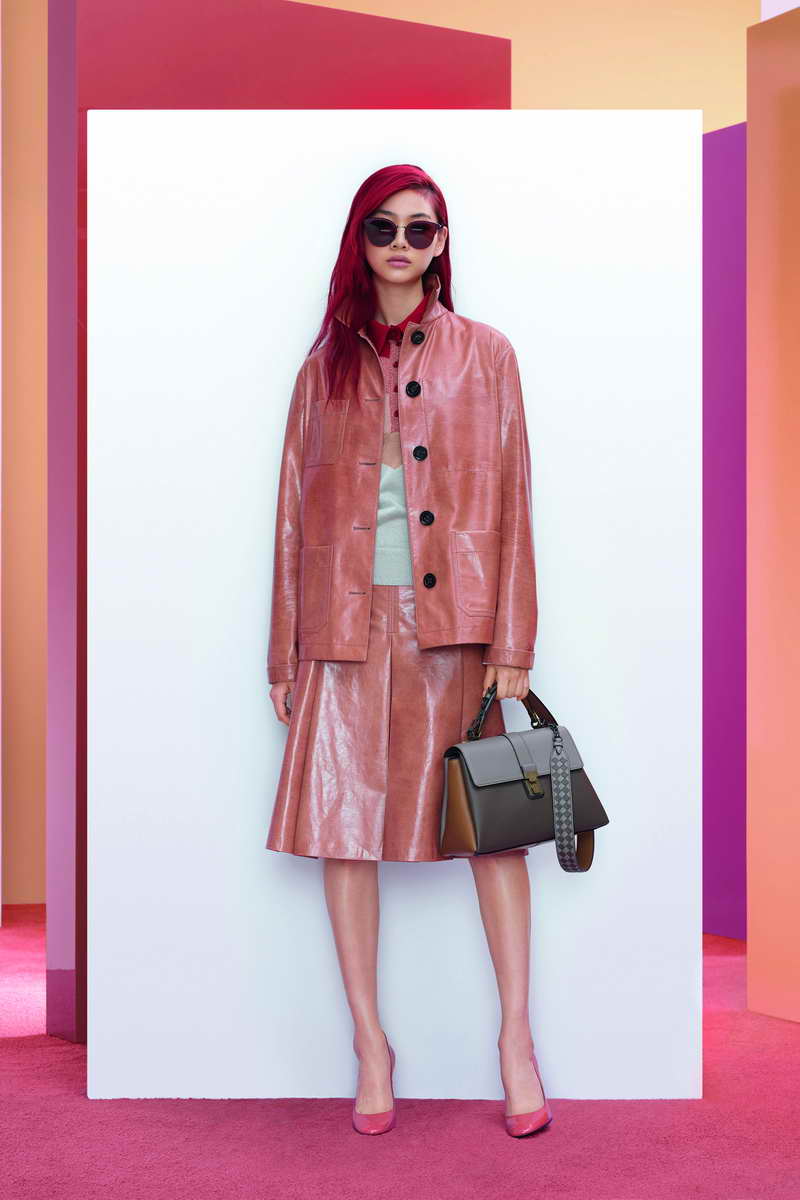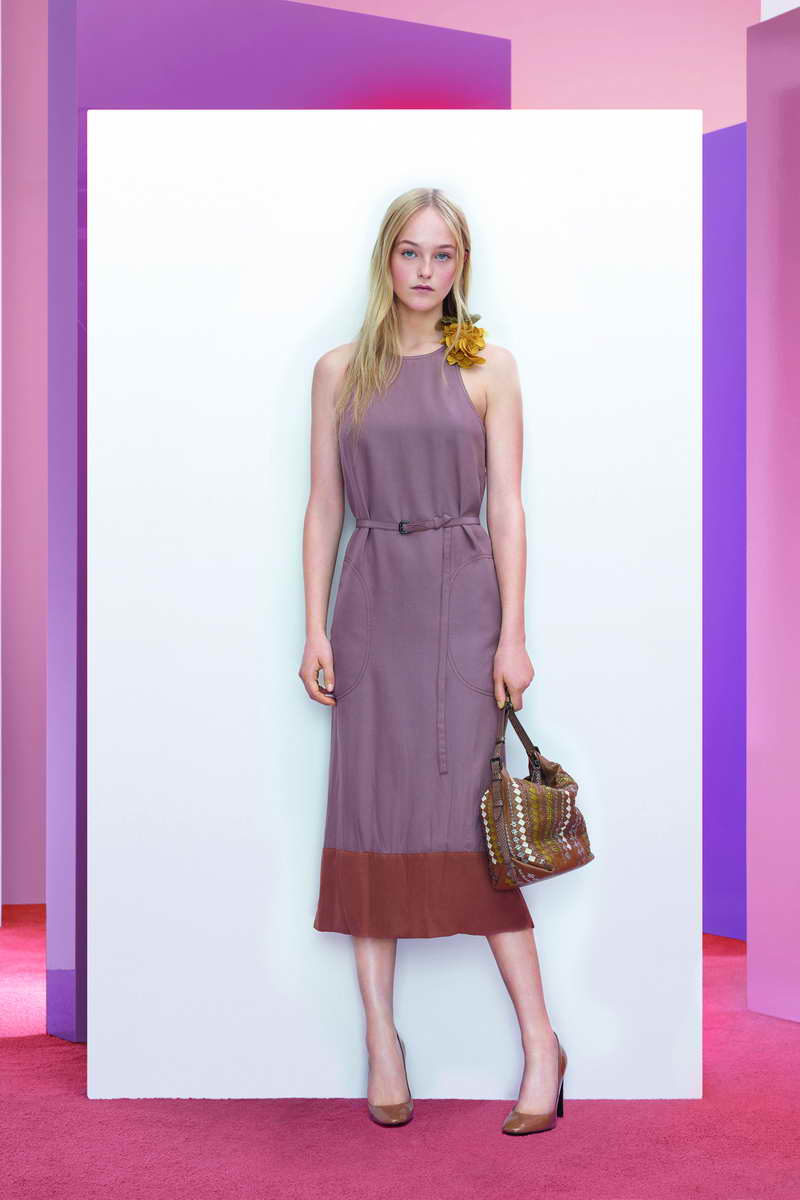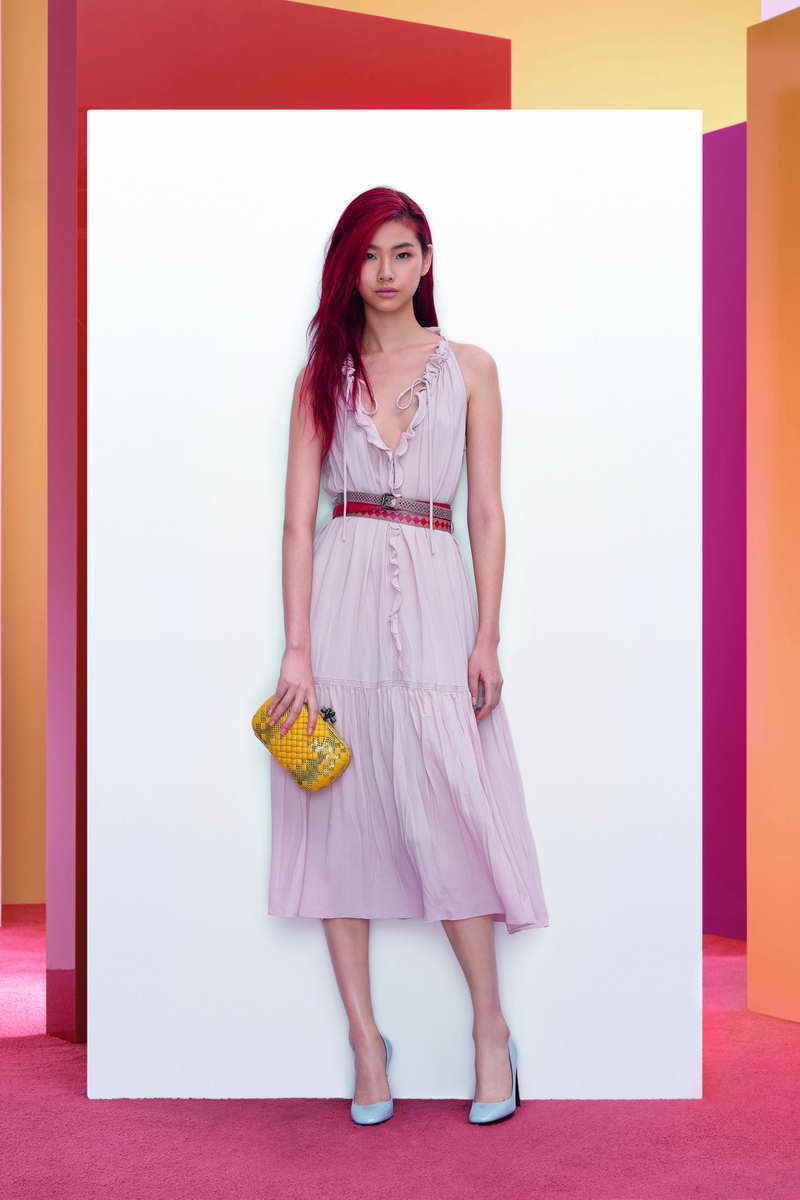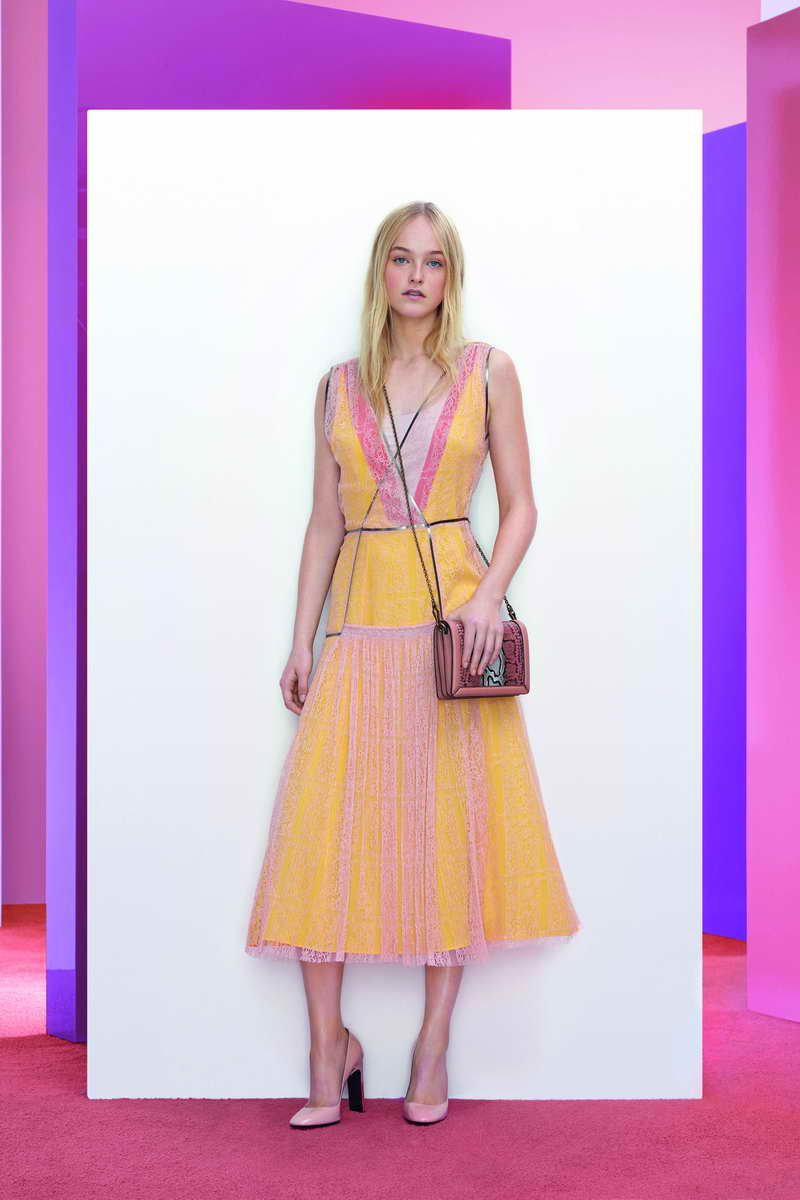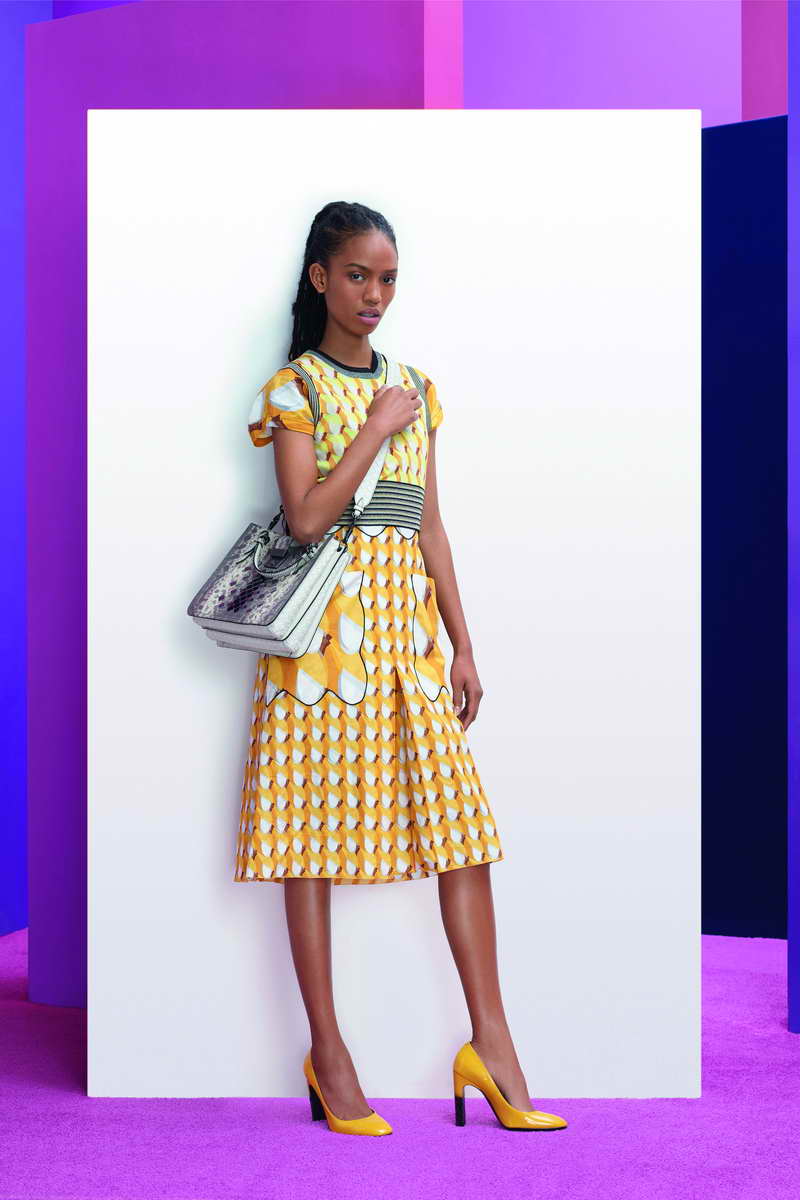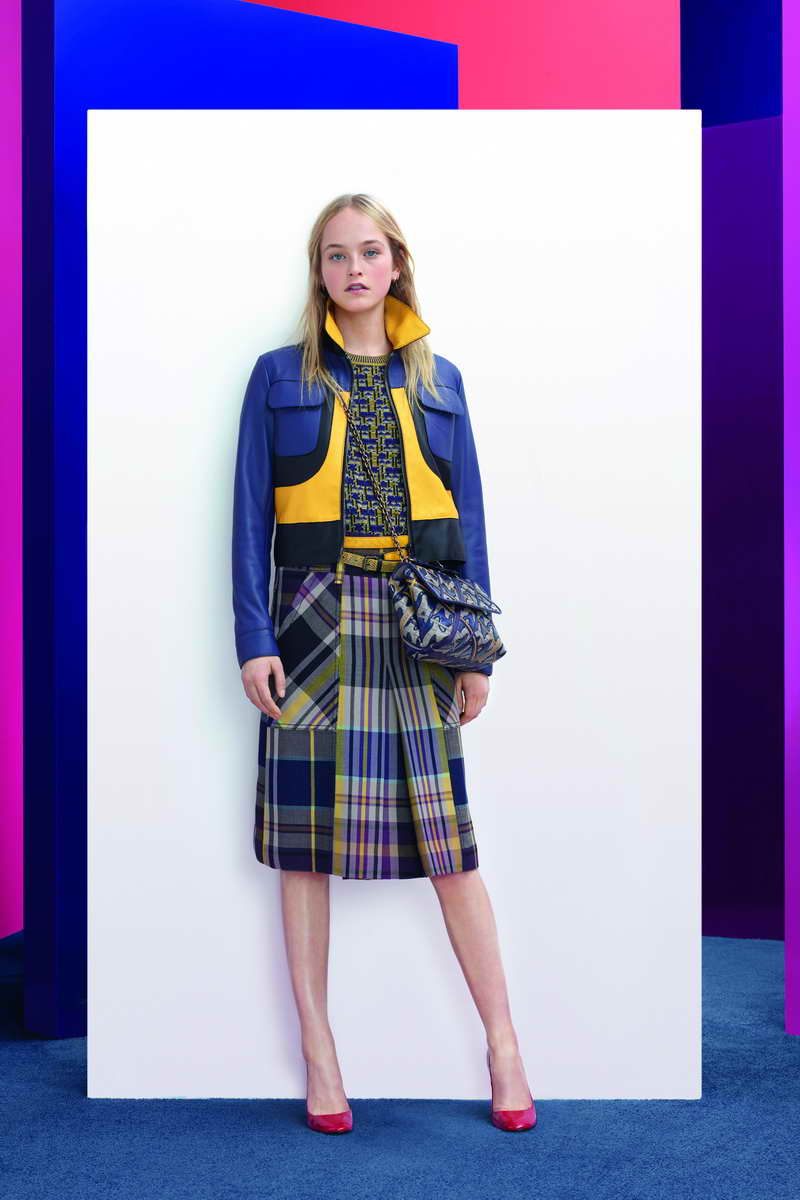 Bottega Veneta's men's and women's Early Fall 2018 collection acts as a true link between the seasons, guiding its clientele through the transition from high summer to the very beginning of autumn's shorter days and chillier climates.
The women's ready-to-wear begins by continuing the thread of the exquisite fresco hues that defined the Spring/Summer 2018 collection. But in contrast to spring's embellished workwear silhouettes, dresses in floaty French lace and washed silk are left unadorned. "It's more romantic," says creative director Tomas Maier. These are looks intended for summer soirees and ceremonies—from garden galas to weddings. From there, things turn bolder with colorful organic abstract prints. The silhouette is refined and feminine, juxtaposed with a sense of the playful and unexpected. Patterns and palettes are artfully mixed up. Shiny multicolored paillettes are layered to resemble scales, trimming brightly printed cotton pique coats for a truly special effect. The final part of the collection nods to fall with a stronger visual punch. Colors like Monalisa purple, Sunset yellow and China Red are rich and saturated. Strong graphic lines come from oversize plaids and color-blocked double-cashmere. The pièce de résistance: a belted Sunset yellow trench in supple cervo leather, finished meticulously on the collar, lapel facing and a single storm-flap in Cement leather. "It's just the first taste of fall," says Maier.
Women's bags offer myriad new shapes and details to be discovered. One novel shape is a slim rectangular cross-body frame bag, embellished with our three-dimensional Spheres, now with a pearlescent finish. The new Cabat totes in luxurious Mist and Nero nappa also feature the tactile Spheres. Both the Lauren 1980 and Mini Montebello are remade with Microstud quilting. Many of this season's workmanships imaginatively but subtly nod to our iconic intrecciato. The Mosaic Stud Reale, a gusseted karung satchel, has a smattering of square metal tiles, while a smooth leather top-handle bag is finished with Intrecciato Squadrato—colorful embroidered diamonds. There's more newness in the Knot family. Both the Olimpia Knot and Knot clutch are made in striped intrecciato with oversize ayers stitches, a style called the Intrecciato Club Stitch. The shoe of the season is the Isabella, a round-toe patent pump that looks traditional from the front but has a surreal touch. The heel is designed to appear skinny from the side but wide from the back, while the bottom of heel looks dipped in paint and has a molded intrecciato texture.
Men's ready-to-wear also begins with a link to the fresco hues of Spring/Summer 2018 in clothes that offer an effortless ease: garment-dyed sweatshirts, soft leather jackets and unconstructed linen and cotton suits. As the collection moves toward fall, the suits come in custom checkered wool and leather jackets in deep, jeweled hues are layered over ski-style sweaters and dark relaxed-fit jeans.
The detail that ties it all together is the rhombus, an echo from the Intrecciato Checker bags introduced last season. The shape appears on printed lightweight bomber jackets and button-down shirts, in the contrast stitching of a fatigue jacket and on neo-argyle sweaters and socks. The bold look of the Intrecciato Checker continues this season in men's bags, including brand-new styles like the extremely functional Belt Bag and ultra-lightweight BV Tote as well as classic ones like the Brick backpack. Joining the Brick is a new nylon-and-leather backpack that merges the pragmatism of an outdoorsman's bag with all the refinement of an Italian luxury house. The ultra-luxurious Strade duffel is a take on Spring/Summer's double suede style, now with stripes in crocodile, intrecciato nappa, karung and laser-cut nappa. Suited to the collection's casually luxe sensibility, a sneaker is the ideal finishing touch for every look. Men can choose between the BV Checker Slip-on or the BV Checker Lace-Up, a white leather tennis shoe which, in true Bottega Veneta form, is recognizable by its design, not a logo.
For a brand that deeply respects its individualist clients' needs and tastes, Early Fall is a crucial collection, as it makes it mark far from the runway. "It's about clothes that are desirable and useful," says Maier. "I want to give them something they haven't seen, and therefore have to have."