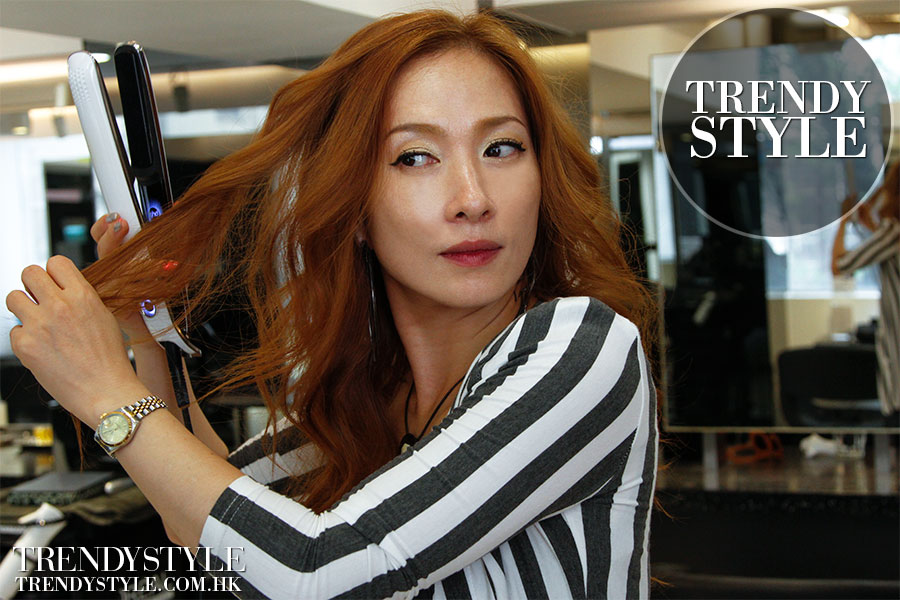 When you want to know about the latest hair trends you have to talk to the right people. As we always do. So this was the right time of the year to start thinking about the Fall Winter 2015 2016 hair trends. And to do this we had no other choice but to "bother" our friend Sonia Park, Toni&Guy Hong Kong Art Director  J (Thank you again, Sonia) and ask her all the questions we could think of. We met Sonia at TONI&GUY in Old Bailey Street, Central.
So, down to business, let's talk about the hair trends for the Fall Winter 2015 2016 season. Watch the video, and read the interview below. You will learn about the new colors, the hair lengths, the new trends and the tools you HAVE TO HAVE (hint: a hair straightener, and Sonia will show us how to use it properly. Watch the video).
 Today we are at the Toni&Guy salon, Soho branch in Hong Kong and we are talking with Sonia Park, the Art Director here, and she is going to tell us about the hair trends for winter 2015 2016…
Today I would love to talk about the new trends Fall Winter 2015 2016. Nineteen-seventies will pick up again Eighties styles there will be popular, still light color, but also romantic casual style…
What do you expect, longer hair, shorter hair, are we still going to see mid-lengths?
Short haircut and short bob length will be popular for next year because it is easier, because the hair is short and it is easy to take care of shorter length.
What hair product do we 'have to have' to for the Fall Winter 2015 2016 season?
I would say: the hair straightener. Everyone has a different texture of the hair, someone has it straight, and someone has it curly. Whatever the shape or haircut you have, if you have a straightener it will be easy to transform your hair from straight to curly, from curly to straight
So we all must have a straightener…
Definitely! We must have our own straightener. But don't forget. Long hair is not an exception; long hair also still represents a very feminine and romantic style. So definitely the straightener will help transforming from something to something else, and in a very short time.
The winter is going to be more cold, more humid also, what can we do to protect our hair during the winter season?
Basically shampoo, conditioner, mask. This is what your hair needs. There are many products out there but we have to find the most suitable product for your hair type.
Toni&Guy works with high quality hair care products, such as Kerastase and L'Oreal, and our own product label.m. These products will help repair the condition of the hair, and strengthen it at the same time. Nowadays I see many clients whose hair is getting thinner and weaker. Not only because of the chemicals, but also because of the pollution, and if your system is not working correctly, your body will express it into your hair. For all these reasons hair is becoming weak, but with the right products you can strengthen the hair.
HOW TO USE THE HAIR STRAIGHTENER
Nowadays the hair straighteners' quality is quite high, which means it will not damage the hair. Some people worry that straightening the hair too often will damage their hair. But it is not like this. Because if you will use good quality shampoo, conditioner, treatment, whatever your hair needs, then the straightener will not damage your hair. You will definitely need a hair straightener this season.
Watch the video above, and follow Sonia Park's lesson on how to straighten your hair, but also how to create sexy curly hair with the same straightener.
Do we need to protect our hair with some specific products before using the hair straightener?
Usually we apply serum, or oil, which will protect the hair and maintain the moisture inside the hair. We definitely use these products before using the hair straightener.
And after? Any specific product to hold the style?
If you want to keep the style a little bit longer, hair spray will help. But if you want just flurry soft hair which will last for a couple of hours, then you will not need to use a product after using the hair straightener.
We thank Sonia Park, Art Director at TONI&GUY SOHO
Upper G/F, No. 3 – 5 Old Bailey Street, Central
Tel: (852) 2533 3833
Hong Kong
Alessio Cristianini and Charlotte Mesman
(Charlotte is wearing a red dress from the SAU Fall Winter 2015 2016 Collection)