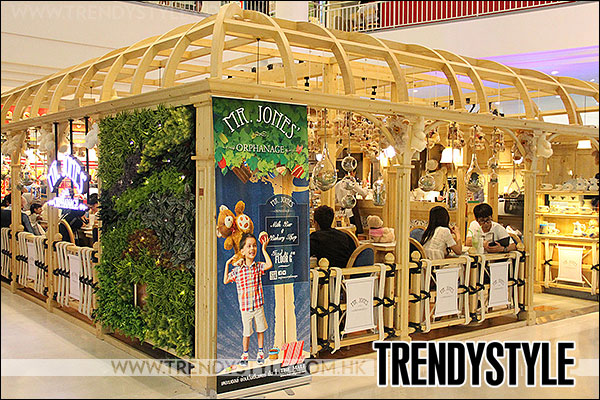 As you all will know by now I am head over heels in love with Mr. Jones. No, not with Mr. Jones himself, silly! I am in love with the famous Teddy Bear Factory and Bakery Shop in Bangkok, called Mr. Jones' Orphanage, and made it my goal to visit all the new branches. Yesterday I visited Mr. Jones' newest place in the Mall Bangkapi on Lat Phrao Road.
The Mall Bangkapi is not quite in the middle of the city center but it definitely is one of biggest and most popular shopping malls in Bangkok. And yes, there is a fast, traffic (and smog!) free way to get there. Just take the Khlong Saen Saep Express Boat at one of the many stations in the city and get off at the mall. It may be a quite rough ride (not too much though, don't be afraid), but it is also a lot of FUN. And… the green river sides will really get you in the right mood to visit the Mr. Jones' Orphanage at the Mall Bangkapi because the concept of this branch is: a Greenhouse.
The blonde wooden structure with its hanging plants in glass bowls on the Ground Floor really looks like a botanic greenhouse. And please, have a good look at the round open chef's table piled with cakes and cookies and you will notice that it pretty much resembles a tree, the dangling teddy bears forming its branches. Oh… and wait till the bears that are actually sitting on little seats of a carousel start to MOVE!
I witnessed the moment and everybody – children and adults – enjoyed the sweet merry-go-round, clapping their hands and filming it with their phones. Add some big pieces of Carrot Cake, Velvet Red cake and Kit Kat chocolate cake to all this… and you get the whole picture! I had a great time and cannot time till the next Mr. Jones' to open :-)