Backstage at the Salvatore Ferragamo SS 2016 Show we met and interviewed Diane Kendal. Diane was the key makeup artist and was heading the M.A.C team backstage at the Show. Listen, learn and read how to copy this strong and feminine makeup look.
This season for Ferragamo we are making the girls a very fresh base with two colors, grease paints [M.A.C Trend Forecast Spring '16/Eye in the colors 'On My Watchlist' and 'Back in the Swing'] mixed on the contour of the eye, brushed up to the eyebrow. And then we are putting Tenderling Blush right over the lid and up to the browbone too, giving a very strong, defined look to the eye. But it is all very blended so there is no hard lines, with curling lashes.
Tenderling Blush we are just putting on the apple of the cheek to get that really gorgeous fresh overall look and on the lips just some lip balm and a little bit of foundation to take down the color. So the girls look rea lly strong but feminine at the same time.
How to copy the look. Step by step: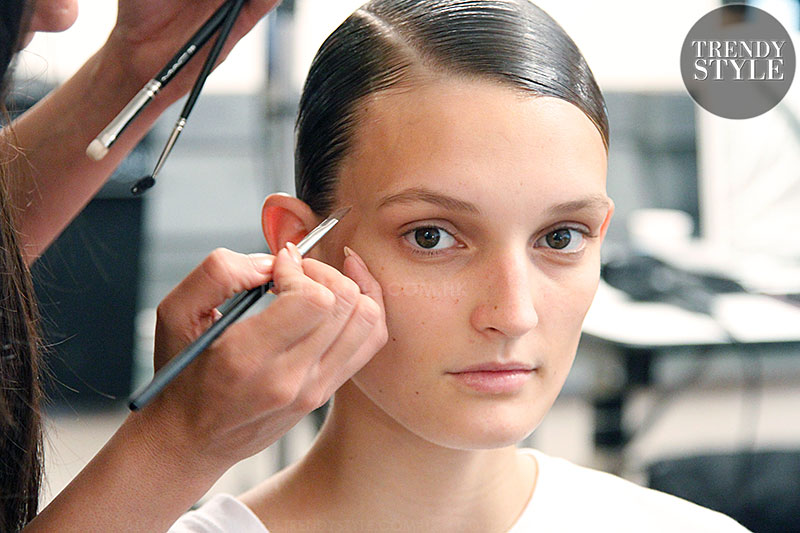 Massage Face and Body Foundation M.A.C in the skin to perfect the skin.
Press Mineralize Concealer in any area that needs more coverage. This make-up look is all about beautiful skin.
Add some Tenderling Blush on the cheek for a fresh look.
Groom your eyebrows. Fill the brows in with a grey color but not too much. Brush them up.
For the eyes use M.A.C Trend Forecast Spring '16/Eye. Apply 'On My Watchlist' (cool grey silver with silver pearl) on the crease and blend in to the brows hair. Apply 'Back in the Swing' (orange peach with gold pearl) on top of it. Powder it with Tenderling Blush.
Curl the lashes.
Soften the lips with lip conditioner.