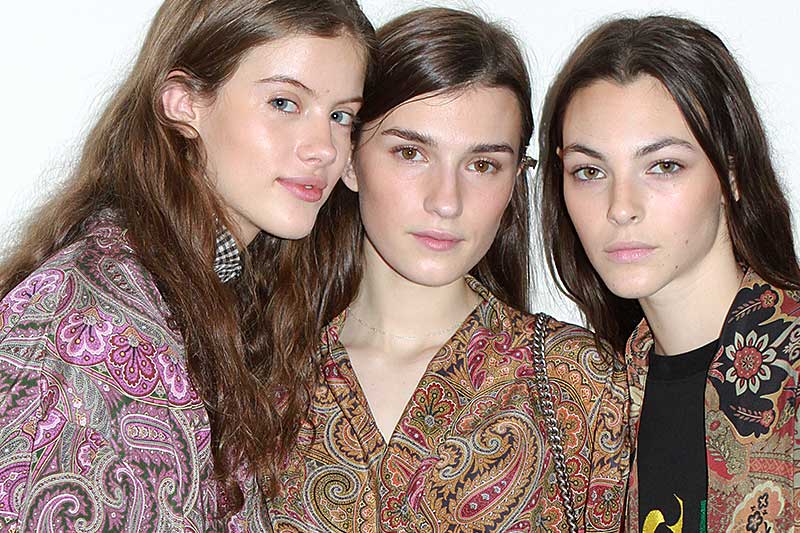 Backstage at the Etro Fall Winter 2017 2018 Show James Pecis told us about the very natural and very beautiful hair look he created for this fashion show. The top hair stylist also updated us on the hair trends for the next season. And guess what… the coolest hair styling product is… WATER!
Watch the video, have a look at the pictures and style your hair (with water)!
This is what James Pecis told us:
Today we're taking the girls on a high-altitude psychedelic music festival. But the hair today is all about the natural textures that each girl has. So it's kind of fun. We have to really look at each girl and assess what it is that would make her texture the best it could be. And a lot of times what we are doing is this: we are just wetting the hair down and then we're diffusing it back into its natural state.
The products for today? The funny thing is: our key product is water! So if we need to reactivate the hair, we use water. We have girls coming in from other shows with very stylized hair and we need to just damp down the hair and then we just diffuse it. We are also using a spray mousse. It just gives curly hair a little bit extra hold.
What are the hair trends for next season?
Some of the trends we are seeing are strong hair cuts. We are seeing some girls making some big chops, this is: taking normal hair and chopping it into a strong look. We see a lot of bobs, and of course we are seeing the girls wearing their hair more natural. Before we used to straighten the hair all the time. Now we are seeing curly girls with curly girl hair.
What is the craziest hair look you did so far during this Fashion Week?
The craziest looks so far… Well, let's see, we just came from London. We did a really fun one with Simone Rocha which involved some finger waves and it was a beautiful show. We have Antonio Marras tomorrow which is going to be really fun with Tom Pecheux doing make-up and really fun hair on that as well.
In association with
ADVERSUS