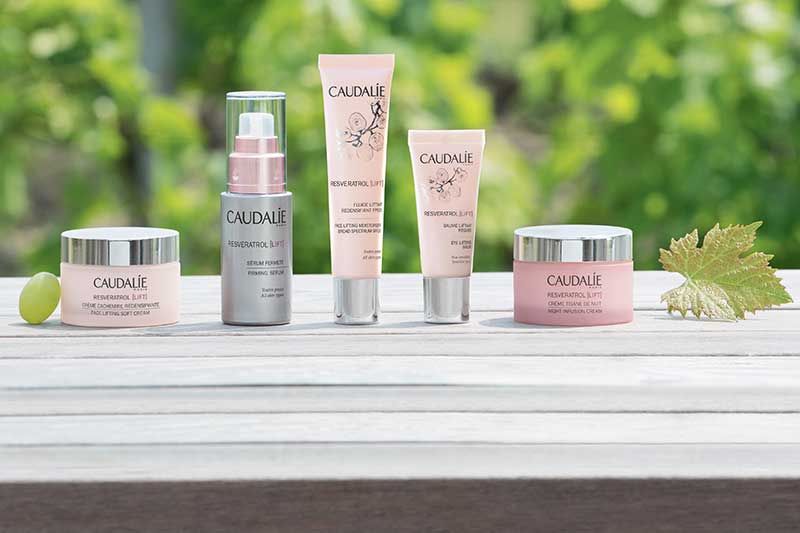 In 2015 Caudalie launched RESVERATROL [LIFT], an unprecedented skincare program thanks to the synergy of two of the most powerful anti-aging ingredients. The collection offers the skin a combined action on loss of firmness and loss of volume to visibly correct facial skin aging.
A real cosmetic challenge behind outstanding anti-aging results. The research conducted with Doctor David Sinclair and his team at Harvard Medical School has indeed demonstrated that a combination of Vine Resveratrol and a complex of micro hyaluronic acid increases the natural production of hyaluronic acid in skin cells.
SKIN ANTI-AGING DISCOVERY:
[Patented] Synergy of Vine Resveratrol + Micro Hyaluronic Acids
Stimulate Hyaluronic Acids Production 3.3X SKIN LIFTING
In 2013, Caudalie Research began partnership with Doctor David Sinclair from Harvard Medical School to better understand the effects of resveratrol on cellular mechanisms associated with aging. The research undertaken by Doctor David Sinclair and his team from Harvard Medical School highlighted surprising synergy between resveratrol, a molecule found in vine shoots and other plants, and micro hyaluronic acids. Doctor David Sinclair explains: "When combing stabilized resveratrol with micro hyaluronic acid, Has2 gene triggered hyaluronic acid production to a much higher level than expected. This was exactly what was needed to plump up the skin by 3.3 times."
NEW RESVERATROL [LIFT] Face Lifting Soft Cream
HK$450/ 50ml
True Cashmere of the skin
Light, yet very nourishing, day after day it delivers its powerful anti-aging ingredients into the heart of the skin: stabilized Vine Resveratrol combined with a complex of micro hyaluronic acid. Each molecule is assayed at an optimum concentration for maximum firmness and anti-wrinkle efficacy.
Its formulation secret? Phospholipids, 100% natural emulsifiers behind its ultra-soft texture. Naturally present in the skin, they are components of cell membranes. Hydrophilic, lipophilic and organized in lamellar bilayers, they have a high affinity and biocompatibility with the skin and act as a "reservoir of ingredients" within the latter. It also contains Peptides, Grape-seed Oil, Soft-focus pigments to restructure the elastic tissue and instantly blur surface flaw.
Once applied, they naturally merge with the skin and promote the absorption of the ingredients while ensuring optimum tolerance. In addition, they create a "second skin" feel. The skin is soft, non-greasy and super comfortable. True cashmere of the skin.
RESVERATROL [LIFT] Firming Serum HK$550 / 30ml
The Natural Facelift.
This star product contains highest concentration of stabilized vine Resveratrol, micro hyaluronic acid, lifting and anti-slackening peptides and olives squalane for a visible firming and anti-wrinkle treatment. On application, features are smoothed and contoured. The skin becomes replenished, replumped, toned, radiating youth.
RESVERATROL [LIFT] Eye Lifting Balm HK$420 / 15ml
The Eye Uplifter.
Besides the patent complex ingredients, Resverarol Lift Eye Lifting Balm also includes extra-lifting peptides and silk tree plant complex giving anti-puffiness and anti-wrinkle benefits. The texture is fine, creamy yet leaves no greasy film. Fragrance-free.
RESVERATROL [LIFT] Face Lifting Moisturizer SPF20 HK$450 / 40ml
The Instant Revolumizer.
This oil-free formula moisturizes, corrects wrinkles, redensifies and protects skin all day long, especially with its SPF20 filters. Its soft focus pigment also leaves the skin with a healthy glow immediately. It is also an excellent make-up base.
RESVERATROL [LIFT] Night Infusion Cream HK$450/ 50ml
The Melt-in Sleeping Cream.
This soft, rich, soothing cream contains, in addition to the patent complex, ceramides, moisturising Vinolevure and nourishing grape seed oil. It soothes, regenerates and firms the skin intensely overnight. The skin is relaxed, smoothed, firmer, plumper the next morning. Truly, a beauty sleep in a jar.
RESVERATROL [LIFT] Facial Treatment
Firming & Lifting 50mins $1,080 | 80mins $1,430
Specially created for skin that lacks vitality and firmness. After skin is gently cleansed, a stimulating modelage visibly firms and redefines the contours of your face. The application of a warming mask enhances the lifting effect of Caudalie's Resveratrol Lift products. The firming and lifting effects are immediate, your face is resculpted and radiant with youth.
Launch Date: 23rd September, 2016