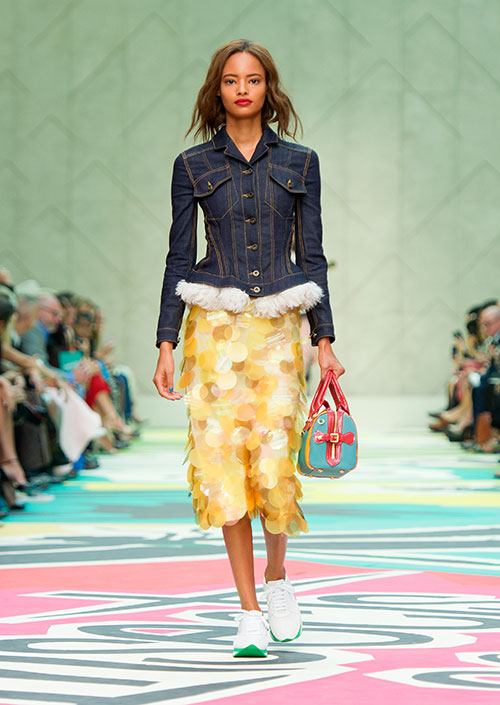 On September 16th Burberry previewed its Prorsum Womenswear Spring/Summer 2015 collection; live from its custom-built venue in London's Kensington Gardens. The collection, named 'The Birds and The Bees', includes bright book cover designs, oversize butterfly prints and hand-drawn honey bees, which were referenced on the hand-painted runway, and illustrated on the transparent roof above the 1500 guests.
The Collection: The Birds and The Bees
Fabrics: Printed honey gabardine, dégradé silk and suede, wing-pleat tulle, butterfly printed satin, iridescent sequins, indigo denim, glossy shell leather, shearling, textured silk.
Colours: Poppy red, fern yellow, pale sweet pea, dragonfly blue, beetle green, rosehip.
Silhouettes: Trench coats, wasp waist denim jackets, layered tulle dresses, field jackets, draped skirts.
Accessories: Introducing the Burberry Bee Bag, the Burberry Mini Bee Bag, book cover print pouches, the Burberry Field Sneaker, the Burberry Field Sandal, the Burberry Dragonfly Belt.
Eyewear: Introducing the Burberry Butterfly Shades