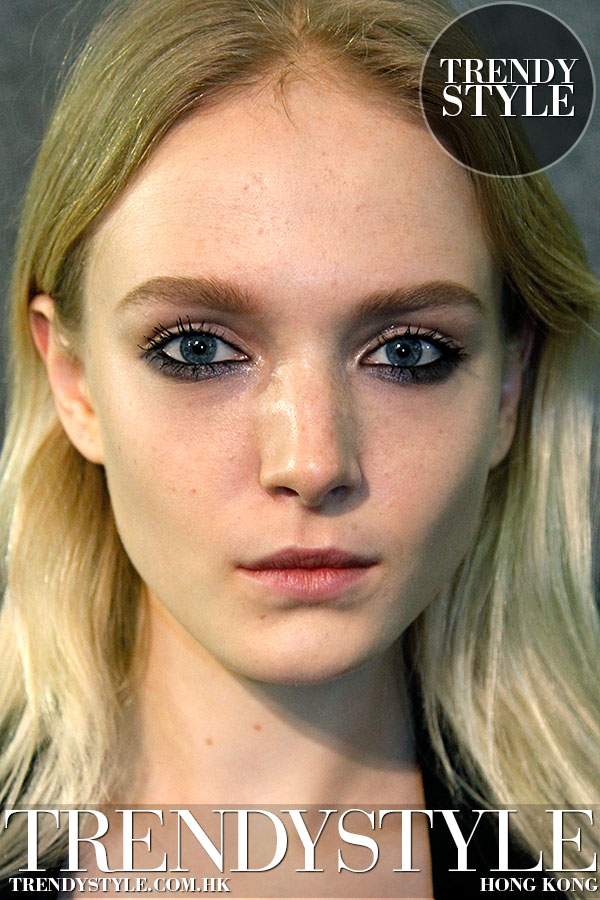 The inspiration for the make-up look at the Roberto Cavalli FW 2015 2016 Fashion Show was 'the many textures and different shades in the designer's collection', says make-up artist Petros Petrohilos. Working in different layers makes all of these textures work together.
The skin is clean and natural, the lips are nude (just some lip conditioner), the focus is completely on the eyes.
To create the eye look you start blending a grey eye shadow (Knight Divine M.A.C) over the lower eyelid and in the crease of the upper eyelid. After that you blend M.A.C Pro Heritage Rouge Pigment over the eye shadow on the lower lash line to warm up the grey. Then apply M.A.C Pro Mixing Medium Shine on the entire upper eyelid followed with clear Lipglass for shine and dimension (apply with fingertips).
Sweep lots of black mascara on the upper and lower lashes letting the wand touch your skin (yep!). Make the mascara smudge with the eyeliner (Smolder Eye Kohl) you apply through the upper and lower waterline to accentuate the eye. Especially on the bottom it may look a bit messy. Finishing touch is the glitter in the inner corner of the eyes. Brush your brows upwards and deepen the color with a bit of Veluxe Brow Liner and Smolder Eye Kohl.
In short, the eyes are basically wet and liquid on top and quite dark on the bottom. The look is a bit grunge, a party girl look. It sure is a quite sexy look that suits everybody.