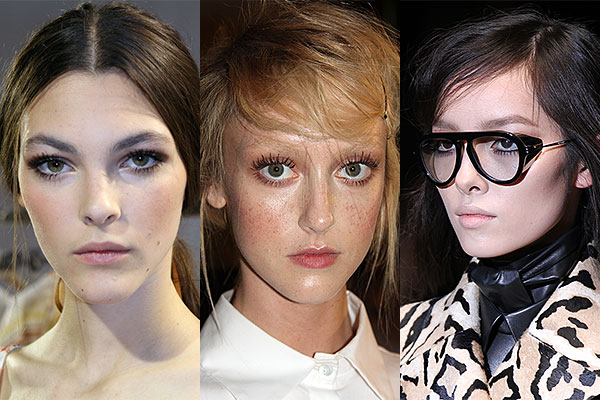 Only a few seasons ago the make-up artists backstage at the international fashion shows tried it introduce the NO-mascara look. Bare lashes were trending on the catwalks. But not for long. LASHES ARE BACK!
The make-up for winter 2014 2015 is all about lashes: black, long statement lashes with a sixties twist, spider lashes, even a little bit clumpy – believe it or not, spider lashes are in trend this season. So get out your mascara and start layering, up to 10 till 20 coats. Stick the lashes together with your fingers for the spidery effect. Make those lashes stand out!
For some catwalk looks you might need some help from false eyelashes. To recreate the Versace FW 2014 2015 look apply two sets of false lashes on the upper eyelid. For the Gucci FW 2014 2015 look apply a strip of false fringes also under the eye. See the pictures below.
Oh… and this is very important: keep the rest of your make-up as natural as possible!