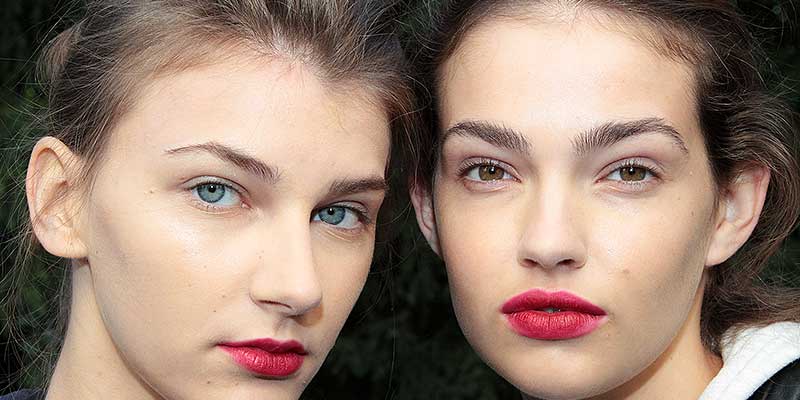 Backstage at the Luisa Beccaria SS 2018 Fashion Show we met M.A.C Global Senior Artist Cynthia Rivas. The backstage was in a beautiful garden-park surrounding an historical building in the middle of downtown Milan. In this inspiring place Cynthia Rivas created a youthful make-up look with sensual stained lips. Watch the video interview, and pictures, and copy the look!
This is what Cynthia Rivas told us:
Cynthia Rivas: The look was all about a very youthful skin. It's almost like a girl wearing lipstick for the first time. Red lipstick, so she kind of put it on in the morning and it's been wearing off all day. We used a liquid lipstick with a very fluffy brush just to give it a softer application and we kept the skin nice and clean.
We used highlights on the cheekbones so it still looks like skin. It looks realistic but it adds something special to this skin.
What kind of products did you use exactly? Which kind of foundation? And what about the highlights?
Because we wanted to accentuate the highlights – which is a gloss – we ended up using a foundation that has a matte finish. It is a powdered foundation called Studio Fix. So that helps to give coverage. It also helps to mount up the skin to really make the other areas of the face stand out.
What about the eyebrows?
The eyebrows were kept natural. Again, it's a youthful look so we wanted to make them as bushy as possible. So we just brushed them up as big as we could. No colors. It's just every girl's individual brows. Just brushed up.
Are eyebrows still important?
Eyebrows are always important, yes. I believe it accentuates the eye shape and I'm a huge fan of very defined brows but sometimes it's really nice to focus the makeup somewhere else so I don't want it competing with what the focus is which is the lips.
You didn't use any mascara?
No mascara. We just curled the lashes. Again, we wanted to keep everything soft and fresh which is why we did no mascara.
In association with ADVERSUS