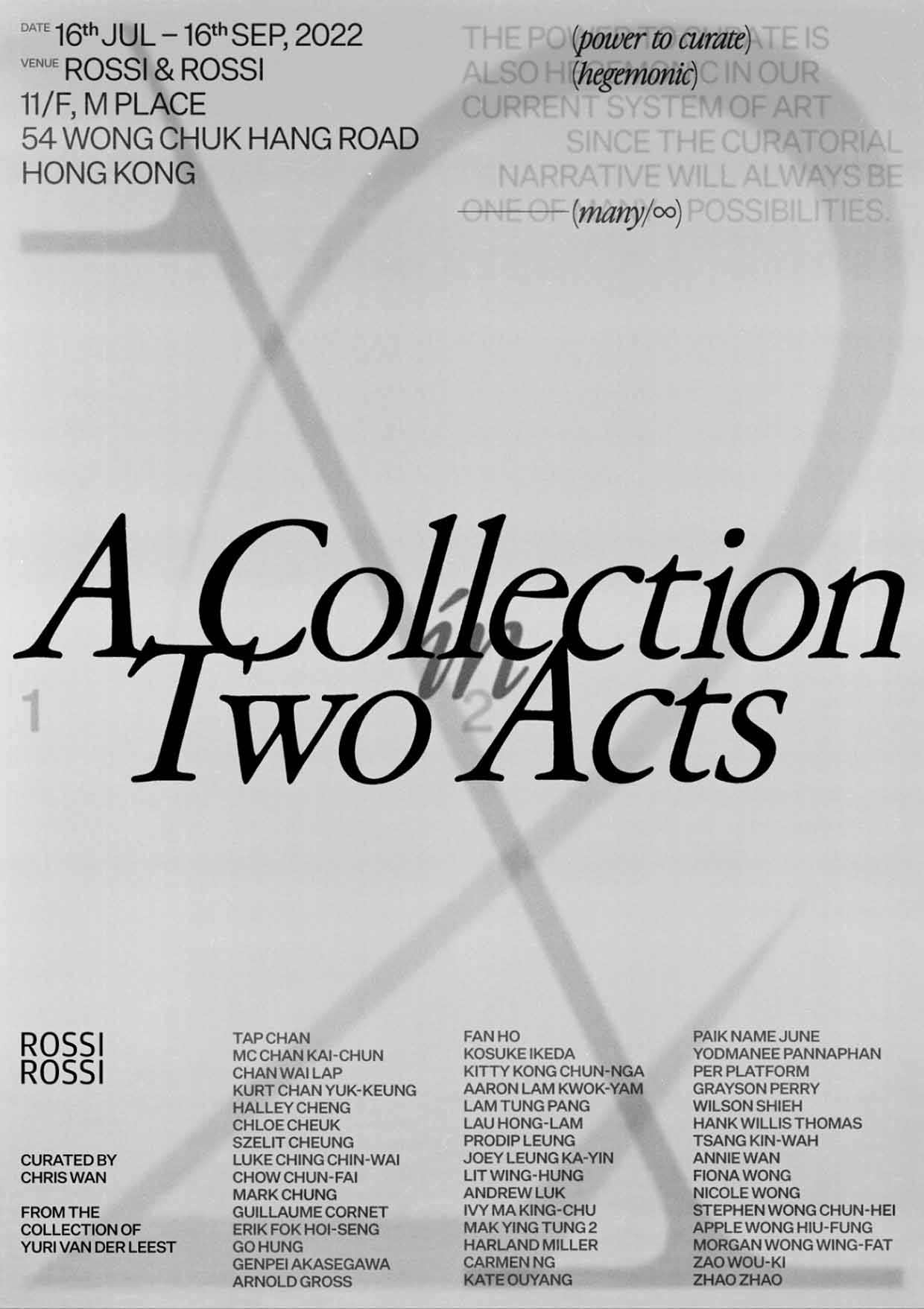 A Collection in Two Acts opens on July 16 through September 16 at Rossi & Rossi Hong Kong. Curated by Chris Wan, the exhibition utilises the private collection of Yuri van der Leest to present two frameworks of collectorship: one is institutional, such as museums and archives — treating artworks as files to be dealt with under a given context of art history; the other is personal, like a private collection built with artworks as repositories of memories and personal encounters. Through the use of critical fabulation, the two modes of art collecting are juxtaposed to raise question about the structure and agency in the art system. 

The two collectorships are represented by the disparate formats of display in the two exhibition halls. As a whole, the two acts presents a panorama of the art ecosystem – the display indicates a conventional development of collection where one artwork moves from the intimate personal space of a collector's home to being archived within an institution or museum setting. Yet upon closer inspection, one can find a myriad of decisions made by different parties hidden within this process. Mainly defined by the practices of buying, collecting, exhibiting, and archiving, this exhibition invites viewers to look at these power mechanisms and think about their effects on the art ecosystem.

Artists featured in this exhibition include: Tap Chan, MC Chan Kai-chun, Chan Wai Lap, Kurt Chan Yuk-keung, Halley Cheng, Chloe Cheuk, Szelit Cheung, Luke Ching Chin-wai, Chow Chun-fai, Mark Chung, Guillaume Cornet, Eric Fok Hoi-seng, Go Hung, Genpei Akasegawa, Arnold Gross, Fan Ho, Kosuke Ikeda, Kitty Kong Chun-nga, Aaron Lam Kwok-yam, Lam Tung Pang, Lau Hong-lam, Prodip Leung, Joey Leung Ka-yin, Lit Wing-hung, Andrew Luk, Ivy Ma King-chu, Mak Ying Tung 2, Harland Miller, Carmen Ng, Kate Ouyang, Paik Name June, Pannaphan Yodmanee, Per Platform, Grayson Perry, Wilson Shieh, Hank Willis Thomas, Tsang Kin-wah, Annie Wan, Fiona Wong, Nicole Wong, Stephen Wong Chun-hei, Apple Wong Hiu-fung, Morgan Wong Wing-fat, Zao Wou-ki, and Zhao Zhao. 
A Collection in Two Acts
>From the collection of Yuri van der Leest, curated by Chris Wan
16 July – 16 September 2022
Rossi & Rossi Wong Chuk Hang