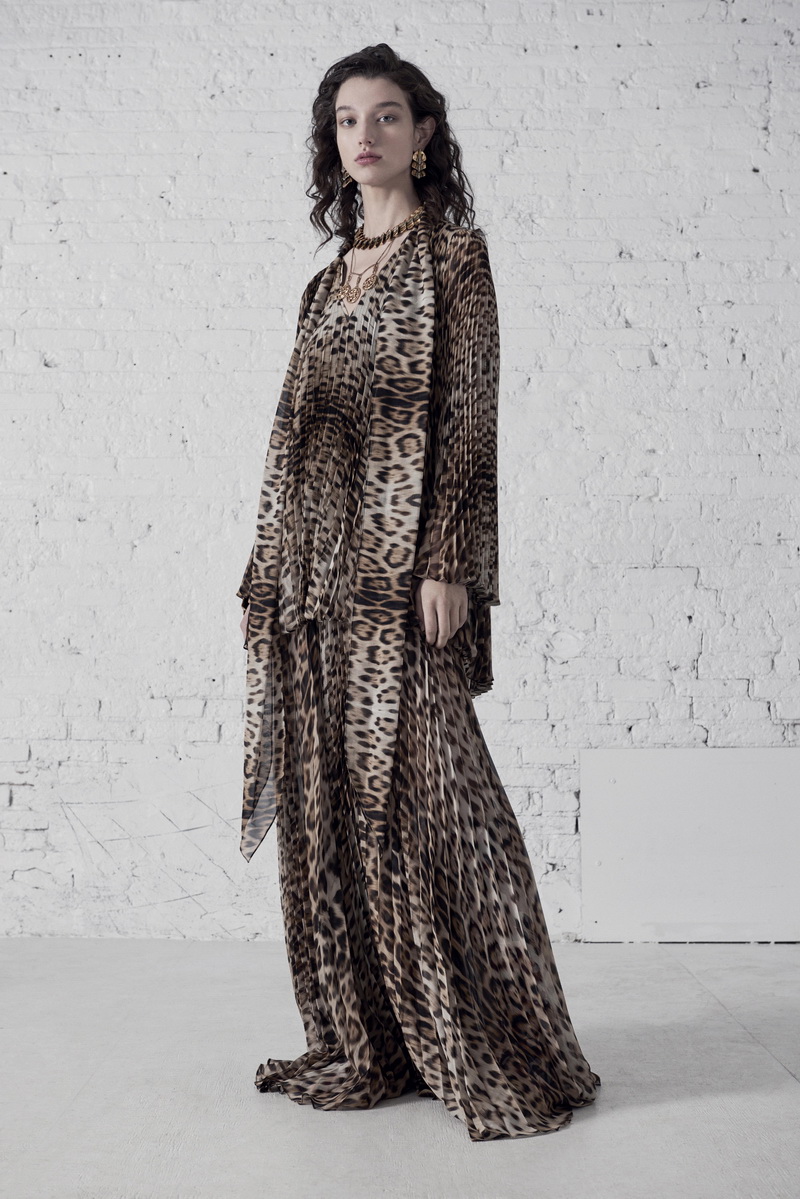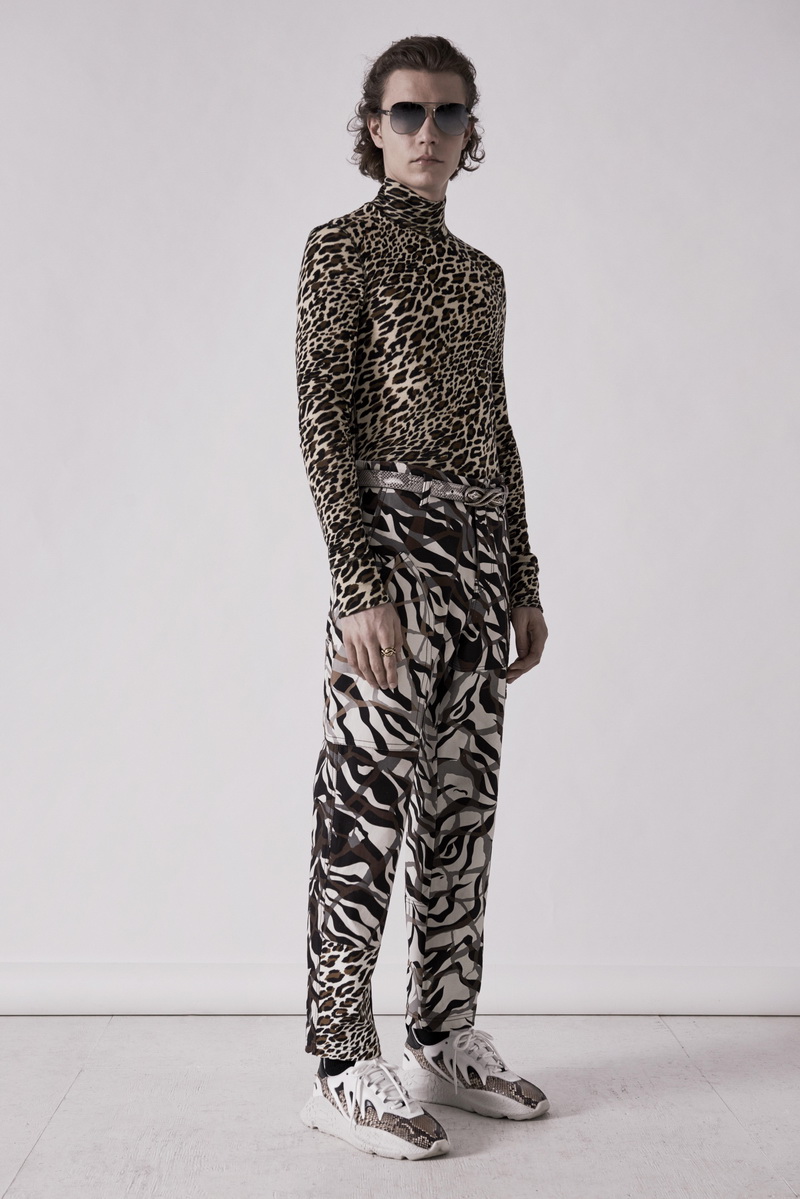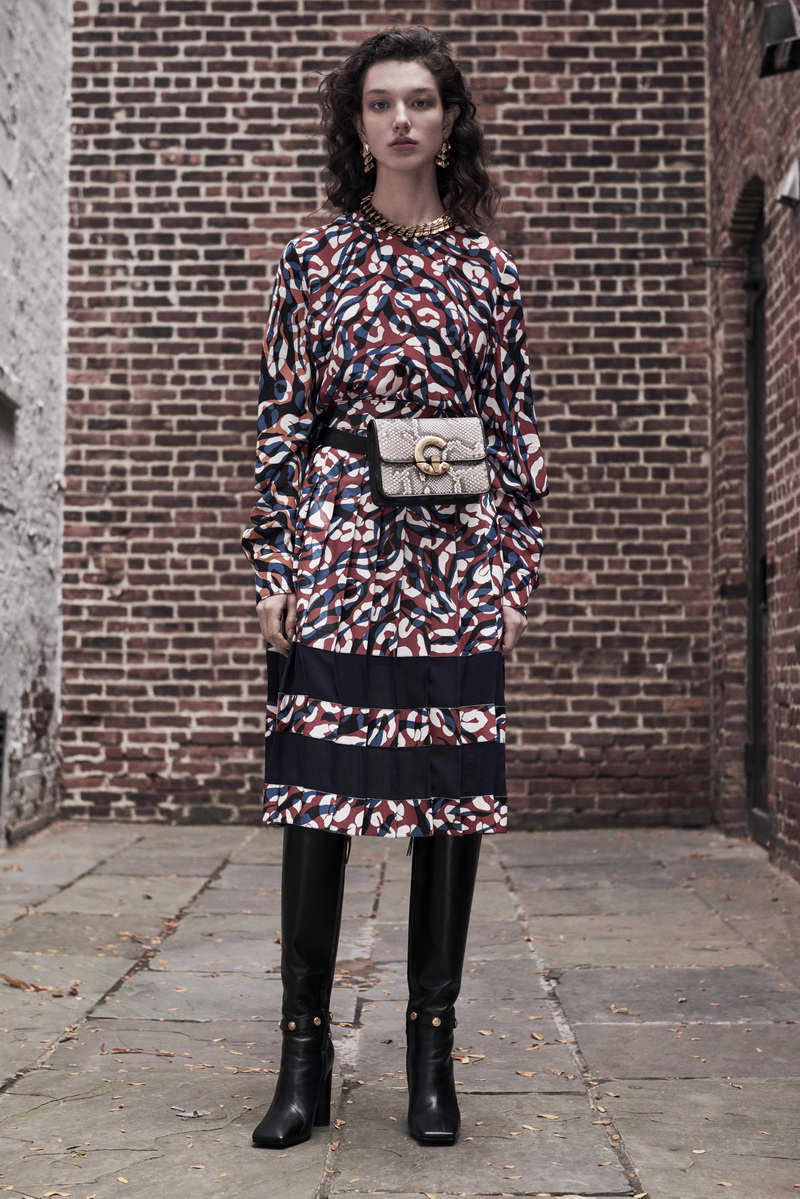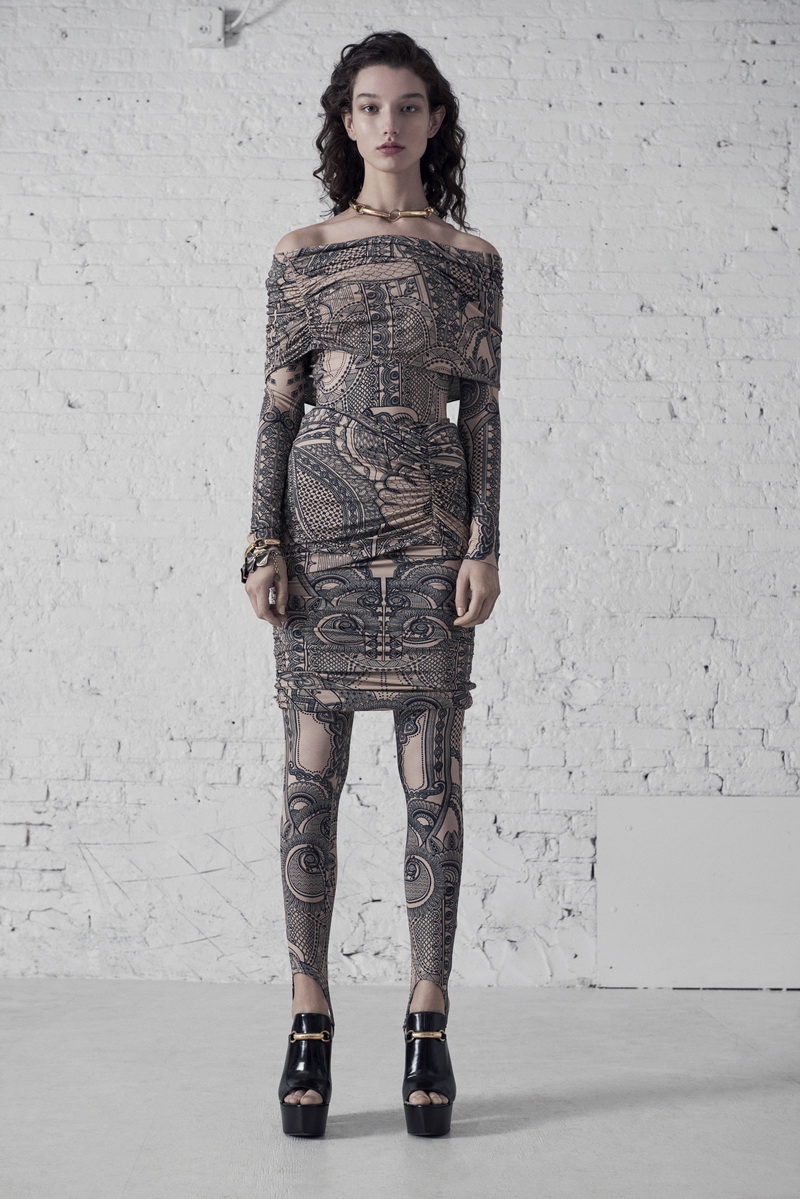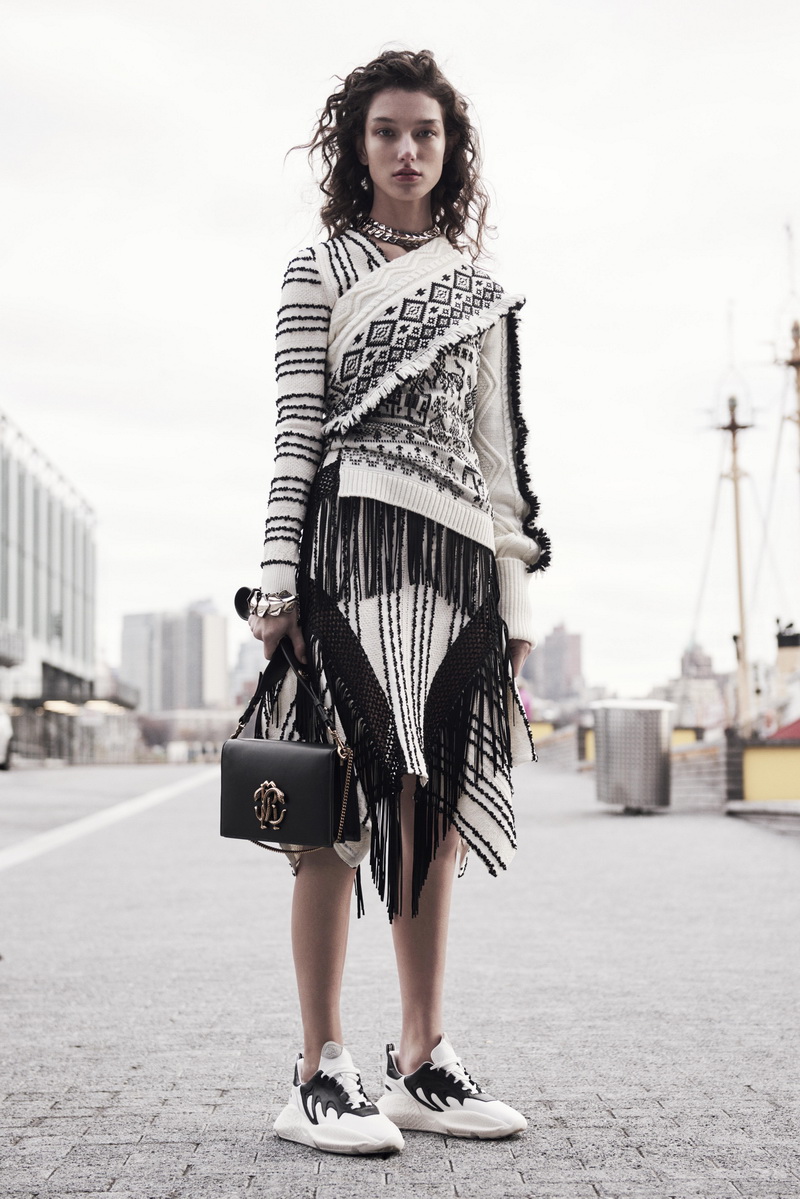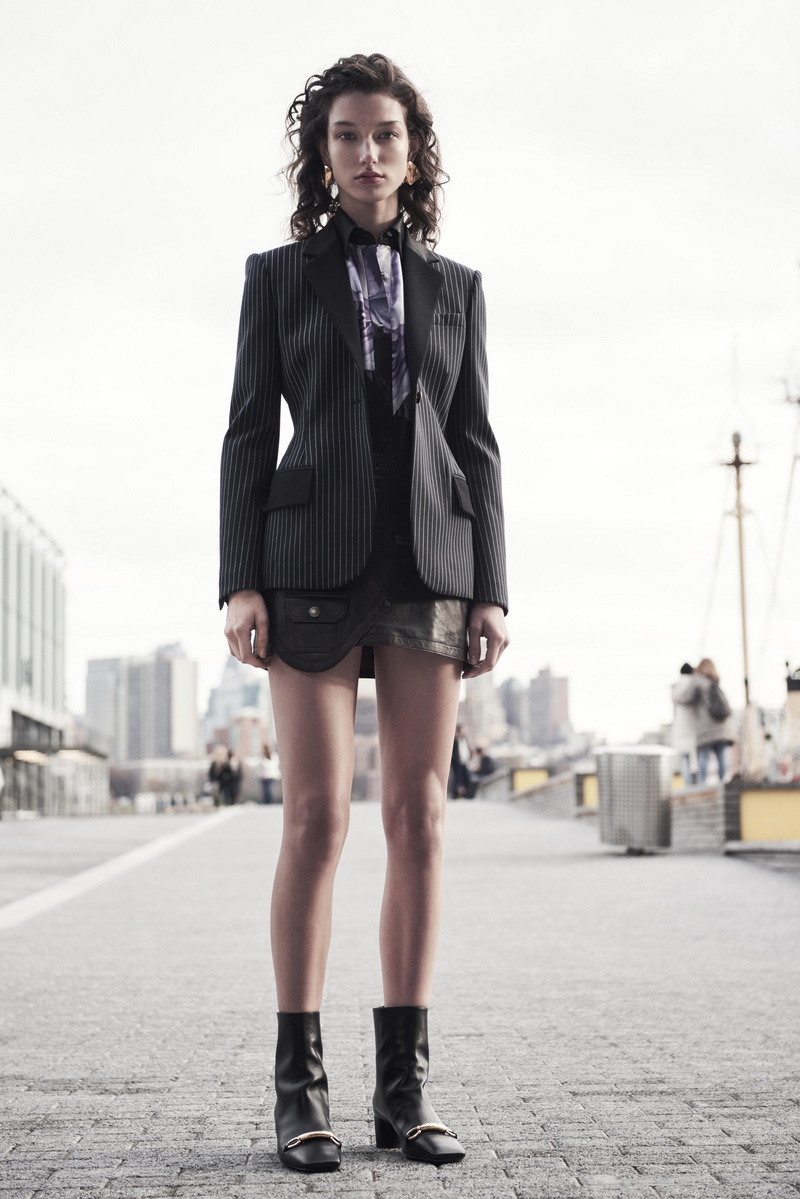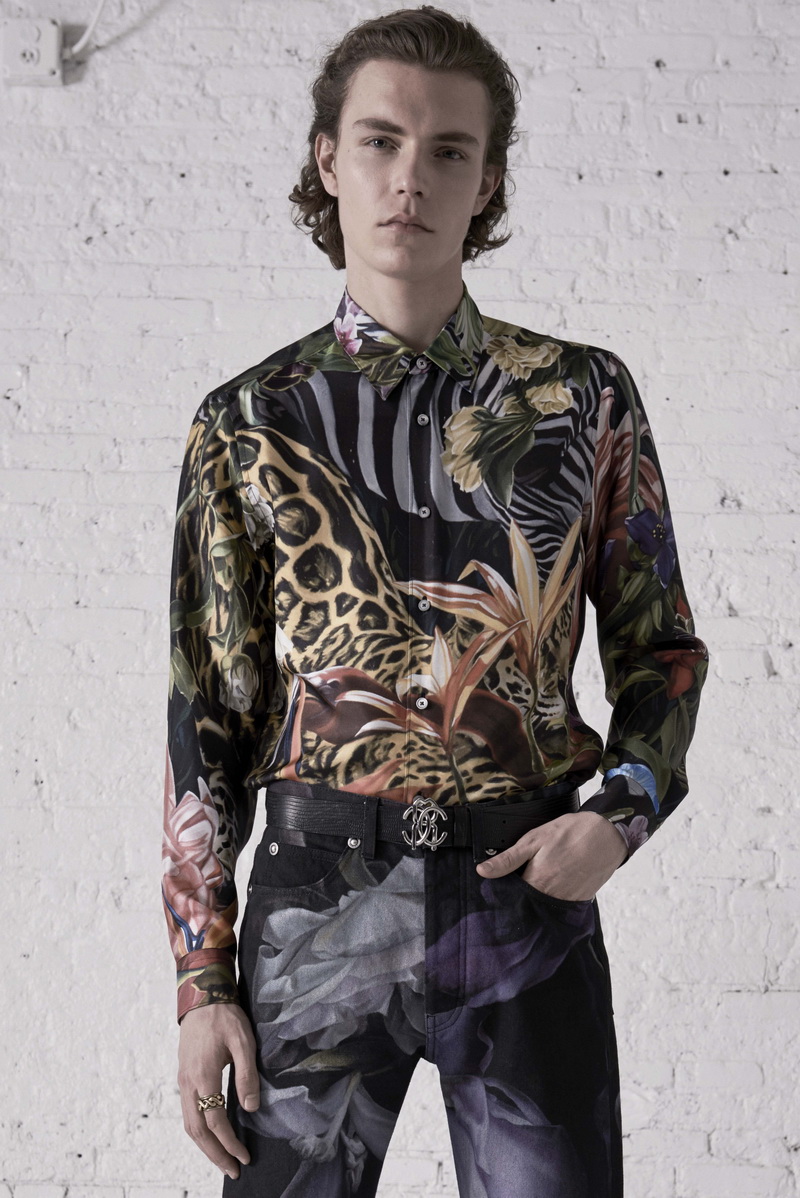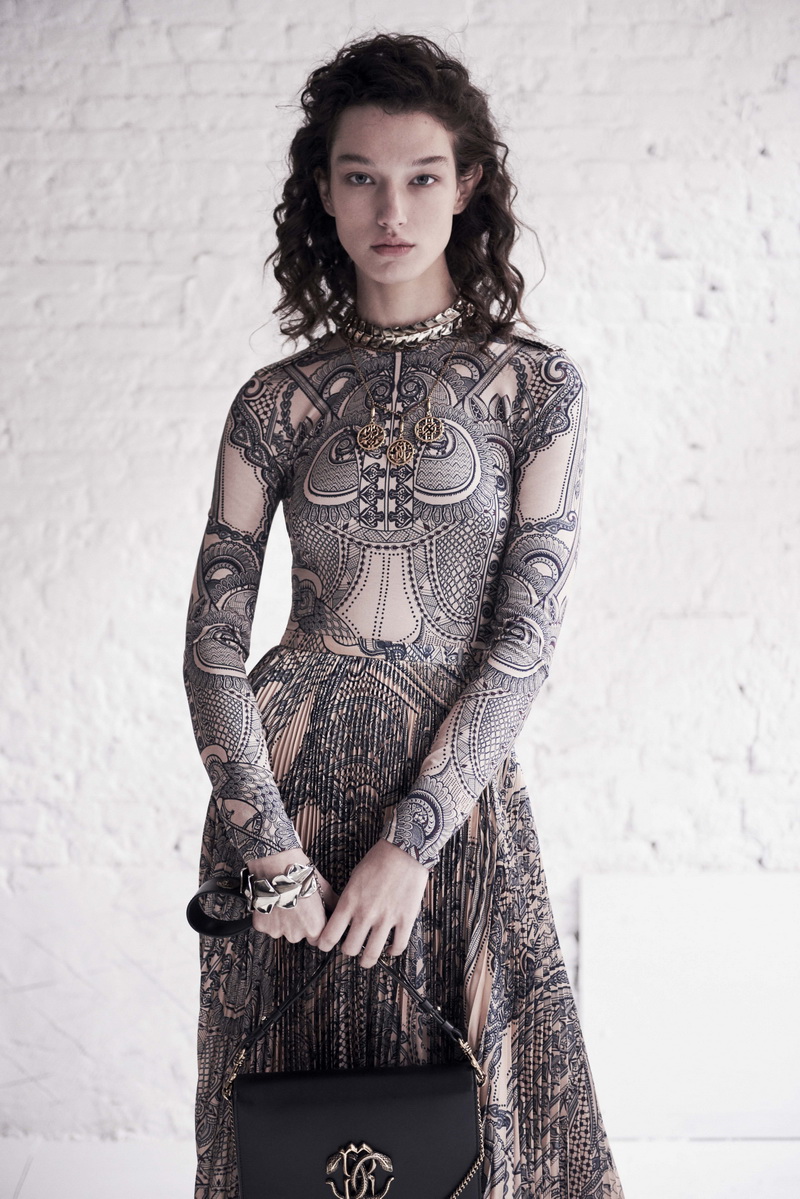 For the Pre-Fall 2019 season, creative director Paul Surridge continues celebrating the Roberto Cavalli house's codes, which are translated into a modern language to define a new sexiness. A cool, urban attitude permeates the collection, which counting on a balanced mix of sensual attraction and confident glamour, addresses the new generation of strong and independent women.
Embarking on a journey through time and space, Paul Surridge gets fascinated by the idea of exploring different frontiers. This approach generates a modernized nomadic attitude giving the Roberto Cavalli women an elevated, refined status, which is celebrated by the brand's lookbook images shot in New York's Seaport area, where the brand operates an innovative, experimental pop-up boutique.
The collection's creative métissage translates into an inclusive patchwork of different suggestions, from the symbols of the Florentine heritage mixed and matched with global references on a tile pattern printed on a fluid chemise dress to the artisanal Nordic feel of the cozy knitwear.
Introducing an intriguing artist flare, Roberto Cavalli collaborated with Chilean artist José Pedro Godoy, who is stealing the attention of international critics with his evocative realist works injected with opulent visual sensibility and hard-core sensuality. Two of his paintings, which were actually inspired by the Roberto Cavalli visual heritage, are perfectly reproduced to become the exotic, flamboyant motifs on a structured jacquard trench coat, on high-waisted tailored joggers and mini skirts with sculptural silhouettes, as well as on stretch satin bodycon frocks and cape-like shirtdresses.
Their loaded appeal tinged with nocturnal hues, which conveys an idea of unapologetic, aspirational beauty, is juxtaposed to the new graphic patterns, including the Tiger Twiga, a mosaic-like blend of different wild animal prints splashed on an array of pieces, such as cocoon coats, constructed cropped jackets and stretch dresses, for a multi layer effect.
The relationship between art and body is explored via henna tattoo-inspired motifs referring the antique art of Indian body decoration. They are printed on leggings worn under mini skirts for an athletic feel and they are reproduced via exquisite embroideries and decorations on elegant evening dresses.
The powerful energy of uniforms is combined with biker elements in a range of masterfully executed tailored pieces, all empowering the striking femininity of the Roberto Cavalli women. Spanning for pinstriped outerwear styles embellished with martial epaulettes and gold buttons to sartorial suits, they are punctuated by metallic studs referring the antique artisanal heritage of Roberto Cavalli's native Florence.
The brand's iconic leather craftsmanship stands out in the accessories collection, where signature boots with squared toes and sculptural heels are juxtaposed to horsebit ankle boots and pumps decorated with interlocked logos and snake-shaped jewelry decorations. The modern and graphic C logo pops up on belt bags, handbags and cross body designs, while structured models crafted from laser-cut velvet and multicolor ayers reveal metallic RC closures.
The women's collection signature patchwork of different cultural and visual references resonates in the men's lineup, where a cool, urban attitude is balanced by a refreshed sartorial appeal. Mosaic tile patterns are splashed on fluid shirts and pants, while José Pedro Godoy's artworks give a sensual, intriguing feel to impeccable tailored suits. Different wild animal motifs are juxtaposed in multi-layered looks – their exotic feel creating a charming contrast with the Nordic appeal of chunky graphic sweaters and cozy blanket coats.
An athletic edge is introduced via colorblocked windbreakers and puffers, while shearling vests and leather jackets exude a sense of artisanal luxury.
The versatile spirit of the collection is highlighted by the footwear range, spanning from the hip, metropolitan V1PER sneakers, worked in different pattern and color combinations, to the chic leather boots with squared toes showing sleek constructions.