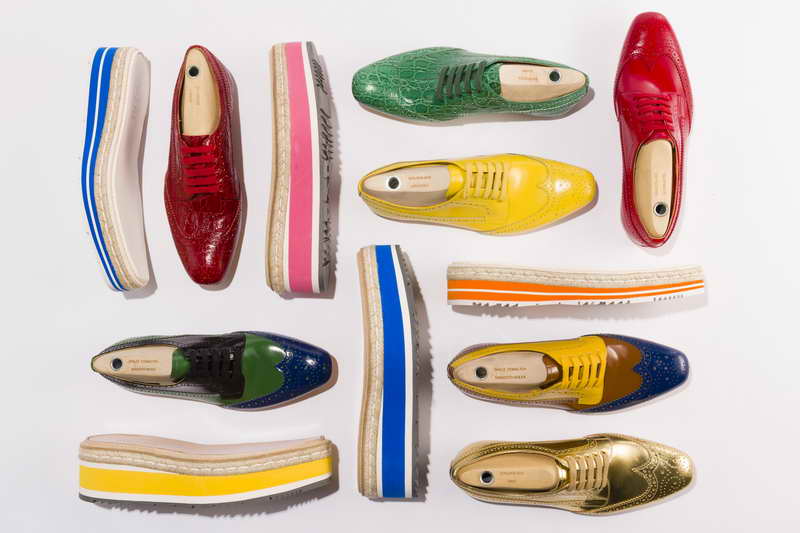 Prada's Made To Order project for its lace-ups offers customers numerous customisation options, both in terms of the choice of colours and the hides and the type of sole used.
There are 29 colours of one-tone shoes to choose from, whilst the three-tone models are available in five different combinations. There are also six sole colours available, made of micro or micro + cord.
In addition to the brushed leather model, the new leopard print calf hair material is also available in two different colours, not to mention prized hides like crocodile, now also available in green and royal blue, and python leather.
Customers can further customise their shoes can by having their initials stamped in gold on the insole.
PRADA MADE TO ORDER訂製綁帶鞋款系列
Prada Made to Order訂製系列的綁帶鞋款備有大量個人化選項,包括不同的顏色、皮革及鞋底類型供顧客挑選。
單色調款式共有29種顏色可以選擇,3色調款式則備5種不同配搭。除此之外,更備有六款不同的micro鞋底或micro拼草織繩鞋底可供選擇。
面料除擦色皮革外,顧客亦可選配全新的豹紋牛毛 (共2種顏色),和鱷魚皮及蟒蛇皮等優質皮革。鱷魚皮備有綠色和深藍色讓客人挑選。
顧客更可選擇將名字縮寫以金色壓印於內鞋底上,讓你擁有一雙尊屬的鞋履。