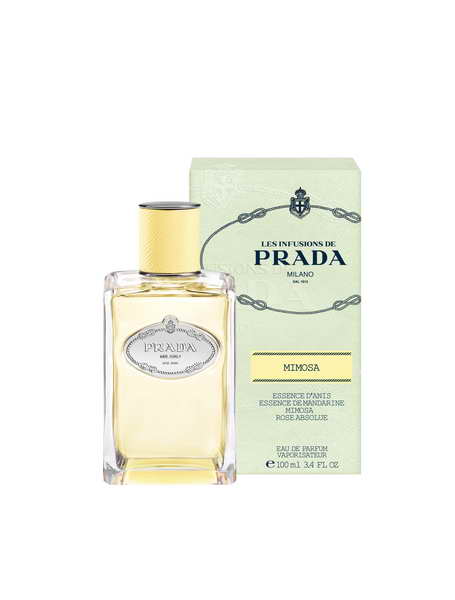 Les Infusions de Prada express the poetic contradictions of the world of Prada through scent. They embody the graceful dualities at the heart of Prada: heritage moulded to modernity, poetry meeting precision, instinct alongside intellect, subtlety together with power, sensuality emphasized by freshness. The infusion process is a contradiction in itself, playing provocatively with truth and fiction. The scents are a constructed reality, a subjective retelling of a memory. Resisting feminine and masculine stereotypes and looking beyond current perfume trends, Les Infusions de Prada are the culmination of a reverence for the past, an understanding of our place in the present, and the forward-looking point of view of Prada.
THE COLLECTION
Each Infusion is a poetic interpretation of a single, emblematic natural ingredient. An elegant
confrontation of tradition and modernity. The collection of six iconic scents: Iris, Iris Cèdre, Fleur, d'Oranger, Amande, OEillet and Vétiver is now joined by Mimosa, a velvety and tender new fragrance. Under the creative direction and inspiration of Miuccia Prada, Les Infusions de Prada are blended by perfumer Daniela Andrier.
INTRODUCING MIMOSA
"Mimosa is like an emergence into yellow velvet. A multisensory experience." – Daniela Andrier
Mimosa subverts the traditional interpretation of its main ingredient, layering it with new meaning. There is a tension between the certain familiarity of the memory with the disruptive reinterpretation of the infusion process. It is incredibly present yet impossible to grasp; a blurring of the everyday and the imaginary.
Star Anise Oil
Mandarin Essence
Mimosa
Rose Absolute
THE BOTTLE
Les Infusions de Prada are represented by the institutional codes of Prada. The vintage flacons are adorned with the classic Prada heritage crest, originally designed in 1913 by Miuccia Prada's grandfather. Mimosa is set apart by sunny yellow, both on its outer packaging label and cap.
Price Range HK$1,080 HK$