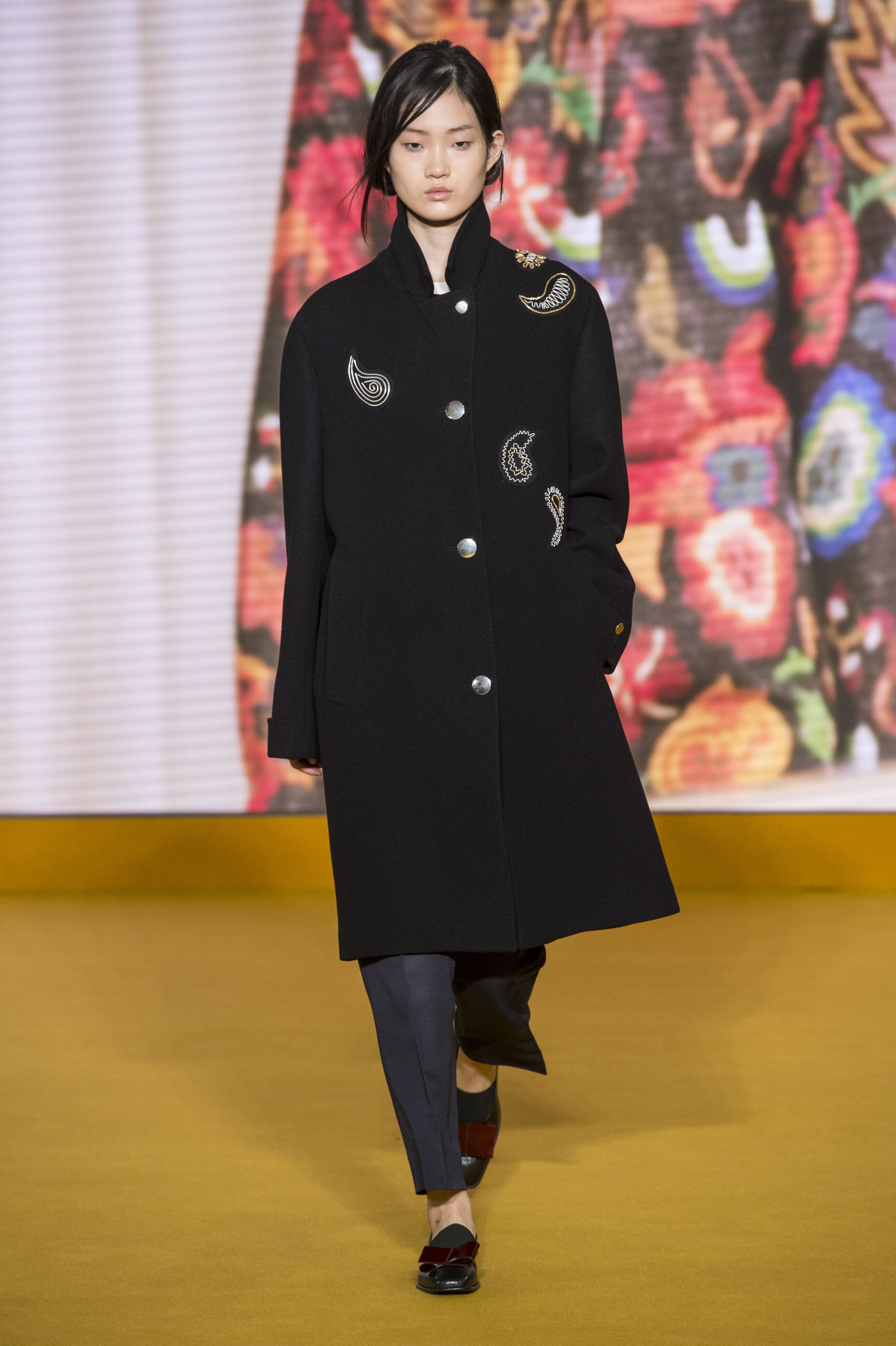 Confidently embracing the codes first embodied by Paul's designs in the 70s and 80s, the collection pays homage to the idea of the handsome woman, and draws on the wardrobe of Paul's wife Pauline Denyer Smith. With nods to New Romance, it is a representation of the authoritative and sophisticated femininity Paul Smith originally created from his men's collections, and a reinterpretation of the techniques and trademarks he trailblazed in the early years of his career. This season the show is presented in the Royal College of Physicians – designed by Sir Denys Lasdun in 1964 – as a celebration of the modern architecture that possessed the mind of a young Paul.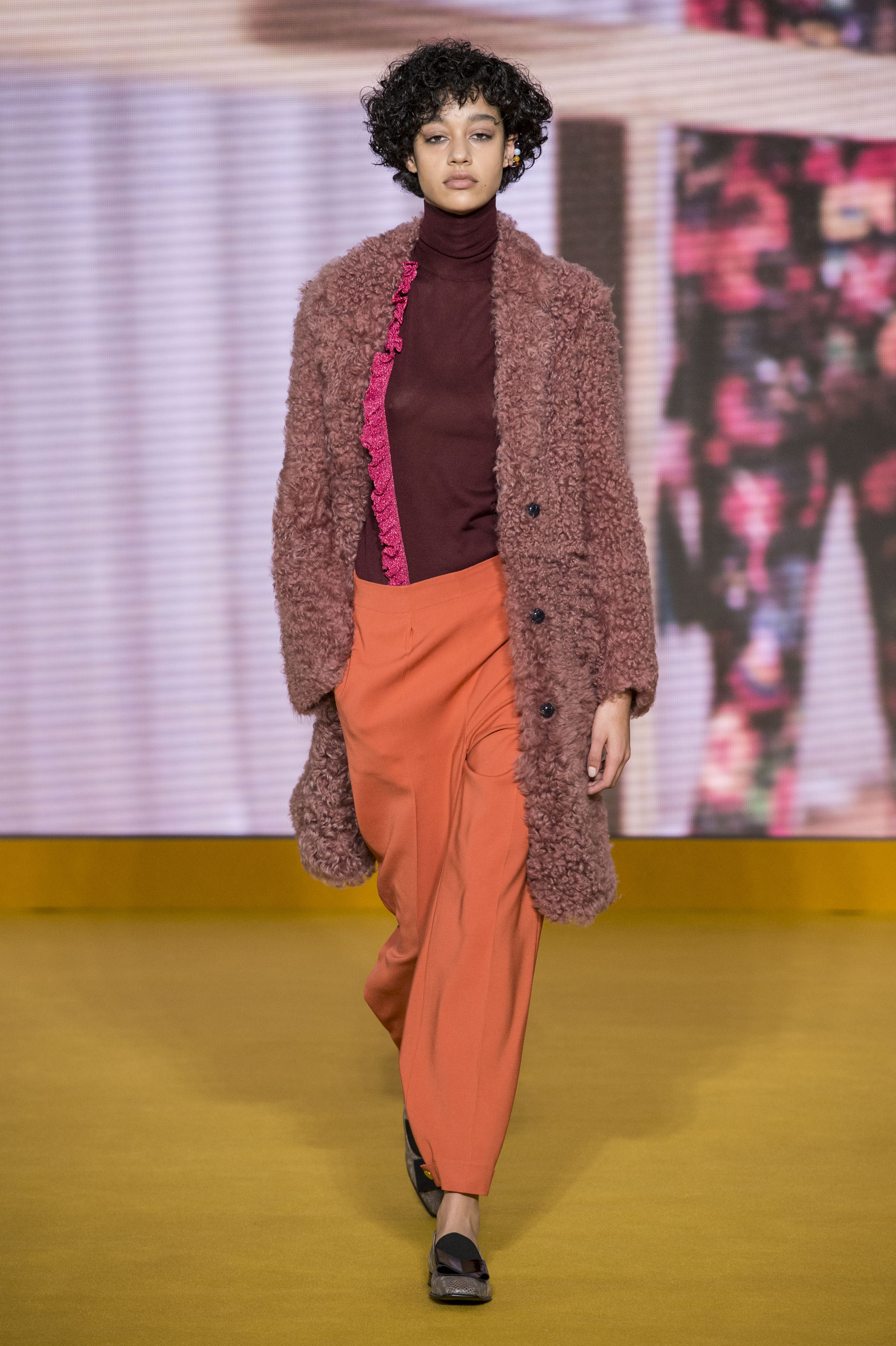 Turning normal into new is a concept innate to Paul's early work, when he would elevate the standard materials to which he had access by applying intricate decoration and surprise elements. Based on this notion, kitschy eaten apple motifs pay homage to a classic Paul Smith photo-print from 1982, epitomising his signature elevation of everyday elements, which also corresponds to the sense of humour instinctive to his work. The apple appears as prints, embroidery and applique in various scales – techniques that have all been key to the design of Paul Smith – while a faintly psychedelic floral and deconstructed paisley make up the collection's core prints. These are further broken up and reused in other techniques throughout the collection.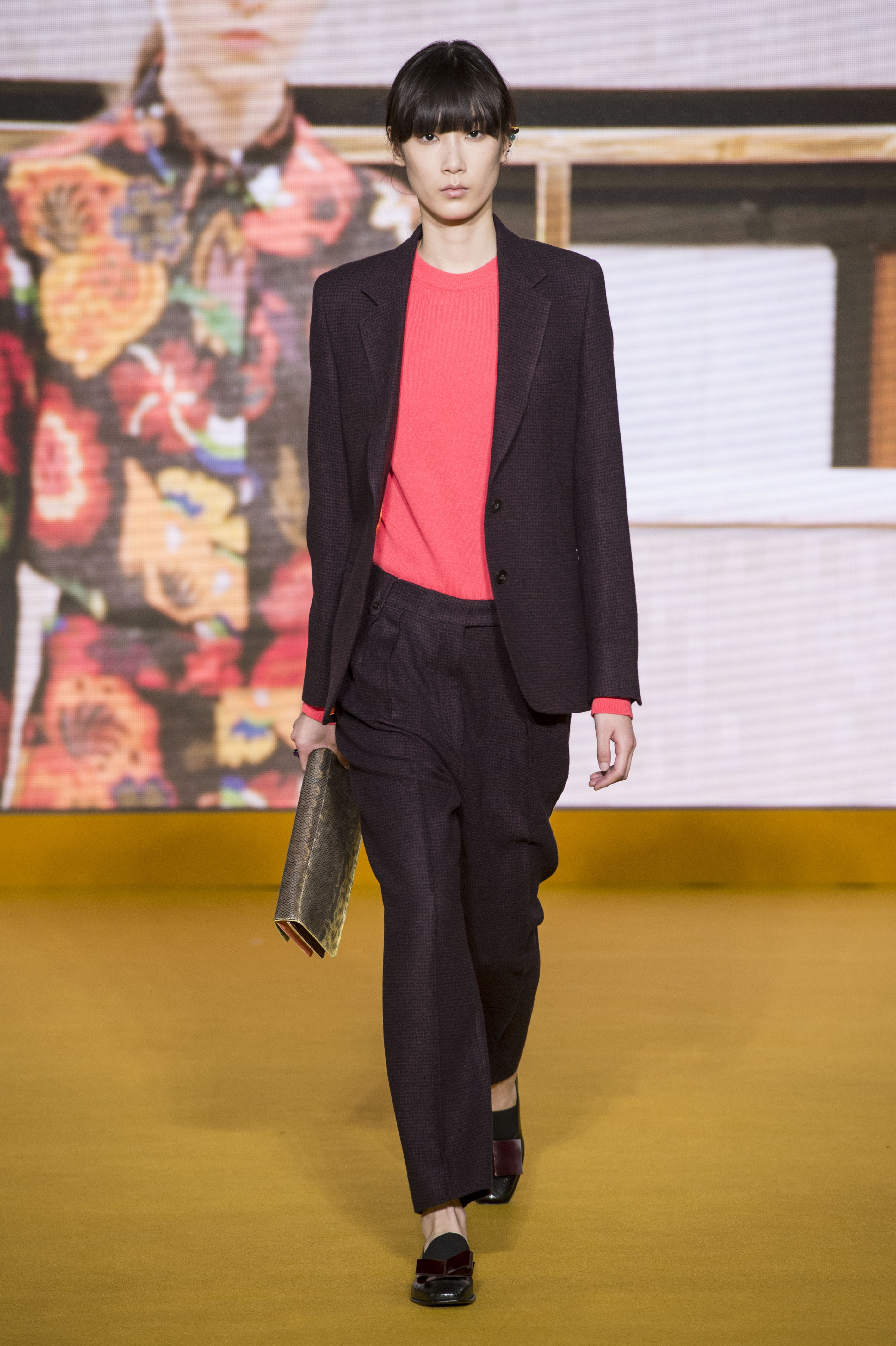 Tailoring reworks sartorial icons and weaves in the Paul Smith stripe, while bicycle breeches found in Paul's personal wardrobe have been elongated for elegance. Formal coats are given raglan sleeves for a rounded shoulder and strong silhouette, and shearling details emphasise a focus on texture. Classic shift dresses are readdressed through colour and embroidery but maintain a tailored structure. Further exploring the use of applique, the Concertina bag is emblazoned with floral patches – echoed on scarves – and the cast-iron facade created by Paul for his Albemarle Street shop is embossed into the leather of the No. 9. All bags are reworked with new locks, taken from an old Paul Smith briefcase. Shoes with boxy bows evoke men's opera shoes of the Jazz Age, while jewellery in gold metal and semi-precious stones with silver refer back to the fruit theme of the collection.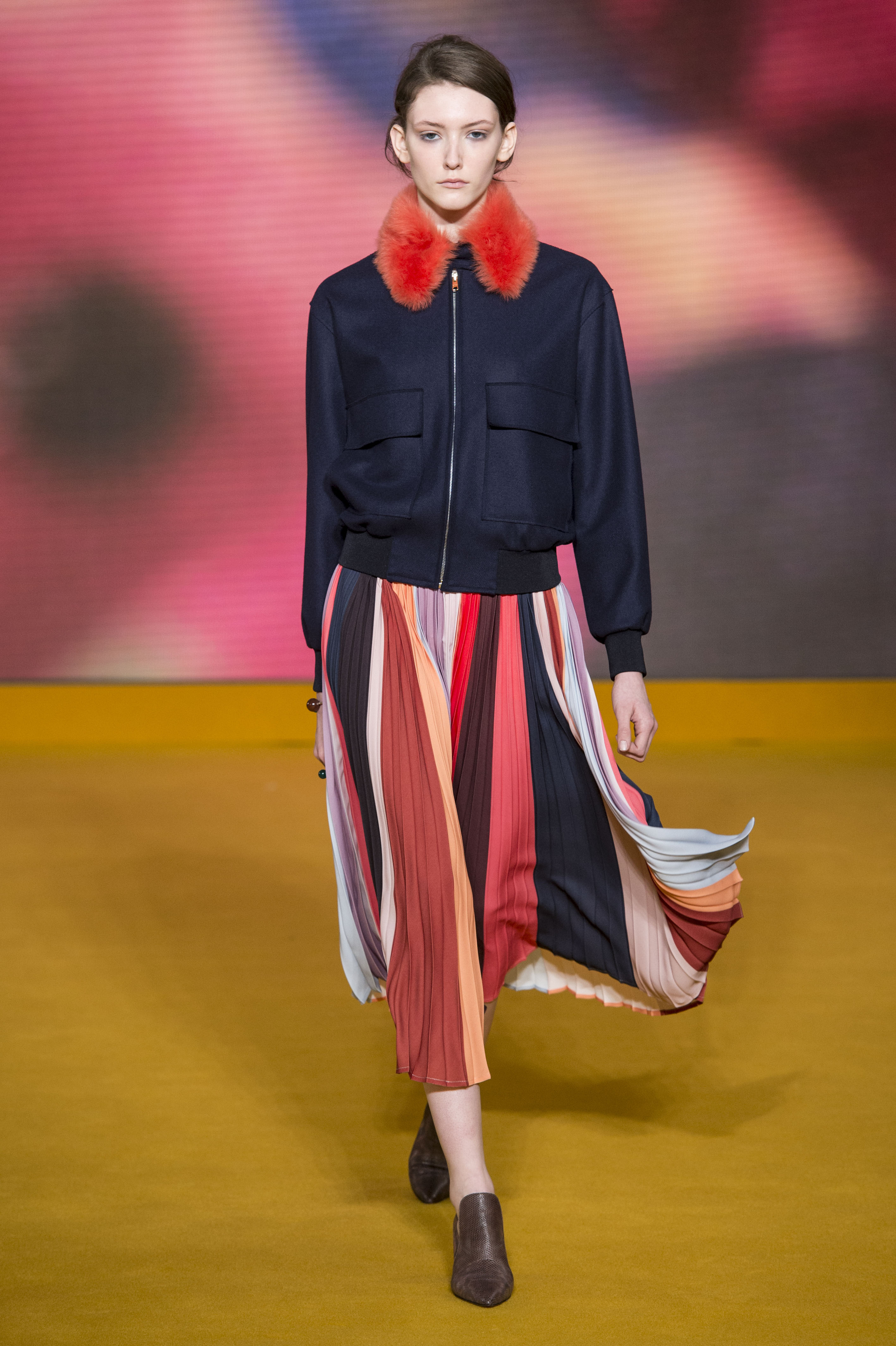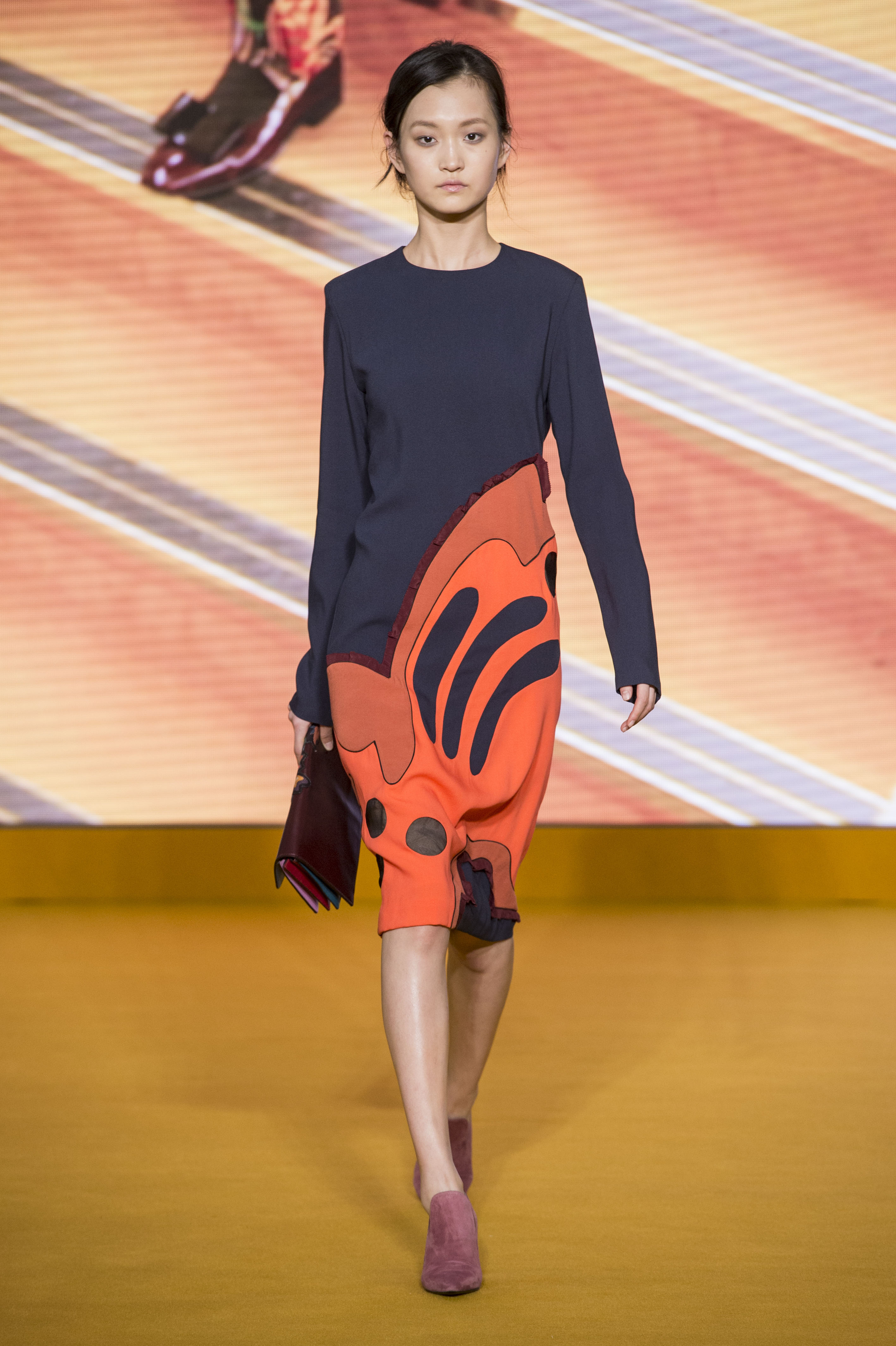 Hair by Tina Outen @ Streeters using Bumble & Bumble.
Make-up by Petros Petrohilos @ Streeters and the MAC Pro Team using MAC.
Nails by Pebbles Aikens using MAC.