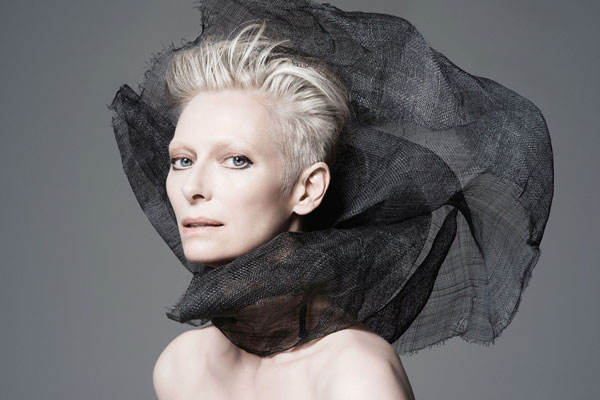 François Nars doesn't like to do anything predictable, even in his choice of campaign models, the latest of whom is quirky British actress Tilda Swinton, who will be the face of Nars' spring campaign. Past choices have included Charlotte Rampling and Daphne Guinness.
Quotes from François Nars, NARS Founder & Creative Director:
"I love Tilda's bold style and really admire her work. As an actress, she brings such strong personality to the camera. And as a woman, she lives the experience of transformation and expression. She was the perfect choice for NARS."
"She [Tilda] lives her roles, in many ways. And you can see it in her face, in her skin. You feel like she has this extraordinary experience in life by creating her own rules. She is always playing herself."
Quote from Tilda Swinton:
"I met François only recently when he asked to photograph me for his book, having long been an admirer of his from afar for many years. I liked him immensely and immediately and we were eager, from that first session, to do more things together. I could not be more proud to call him my colleague. Now I understand why his work is so fresh and original, because he is so bright and has such a sweet heart."
The NARS Eye-Opening Act Collection campaign image featuring Tilda Swinton is the first of four "Portraits by The Artist," Founder and Creative Director, François Nars.  François chose the inimitable Tilda for her bold style, strong personality and striking beauty.
DETAILS FROM THE SHOOT:
PHOTOGRAPHER: François Nars
ART DIRECTOR: Fabien Baron
MODELS: Tilda Swinton
MAKEUP ARTIST: James Kaliardos
WARDROBE STYLIST: Patti Wilson
HAIR STYLIST: Didier Malige
MANICURIST: Elisa Ferri
LOCATION: Milk Studios
SHOOT DATE: May 27, 2014
PLAYLIST: Django's Tiger by Django Reinhardt, The Girl From Ipanema by Franks Sinatra, You're My Thrill by Billie Holiday, Pennies From Heaven by Billie Holiday, This Will Be by Natalie Cole