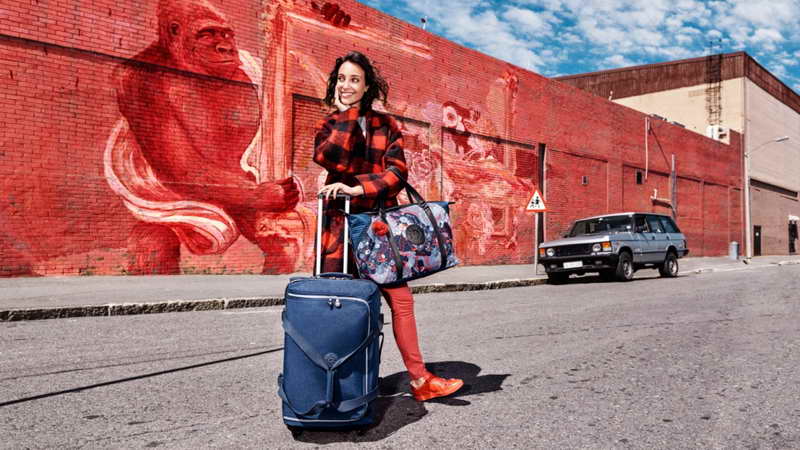 This Fall, KIPLING celebrates holiday with cherished friends and family with a travel range that helps you reach your loved ones in style. Escape to new cities, take a break and create those precious moments with the vibrant collection.
The new range is perfect for holiday plans, it incorporates ultra-functional and stylish accessories in eye-catching fabrics, most prominently, an exclusive winter floral print ALEX BLOOM designed by the acclaimed Canadian painter and illustrator Alexandra Levasseur. Its steely toned blooms and winter florals, taking inspiration from flora and fauna and elements of KIPLING's trademark monkey to reflect Alexandra Levasseur's signature mishmash design, evoking memories of the season.  Flower pattern is one of Alexandra's signature piece.  She blended the flower pattern with KIPLING monkey and come up with the new print. The print also reflects Alex's design motto – authenticity and uniqueness that applied throughout her designs.  The iconic collaboration range takes KIPLING classics and updates them with Alexandra's stand out print. The ART M is the perfect weekend bag, its new edition features the Alex Bloom print, luxurious leather accents and combined textures to add an opulent touch. This juxtaposition of style and functionality carries through in to the smaller ART S and the purposeful EXPERIENCE backpack, an elevated style with silver hardware and a dedicated space for a tablet or laptop.
Diamond black, vibrant red and jazzy blue are also injected into this season's chic travel range – where holdalls, suitcases and hand luggage can be mixed in an abundance of shades and styles. The extensive range is easily mixed to meet any need and ensures you're looking flawless for your trip.  Classic KIPLING pieces like the CYRAH S suitcase in jazzy blue offers added storage convenience and is perfectly partnered with any of the handheld styles.  Each piece is perfectly suited to an overnight stay.
The luxurious touches continue with the City range, a diverse capsule collection designed with fun day trips in mind. The extensive line utilizes new woven and cracked metal style fabrics that are full of personality and flair. These sumptuous textures can be seen across the sophisticated BAGTRACK backpack that can also be carried by hand, it's casual and diverse, mixing easily with your daily outfit choices. The range extends with the SOPHRONIA in plum metal, a small shoulder bag with an array of well-designed compartments to keep you organized and on trend as you visit your nearest and dearest.  LUXESTAGIOUS in diamond black is a new large A4 fitting shoulder bag with leather handles that match well to the deluxe woven, provides a luxurious mix and match look in this Fall.