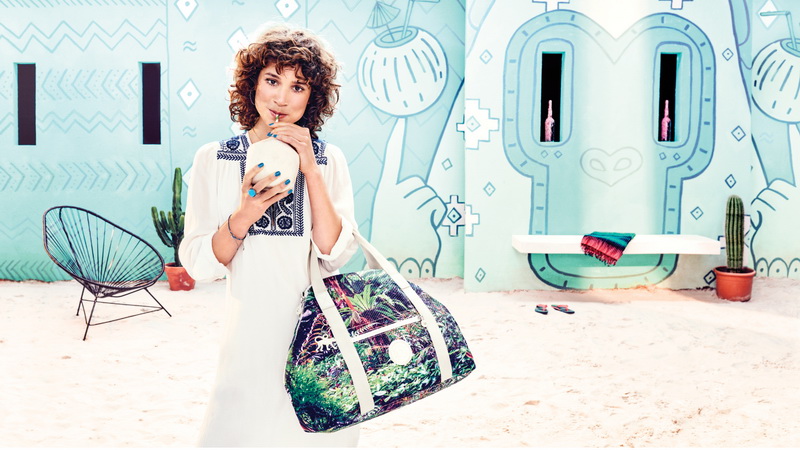 KIPLING are sure to accompany women who are always on the go on summer excursions. The KIPLING Iconic collection is all about versatility and fun, providing bags that are perfect for any Summer expedition! The imaginative styles are presented in a variety of multi-functional shapes and sizes that will never go out of style. The vibrant Cactus Garden print adorns the ART M bag, whilst hues of sea green and coral pink are injected throughout the range. KIPLING's classic pieces with innovative features, giving the bags the ability to fold and expand, taking them from stylish everyday shoulder bags and backpacks, to chic luggage styles. These modern functions will allow women to style their accessories and wear on a beach, in the city or for weekend getaways.
In addition to the Iconic collection is KIPLING's Basic Plus Capsule collection. The range has been created to bring happiness and functionality to women along with the added spirit of Summer. A bold mix of vibrant red and slick metal adorns the EXPERIENCE backpack, whilst sparkling nylon threads add a dazzling eye-catching finish. Smaller, compact styles, such as the EXPERIENCE S are available in hues of feminine cream and classic black and are available with a unique 'stingray' PU binding, adding a new twist to KIPLING's renowned aesthetic. Functional pockets for multi-media devices such as iPads and laptops bring a functional element to the styles, whilst the modest size adheres to the current miniature accessories trend and brings a casual look to the collection.
Rounding off KIPLING's latest offerings for the summer season is the Back to School range. KIPLING's signature mixology of bold hues, bold textures and bold fabrics is expressed through a range of easy styles that are perfect for students of all ages. The CLAS SEOUL backpack provides top marks for functionality with the incorporation of zip pockets and large compartments and is available in the fun new Cactus Khaki color. Brand new for summer is the AVA bag, which has been created in a softer structure ideal for children of younger ages. The large front zipped pocket and internal organizer with key fob allow for quick access to belongings, meaning kids can be organized throughout the school day. Finally for the Back to School range, KIPLING has launched a selection of collectable quirky Monkey Pullers which can be attached to zips of the brand's signature styles. These cute accessories allow kids to truly personalize their bags and share style tips with their school friends!