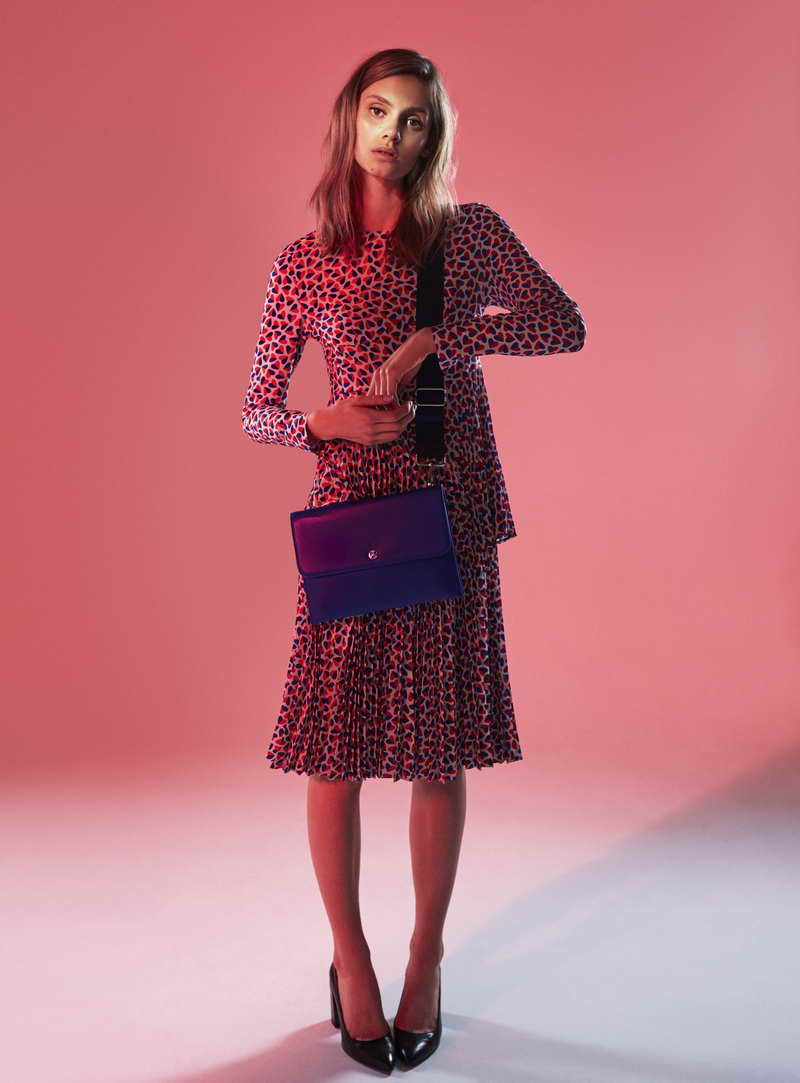 Autumn/winter '16 is the season of change for Paul Smith as our collections become just two: Paul Smith and the new PS by Paul Smith.
PS by Paul Smith represents a brand new attitude. It is a complete collection of confident but considerately designed casual pieces, accessible in   terms of product, price and distribution. All the signature elements of Paul Smith are included in the collection: bold colour, print and sharp tailoring. But throughout, silhouettes are unfussy and clean with interest added in accents of bright colour, graphic prints and a confident use of the new logo, designed by London- based artist Fergus Purcell.
Ready-to-wear, shoes and accessories for both men and women are included and all signed with a new circular logo featuring the brand's initials in black and white.
The collection is characterised by a large and varied selection of denim, knitwear, jersey and outerwear, positioning it at the core of the contemporary market. Denim for both men and women is a focal point of the new collection offering a finely tuned choice of washes and   well-defined fits. Outerwear = is also a prominent category, with prime   importance placed on functionality and utilitarian shapes. Accessories are simple and immediate and echoing the palette of the clothing collection they feature jewel-tones of burgundy, olive green and orange.
The autumn/winter '16 pre-collection will be available from May in dedicated PS  by Paul Smith shops and via the best retailers in the world, with the autumn/ winter '16 main collection available from August. Branded shops and corners will feature neon pink, polished concrete in unusual shades and convex circular mirrors, recurring elements in every PS  by Paul Smith environment.
2016年秋冬系列對Paul Smith來說是變化之秋,因為我們的系列將會簡化為兩個︰Paul Smith及全新PS by Paul Smith。
PS by Paul Smith代表著一種全新的態度。系列內容全面,洋溢自信,設計休閒自然,產品的設計、定價及分銷方式亦較為大眾化,更網羅Paul Smith所有品牌特色元素於一身︰鮮艷色彩、印花圖案、俐落剪裁。整體而言,系列服飾造型較實務簡約,藉著鮮艷色彩及幾何圖案為造型添上活力,並以居於倫敦的藝術家Fergus Purcell所設計的全新系列標誌展現自信一面。
系列包括男女裝成衣、鞋履及配飾,每一款均有全新的圓形系列標誌,以黑白雙色標示品牌的簡寫。PS by Paul Smith系列包羅多款不同的牛仔褲、針織服、平織服及外衣,以當代市場的核心品牌為定位。
男女裝牛仔褲是新系列的主打服飾,有多種仔細調校的洗水色彩及精準剪裁選擇。外衣亦是新系列的重點,推出多款功能實用的主打款式。配飾則以簡約和入時為主,色彩呼應本季成衣系列,包括珠寶色的酒紅色、橄欖綠和橙色。
2016年秋冬季的季前系列將於5月起在指定PS by Paul Smith專門店及環球優質零售商發售,2016年秋冬系列則於8月起發售。系列專門店及專櫃將會以螢光粉紅為主色,配搭色彩別致的拋光混凝土及凸面圓鏡,令所有PS by Paul Smith銷售環境洋溢統一風格。